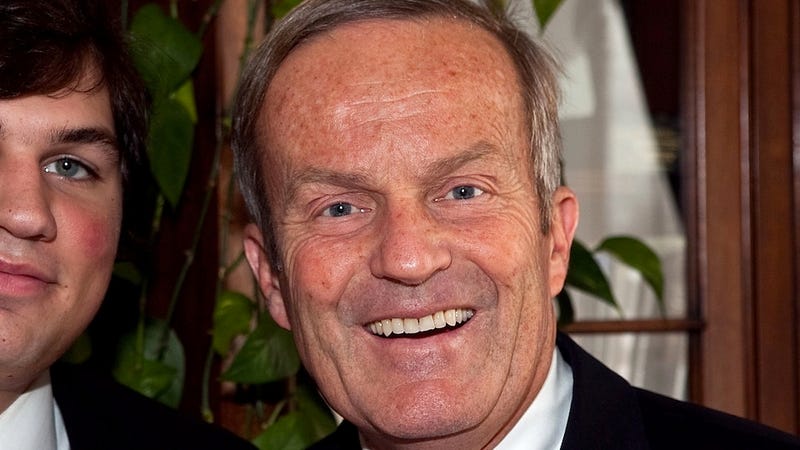 The rumor mill has been chug chug chugging this afternoon with reports that many important suit wearers think Missouri Republican Senate nominee Todd Akin should withdraw from the race. According to one senior GOP official, tomorrow his campaign will announce that it will, to borrow a phrase from Akin, "shut that whole thing down." Akin, for his part remains defiant. Even if Akin pulls out, we're not safe from Akin's views. In fact, Akin's views aren't all that different from the very Republicans now pretending that they're shocked by him.
Several prominent media sources have Tweeted that the end is nigh for Akin, who raised ire and hackles yesterday when he told a TV host that he wasn't worried about forcing pregnant women to carry their rapists' children to term, since women (like ducks!) can't get pregnant from "legitimate rape." Mitt Romney clarified that a Romney/Ryan presidency would defend horribly victimized women's rights to not be forced to be pregnant (how gracious) and told the National Review, "What he said is entirely without merit, and he should correct it." Texas Senator John Cornyn also had some harsh words, according to the Times,
Congressman Akin's statements were wrong, offensive and indefensible. I recognize that this is a difficult time for him, but over the next 24 hours, Congressman Akin should carefully consider what is best for him, his family, the Republican Party and the values that he cares about and has fought for throughout his career in public service.
Even Ron Johnson, Wisconsin's whackadoo right wing Senator, issued a call for Akin to drop out of the race, for the good of the party and, consarn it, human goddamn decency, calling the comments "reprehensible and inexcusable."
Allow me a moment to collect my eyeballs from the floor, which have fallen out of my head because I rolled them too hard. Republicans playing the sanctimony card on this issue is the absolute dizzying, nosebleed-inducing height of hypocrisy. These fucking guys. Do you know what these fucking guys have said about women's health? Let's take a moment to go through the list, which has been condensed to include only the most cruel acts by the Saintly Few listed above, men who are suddenly completely outraged that a guy said a thing that isn't really that much more out of line than things they themselves have done.
Mitt Romney
When Mitt Romney was a Mormon bishop in Massachusetts, he once attempted to physically block a 41-year-old woman from having an abortion, bullying her at the hospital. The woman already had 5 children and was suffering from a life-threatening blood clot condition. The woman and her family later left the church.