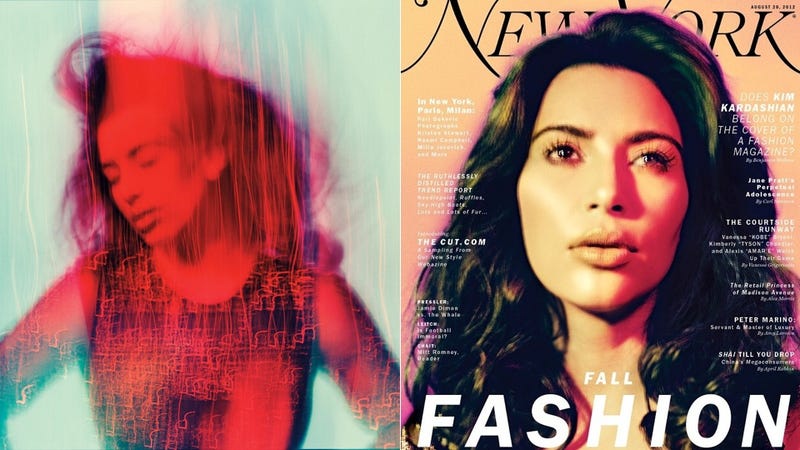 "Kim Kardashian," writes Benjamin Wallace for the New York magazine fashion issue, "may be the world's first human avatar in a massively multiplayer online role-playing game." What, exactly, is a Californian reality T.V. star famous for her sex tape and her televised wedding and her tireless ability to shill to her fans doing on the cover of this magazine? Well, "she's the ninth most-followed person on Twitter," for one (she has 15.7 million followers):
[W]hy, according to one branding expert, she was recently tied with Snooki at the pinnacle of the celebrity-loyalty index; and why she was the second highest-earning TV actress in the year ending this past May.
Recently tied with Snooki. The chain she and her sisters own, Dash, opened a boutique in New York last year, she has a fragrance, and a line of licensed apparel. Oh, and she's dating Kanye West. But Kardashian has hardly been embraced by the fashion establishment. Anna Wintour reportedly banned her from the Met Ball, and her embrace of the industry is seen as even more suspect than West's. The magazine puts this down in part to her body:
While the attacks may derive partly from a good-faith aesthetic response to some of the clothing she wears, at least as much of it seems to stem from an aversion to non-eating-disorder body types and a broader snobbery and classism. Fashion likes to celebrate and appropriate street culture and even trash culture, except when it doesn't. [...] Kim and Kanye brightly stand on opposite sides of the line between fashion's dos and don'ts. With Kim, says a fashion executive, "I think she sees fashion as another means for making money. I don't think she's ever going to want to go to a fashion show for her love of clothes. She's going to want to get paid for going to that show."
What does Kim have to say for herself? Nice, inoffensive things about liking people, liking fashion, liking Kanye, and hoping to be with him "sitting somewhere when we're 80." The piece closes with Kardashian's side of a conversation with the rapper:
"Hello? Hey. Just leaving the zoo. I'm finished with my shoot and I'm just finishing up. I'm heading actually to your place right now. Where are you? Okay. So maybe I'll go in and change and then I'll eat … What time is that at? Seven? Will you be done? … Okay, so, that's an hour. So I'll just wait at the place. Will you come get me? Okay, well, I don't have a car. Do you want me to just take a cab? Or can your car come get me first? … Where is 'up here'? Is it far? Okay, well, um, maybe-" etc., etc. Kim signs off: "Okay, bye. Love you, too. Bye."
[NYMag]
In other Kim Kardashian news, the aforementioned licensed clothing line, the Kardashian Kollection, is expanding to 13 countries (kountries?) this fall. The family is working with the Australian Jupi Corporation, the licensee, and Topshop founder Philip Green's Arcadia Group. [WWD]
---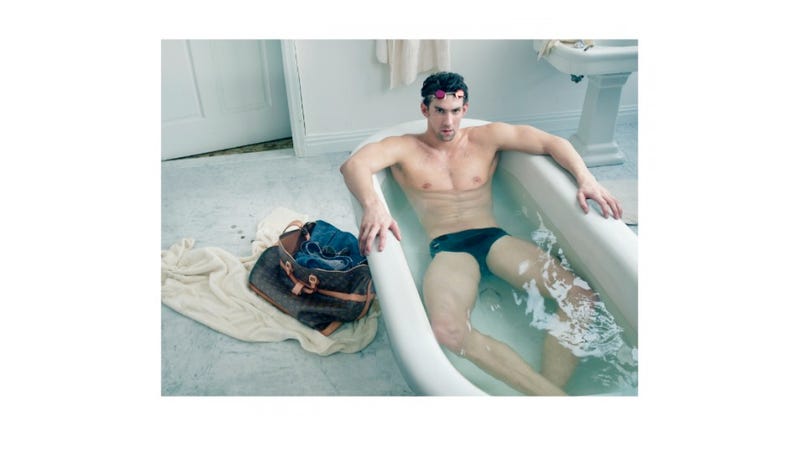 Michael Phelps
appears in a
Louis Vuitton
ad — part of the brand's "Core Values" campaign (those are the ads for the less trendy bags and duffels that have featured everyone from
Keith Richards
to
Mikhail Gorbachev
over the years). In one image, Phelps is seen chatting with gymnast
Larisa Latynina
, who won 18 Olympic medals in the 1950s and '60s. She held the world record for the Olympic athlete with the most medals until Phelps beat her last month. (Latynina still holds the record for Olympic medals in individual events with 14 to Phelps' 13.) In another, he's wearing a Speedo in the bath. Fashionista thinks it can see a
fart bubble
in that one. [
JustJared
,
Fashionista
]
---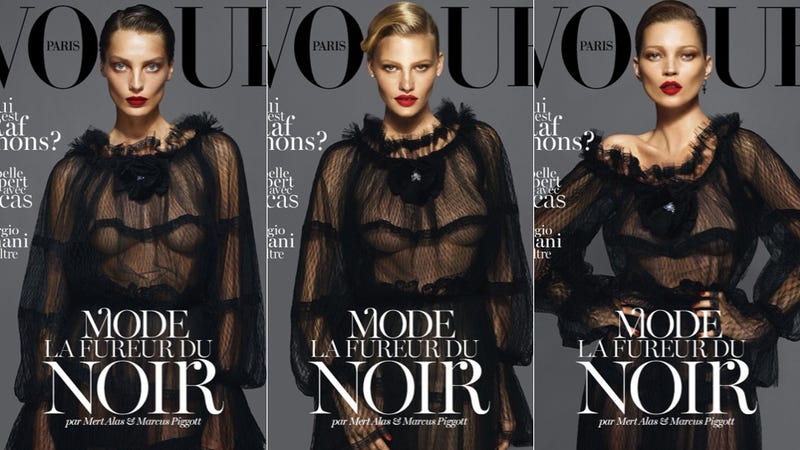 With its September issue,
Vogue Paris got a redesign
. Garance Doré has a column (yay!), the editor's letter is now called "Le Point de vue de Vogue," and the typography is different. On the cover this month are
Lara Stone, Kate Moss, and Daria Werbowy,
each wearing the same black
Dolce & Gabbana
dress. In fact, the theme of the entire issue is the color black. How
chic
. [
WWD
]
---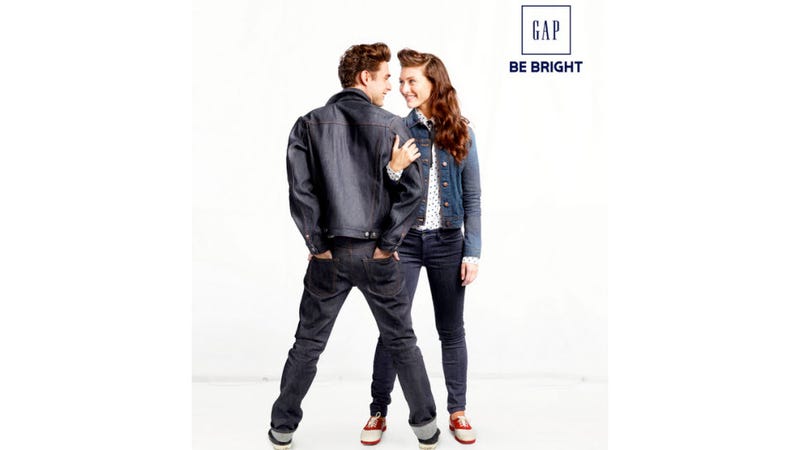 Gap
is trying this thing where they put "up-and-coming" musicians and so forth in their ads. But these people are so up-and-coming we don't actually know who they are. Karmin? Gap will try just about anything these days, it seems. [
TLF
]
---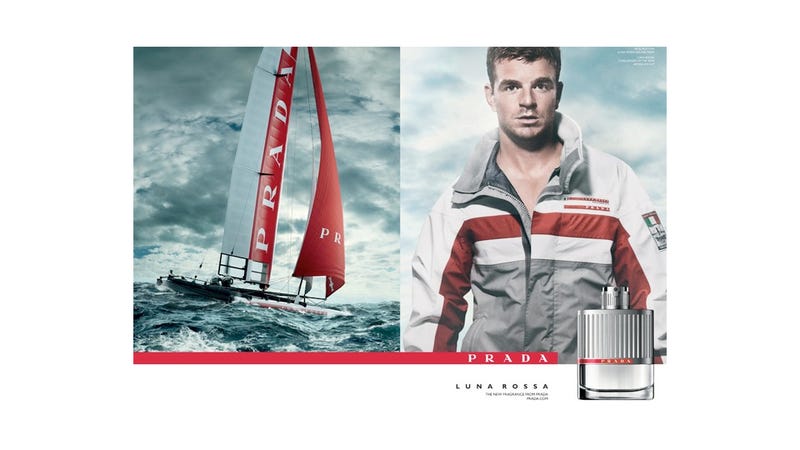 Prada
has a new men's fragrance, called Luna Rossa after the company's professional sailing team and athletic wear line. The ads feature sailor Nick Hutton. [
WWD
]
---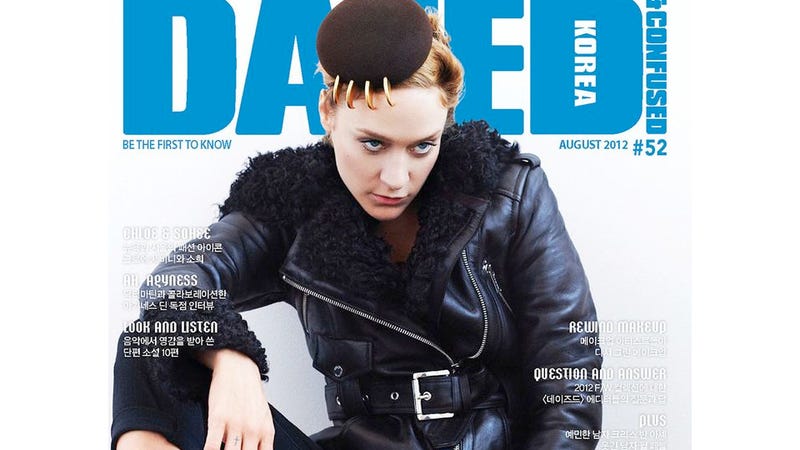 Here is
Chloë Sevigny wearing a bear claw
hat on the cover of
Dazed & Confused
. Because it's Monday. [
Fashion Copious
]
---