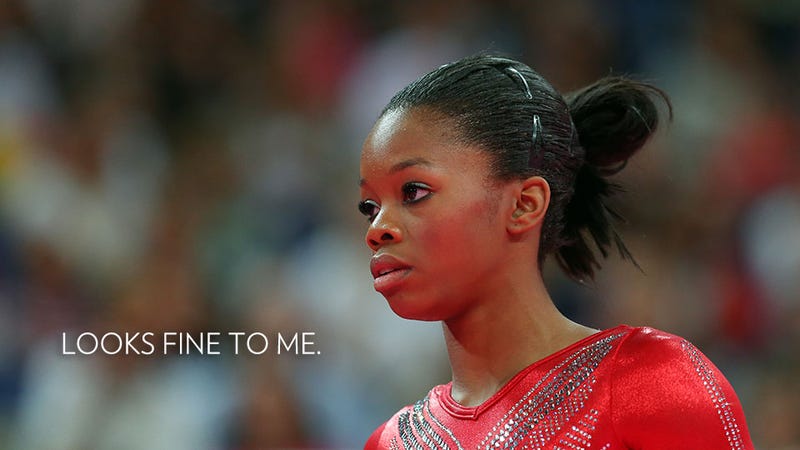 As of yesterday, 16-year-old Gabby Douglas is officially an Olympic gold medalist. But some people watching her compete weren't focusing on her floor exercise — they were distracted by her hair.
Monisha Randolph, who runs a blog called Sporty Afros, has been dismayed with what she's seen:
So what's the big deal about Gabby's hair? From what I am reading on Facebook and Twitter, many African American women who are SITTING and WATCHING Gabby compete believe her hair is not "kept."

She needs some gel and a brush…

Someone needs to give her a hair intervention…

She has to "represent"…

And indeed, if you search "Gabby Douglas hair" on Twitter, you get quite a few results. A tragic amount, to be honest. As Randolph writes:
Have we forgotten that Gabby is competing at Olympics XXX? This is not America's Next Top Model that we're watching. These ladies are participating in a global athletic competition. And the last time I checked when you play a sport, you sweat. I know I do. And when a Black woman who has chosen to wear her hair straight begins to sweat, her hair will (not might) begin to revert back to its natural coily, curly, or kinky state. Does Gabby need to stop every five minutes to check her hair? No. When one experiences back-to-back intense workouts, that person learns what works best on their hair.
Randolph also points out: "A large number of Black women do not work out because of their beloved hairstyle. This is so sad and this is why Sporty Afros was created. We are here to help women with their workout hair care solutions and crush excuses such as 'I can't workout because of my hair.'"
Recently, a New York magazine writer called investing in the Naturally Curly website a "dumb" idea. This sparked a backlash; and as the blogger behind Black Girl With Long Hair writes, "I think there are people both within and outside of the black community who are still ignorant about the increasing influence of textured/natural hair on media, business and culture." There have also been controversies surrounding the hairstyles of First Lady Michelle Obama and her daughters. (Even a Photoshopped mock-up of Michelle Obama with natural hair sparked a shitstorm of controversy.)