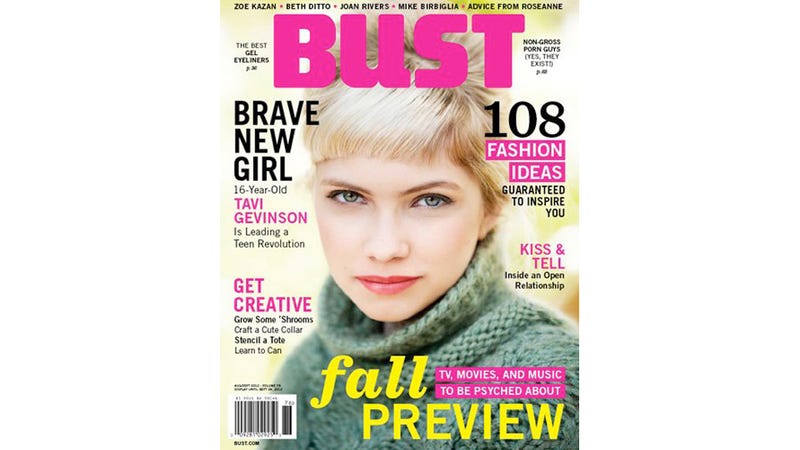 16-year-old Tavi Gevinson is on the cover of Bust magazine and this week's New York Times Style section. The blogger and Rookie editor talks to the former about her interest in fashion, feminist conversion experience, and college plans. The Times tagged along on Rookie's recent road trip of readings and events across the U.S., which ended last week in California.
Tavi tells Bust about how at age 12 she convinced her parents to let her skip school to line up for the Chicago launch of H&M's Comme des Garçons collection. Gevinson pleaded her case at the family dinner table. "I just said that I thought [Comme des Garçons] was really interesting and that it meant a lot to me," says Gevinson. "Because it was not about looking attractive or looking cool or looking pretty. In retrospect, that must've been really comforting to parents who had a kid in middle school, when everyone else has, like, humping parties or whatever."
Gevinson also explains why she now spends less of her time writing about fashion and attending fashion week events. It's that mean girl Anna Wintour's fault, basically:
"I sat next to Anna Wintour at a Band of Outsiders show, and she asked me, "When do you go to school?" I just felt like, When do your models go to school?...There wasn't any real enthusiasm coming from the people who were there for what was going on around us, even though it should have been this exciting, creative thing. I felt funny about that experience. I wanted to start writing about other things on my blog, branching out from fashion."
Never meet your idols.
Although Gevinson's ardour for fashion has cooled somewhat, and Rookie, the online magazine Gevinson founded at 15, is a general-interest site aimed at teenage girls, Gevinson still thinks a lot about clothes and their meanings. "Fashion can be used to assert your individuality and your control and power over how you perceive yourself and present yourself, and it can be a form of expression." [Bust, NYTimes]
---
Speaking of very young women in fashion, in the September issue of Flare, 18-year-old cover model Lindsey Wixson says that she thinks about her family every time she's asked to pose topless or nude:
"I want to make them proud and I try to keep it pretty modest. The fashion industry always wants something else out of you and you can decide if you want to fall into that or maintain your morals and stay true to yourself. I always think about what the people from my hometown would think of some of my shoots. I care about what my family thinks — they wouldn't want to see my boobs printed everywhere."
When she was 15, Wixson described having to ask a W stylist to let her wear a flesh-toned bra underneath a transparent blouse the magazine had chosen for her. [Fashionista]