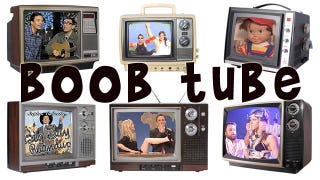 In this week's TV round up, Fred Willard explains himself, Louis C.K. wears a dress, Samantha Bee exposes the rebellious nature of nuns and Stephen Colbert demonstrates how the Bible and Fifty Shades of Grey are pretty much the same thing.
---
1.) Louis goes on a date with a very intense Parker Posey.
An interaction between Louis C.K. and Parker Posey is already a great thing, but then you put Louis in a dress and it's off the charts.
---
2.) It's always embarrassing when two people show up to the same event wearing the same thing...
One can only imagine that that embarrassment is amplified when the two people are Zach Galifianakis and Paul Shaffer and that event is The Late Show with David Letterman.
---
3.) Here's part three of Jimmy Fallon's delightful interview with Bill Cosby.
You can watch parts 1 and 2 here.