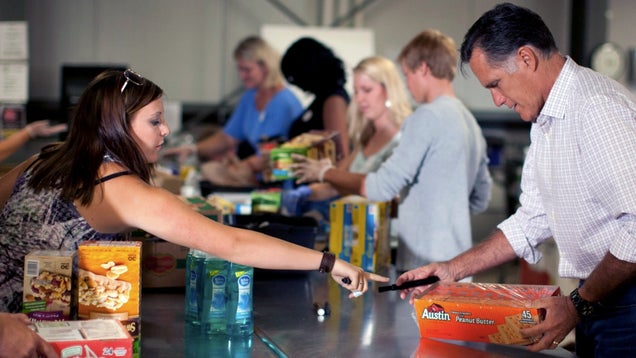 S
Both Obama and Romney reeeeallly want to win over Colorado in October — it's a swing state worth 9 electoral votes — and they know the way to do that is through the ladies, especially those in their 30s to 50s who live in the suburbs. So which presidential candidate is right for you? (Just pretend this is a Cosmo quiz and play along.)
You're looking for a man who:
a) Quotes French philosophers, can carry a tune AND supports a woman's right to choose.
b) Wants to overturn Roe v. Wade and acts like a robot, but has a ton of money.
It's a little more complicated than that, of course, but not really — Obama is wooing women by playing up fears about abortion rights, and Romney is claiming Obama's policies have hurt women's job prospects. For now, Obama is winning when it comes to women, especially college-educated ones: fifty-five percent of them said they preferred Obama in an AP poll last month, while 40 percent preferred Romney. Since 27 percent of Colorado voters are women with college degrees, that's not too shabby.
But some women say they're going with Romney because they're worried about finances. "It has nothing to do with abortion," Vickie Dow of Centennial, an "upscale Arapahoe County suburb," told the AP. "I'm worried about the economy. I'm really afraid things have gone downhill terribly."