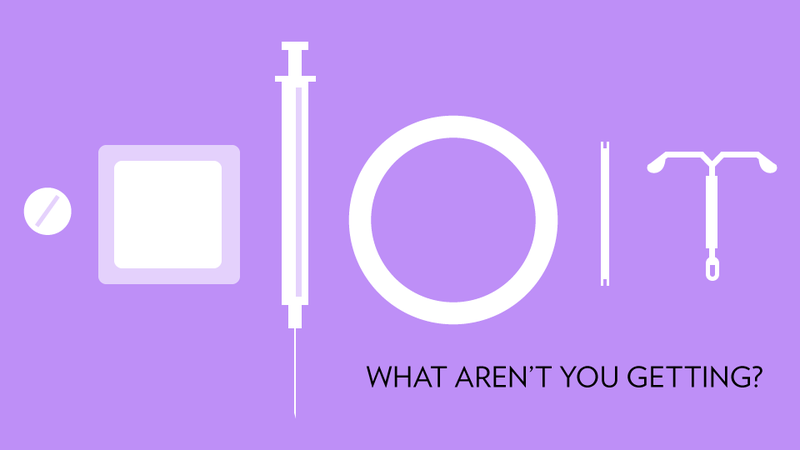 According to a new government report, American women, as a population, are not awesome at taking birth control. Okay, I'm not being fair — it's not American women in general who are bad, it's unmarried women who live with their significant others who are exceptionally not awesome at taking birth control. In fact, they fucking suck at it. What gives?
Over the last decades, keeping the VACANCY sign lit outside of your uterus has gotten progressively easier — now, in addition to the Pill (of which there are approximately a bajillion varieties for a bajillion different types of women), we've got The Ring, and The Patch, and The Shot and The Implant and The IUD. Some allow women to only have their period four times a year. Others may cause a woman's period to stop completely. Some occasionally end up hilariously around the end of your partner's penis after doing it, like a ringtoss. All are completely reversible and mostly safe and much more effective than the old "pull out n' pray" method . So why are 1/3 of births in the US still the result of unplanned pregnancies? Are women just really, terribly bad at reading and following directions?
The report highlights some stark contrasts between the birth control habits of married women, single women living with a partner, and single women living separately, in addition to differences between women's levels of education and age. And, as you might expect, the young, the poor, and the uneducated are much more likely to experience unplanned pregnancy than the older, the wealthier, and the more highly educated — as we've discussed, only about 23% of births to married women were the result of unplanned pregnancies, whereas half of births to unmarried women who (as my grandma would say) live in sin were the result of surprise pregnancies. And among women between the ages of 15 and 24, almost 79% of births were the result of unplanned pregnancies.