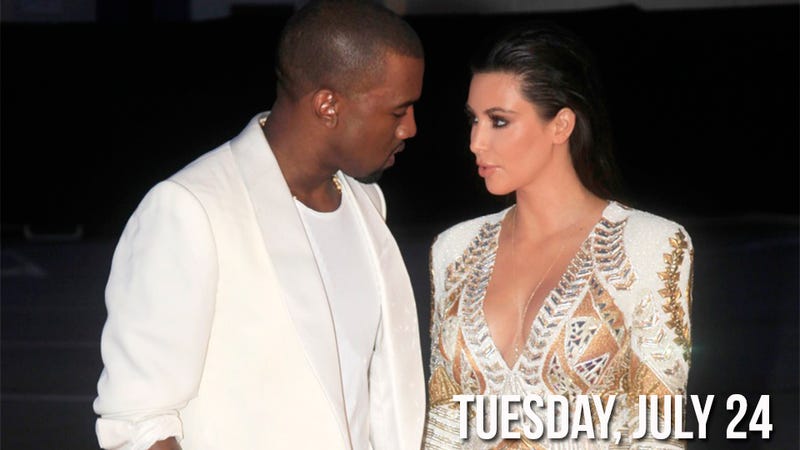 Picture, if you will, Kanye West swimming in a vault of precious stones a la Scrooge McDuck; after girlfriend Kim Kardashian's divorce from Kris Humphries is finalized, 'Ye apparently plans to propose with a one-of-a-kind ring made from his late mom Donda's personal jewelry collection. He visited a private jeweler with some diamond earrings and a ruby ring, and is ready to get down on one knee now that he has "found a woman he loves as much as he loved his mom."
So, where will this hypothetical wedding be? An insider (who inexplicably talks like a '20s newspaperman) says: "Kanye's an emotional character and has earmarked Chicago or Oklahoma as the two places he'd love to wed Kim. Oklahoma is his personal choice because his mother's grave is there – and he wants her at his wedding in spirit. But he hasn't ruled out Chicago, which he credits for giving him inspiration for building his glittering career."
Incidentally, Kanye West's friends think it's a terrible fucking idea. Who are "Kanye West's friends" even, like actually? George Condo paintings? The hammerhead shark that swims in the glass ceiling-tank above bedroom? A gold-encrusted volleyball? Karl Lagerfeld? [Radar Online]
The fact that 'Ye is arguably more famous than Kim is a point of contention, apparently. [Page Six]
Also, they've been talking about babies or something. [Entertainmentwise]
And finally, Kim dreams of her father, which is where Barack Obama got his memoir title from, I'm sure. [Monsters and Critics]
---
Emma Watson is supposedly the current frontrunner to play Ana Steele, the sexual Mary Sue in Fifty Shades of Grey. She began discarding her adolescent pupa and emerging as a grown-up and racy butterfly when she filmed a scene in The Perks of Being A Wallflower during which she dances to a song from Rocky Horror Picture Show. Although Elizabeth Olsen is reportedly being seriously considered as well, there is a good shot that Hermione and The Chamber of Ben-Wah Balls will come to a theater near you. [NYDN]
---
Demi Moore, in and out of rehab and estranged from her daughters, has been plunged once more into a dark night of the soul now that the rumors about Ashton Kutcher and Mila Kunis were given some weight after the two were photographed making out.
Although a source claims that Kutcher was cheating on her with randos for the duration of their marriage, this is the first legit relationship he's had with someone else since their split. The source adds, "seeing photos of him kissing another woman... one who is so much younger than she is... is too much for her to handle, it's like having her nose rubbed in it time and time again." Oh, Source. Stop talking to the tabloids and take Demi out for a mani-pedi-massage combo, Source. [Daily Mail]
---
No phrase can make me shit with fear more than "Kate Gosselin is getting back in the game." The game is dating, but the game is also a TV show about dating, as Gosselin's currently shopping around a show about the divorced mom of eight looking for love. She recently appeared on the Today show to talk about the family's stint as a normal, unfilmed, stable unit. "[The kids] really honestly miss filming," Gosselin said. "They've been saying, 'When are we going to go here or there? We miss the crew.'" If you believe that, I have 1,000 Gideon Bibles for wholesale out the back of my Dodge Durango. [Us Weekly]
---
At left, Bristol Palin's little son Tripp calls his aunt Willow Palin what certainly SOUNDED like a gay slur (one favored by Willow herself in the past) and exploded the Internet. But Bristol says (and Life's a Tripp producer Matt Lutz confirmed) that her kid was misheard: