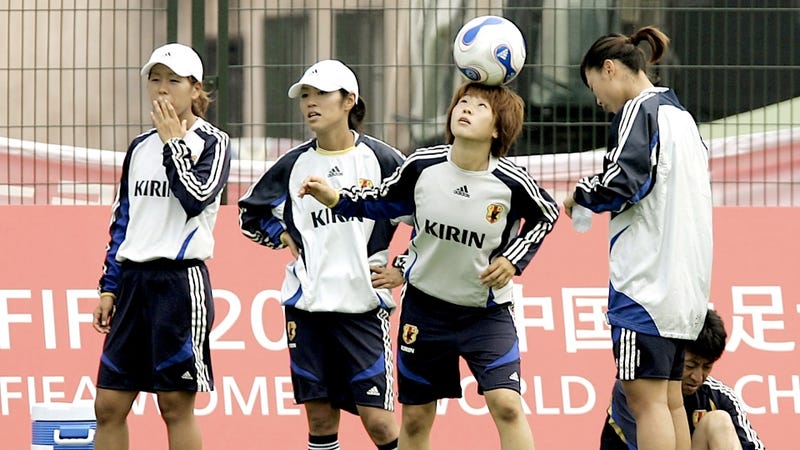 Women's soccer had long-struggled to find an audience in Japan, a fact that made the Japanese team's win against the United States' perennial juggernaut of a women's team at last July's Women's World Cup that much more significant. With the win, Japan had snapped a 26-game losing streak against the Americans and simultaneously bellowed that it was an athletic force to be reckoned with in international competition.
The New York Times recounts the long fight for legitimacy that women's soccer has had in order to attain even a tenuous level of prominence in Japan. Though the World Cup win was big for the Japanese women, — especially as it came in wake of the Fukushima disaster — the record attendance at Nadeshiko League (the women's league) games as well as international matches is always a losing streak away from evaporating. According to Tamotsu Suzuki, the coach of the women's team two decades past, the women, despite signing endorsement deals and reaching celebrity status in Japan and abroad, are in an ongoing process of firmly establishing their place on the domestic and international stages.
The players can't forget the enthusiasm of the national team. They have to keep playing hard, be polite and never give up. If they don't do things right, it will be the same as in the past.
The past, as it happens, wasn't very awesome. In the 90s, fan attendance was meager (to be counted in the hundreds) and players often had to borrow money to travel abroad with the national team (now, of course, they have the luxury of flying coach while their male counterparts fly business class). The women's league eventually fractured in 1998 after a decade during which Japan was mired in the economic doldrums. Though men's soccer continued to expand during those lean years, women's soccer became all but extinct.