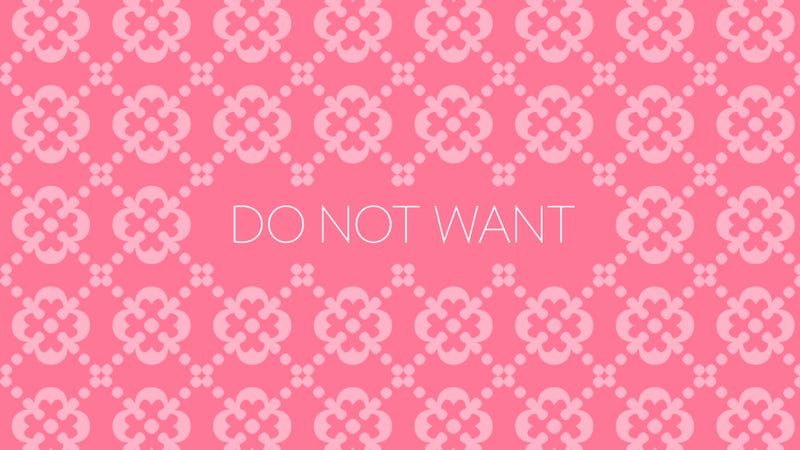 Hey, ladies. Do you like not getting ax-murdered by a madman, but just wish that not dying a horrific death could be a little more fabulous? Well, get excited! Capitalism is here for you! Women's self-defense products are increasingly taking fashion into account as much as function, for all us ladies who've always longed to maim a ne'er-do-well with pink mace, pink pepper spray, pink tasers, pink nunchuks, pink bo staffs, pink throwing stars, pink hand grenades, pink vagina daggers, pink tridents, pink big rocks, and pink attack bears. Not only that, they've even shrunk everything down to fit our tiny, limp baby-hands! Finally! I know we all remember those dark days before pink weapons were invented—when a woman's only defense was to offer her attacker a plate of delicious oatmeal cookies (mmmmmmmmm!!!) and then curl up in the fetal position and embrace death's cold breath upon her neck. I mean, what else were we going to do? Use regular-colored stuff??? Like for dudes? Grooooooooss!!!!!
Rebecca Hoffman at the NY Press takes a look at some self-defense products targeted at women, and the unfortunate marketing campaigns that go along with them:
A woman's personal safety isn't a joke, though it is, admittedly, hard to take it seriously when confronted with female safety mascots like Pinky Sparkadero.

Pinky, a hot pink robot that wears a pink mini skirt and crop top, is a character on the blog DefendThyself.com who presents the best in "girl-themed" self-defense products. While sporting lip-gloss and a six-pack, Pinky looks anything but serious. She's girly, but macho, and, on top of that, she's not even real: she's a robot, a fantasy, and a joke. Though well intentioned, Pinky sounds about as foolish as she looks.

She says things like, "I may be pink and girly, but don't let my appearance fool you, I can bring a big, strong man to his knees! There is no thrill greater than blasting a Punk in the face with hot pepper spray. They may even cry like a little girl!"
Okay. Now. Okay. Pinky Sparkadero. Okay. Obviously it's fine for women to buy whatever stupid shit makes them happy. Go nuts. There's plenty of stupid shit that makes me really happy, like Otter Pops and garbage earrings from Claire's. That said, ARE YOU FUCKING JOKING ME, BRO? We can't even treat women like adults when we're literally trying to help them not get raped? I am so sick of this infantilizing bullshit.
"Oh my GAHD, did yeh seh Claudia's new Swarovski rape whestle? Sheh looks ameeeeehhhhzeeeeeeeeeeng."
"Oh I kneh. I heht her."
"Yah. Whatta betch."
The fact that a lot of people don't take women seriously is not up for debate. It is true. But how are people supposed to take women seriously when we teach women to approach the world like frivolous children? There is zero chance that women are just genetically predisposed to wanting all their shit to be pink. But we market "girly" garbage toward women, which causes women to buy it, which causes other women to think they want it too, and then we use that cycle as evidence that women are incompetent, superficial fools. BOOOOOOOOO.