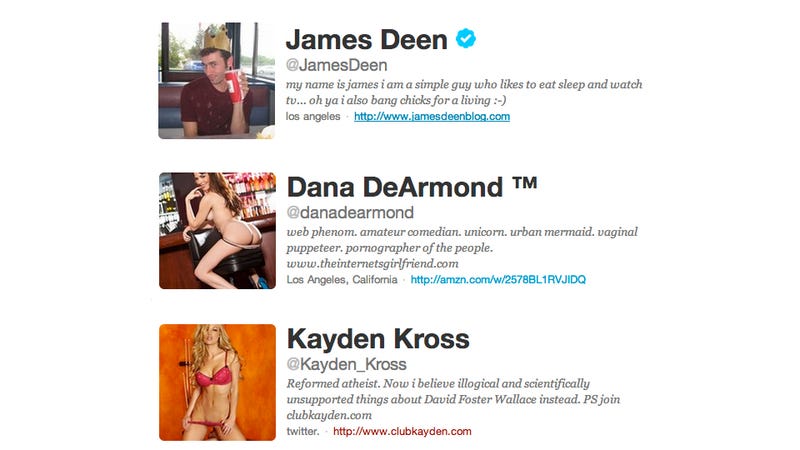 Before Twitter, if a celebrity made an off-the-cuff remark during personal hours, maybe the public would hear about it, maybe we wouldn't. But when stars use Twitter, millions of thoughts — mundane, benign, distasteful, offensive — spread like wildfire. Celebrities like Chris Brown, Alec Baldwin, Ashton Kutcher and Courtney Love have all seen their own tweets become gossip headlines.
As the New York Times reports, for the famous, Twitter is a "public gaffe waiting to happen."
But for actors and actresses in the porn industry, Twitter has become an important tool that's changing the nature of what it means to be a porn star, according to CNN.
Chauntelle Tibbals, a visiting scholar at University of Southern California who studies the porn industry, tells CNN's Jim Spellman: "Before [porn] was about pure fantasy: you didn't have enough information to be real fans of performers… But now you can become a true fan of a porn star."
James Deen has over 63,000 followers on Twitter, and, as Spellman points out, his profile photo is not an explicit nude. Deen says: "I like to keep my Twitter very personal and used as a random outlet for my feelings… I see no reason to be involved except to be myself." He adds: "People look at me and they say, 'He's not a porn star, he's just a nice guy."
Twitter allows men and women in porn to promote themselves, but also to remind audiences that they are not just sexual objects, insatiable fuck machines, but humans, with hobbies and interests and quirks. Stormy Danielshas posted pictures of her daughter on Twitter. Kayden Kross tweets about David Foster Wallace, Don DeLillo, and her horses. Dana DeArmond (a porn actress who also occasionally does stand-up comedy) posts explicit nude photos of herself in addition to pictures of her shoes, her outfits, and her cat. "People like to laugh and they like to know that people who are sex workers can also be smart and funny," she tells CNN.
"It's something I've used in my branding. It's like 'OK, if you don't have a real girlfriend you can pretend I'm your girlfriend on the Internet and I won't treat you like a customer.' That's how I brand myself."
Mainstream celebs have so many avenues to reach the world: Movies, TV, magazine covers, print ads, commercials, radio. In some cases, if you've seen a dozen interviews and read a dozen gossip items about a celebrity, their Twitter feed can feel like self-indulgent, egocentric overexposure, the worst kind of TMI. Enough of you already. But we don't often have the same familiarity with people in porn; an aura of mystery surrounds the performers. Sure, you know what their genitalia looks like. But you might not know their real names, what they look like smiling instead of coming, what they do after work. Following a porn on Twitter after watching him or her have sex extends the connection. It's a bonus, an additional sexy thrill. (Believe me, I speak from experience.) And ultimately, since watching porn makes you want to reach out and touch the performers, Twitter is the perfect accompanying medium: You get to interact with a porn star. And both the performer and the audience benefit, says James Deen: