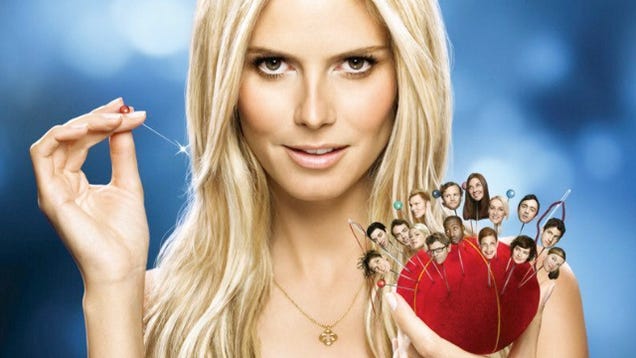 Taping of the next season of Project Runway has only just begun in New York City, but already two designers have made unscheduled departures from the show. One designer simply packed her things and stole away in the dead of night. "She just ran off in the middle of the night," said a source of the contestant, who had placed in the bottom three on the day's challenge. "The next morning she wasn't in her bed, her suitcase was gone. Producers went to her home, and her doorman said she was upstairs but didn't want to see anyone." Hours later, another contestant who reportedly had preexisting mental health issues suffered some kind of a breakdown in the workroom. A psychologist was called. "It was decided," says the same source, "that he should leave the show." Judge Michael Kors had to come in to give the stressed-out remaining designers an unscheduled pep talk. [P6]
---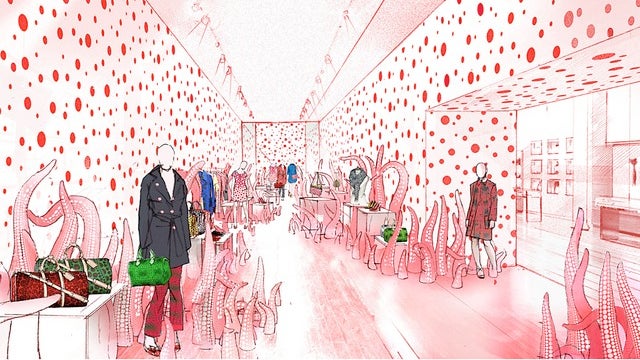 This July,
Louis Vuitton
will turn seven of its boutiques worldwide into temporarily dot-and-tentacle-ridden selling spaces in honor of the brand's collaboration with artist
Yayoi Kusama
. [
WWD
]
---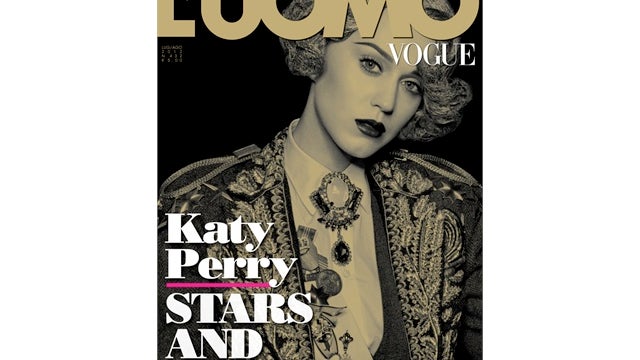 Katy Perry
is on the alternate cover of
L'uomo Vogue
this month (
Kim Kardashian
, you will
remember
, has the other). The magazine asked the pop star what it is like to be a self-declared
"paladin of gay rights."
She replied, "
I believe in equality.
I believe in love with no boundaries or preface. I come from a childhood where there was a lot of judgment on this subject, but I have freed myself from that." [
Vogue Italia
]
---
Jil Sander's return to the runway, at men's fashion week in Milan, has been predictably praised. The Times wrote that the designer wisely eschewed "press-pleasing stunts or runway theatrics":

An auspicious opening to the men's wear fashion week here, Sander's show was a master class in cut and color, pattern and proportion. Taut double-breasted jackets buttoned boyishly high were paired with voluminous shorts cut just below the knee. Barrel-shaped coats in the fingertip length Sander used throughout her career were paired with those same shorts, or with trousers cut tight and hemmed ankle high.

Somber skimmers reminiscent of the tunics favored by members of the Satmar Hasidic sect in Brooklyn demonstrated that the same shapes that gave men a grave and elegant line in the 17th century can produce the same effects in the 21st.

Note to celebrities: the days of slipping off to a foreign country to do unnoticed but embarrassing endorsements for cheesy brands are well and truly over. The entire Internet now knows that your contract with designer Philipp Plein (think Ed Hardy for the 1%) not only included those tacky Terry Richardson-shot prints ads, Ed Westwick, but also two humiliating trips down the runway during Plein's men's wear show. Nice moustache, Chuck. [HuffPo]
Betty Catroux, the longtime muse of the late Yves Saint Laurent, like Pierre Bergé, thinks it's just fine that new creative director Hedi Slimane is changing the name of the brand (to "Saint Laurent Paris") and moving the creative headquarters to Los Angeles. "All Hedi's decisions are brilliant," she says, "and it is so clever of him to work in Los Angeles — in peace, away from everything, under the sun." [WWD]
In a behind-the-scenes video from her GQ cover shoot, Kate Upton is asked if she could have one wish, what would it be? "I would…have smaller boobs!" she replies. "Just kidding." And then she laughs for a long time. [GQ]
Lily Aldridge gave birth. She and husband Caleb Followill have named their daughter Dixie Pearl. [People]
Anne Vyalitsyna scored another film role: she's been cast as Garrett Hedlund's cousin in Lullaby, an upcoming family drama that also stars Amy Adams, Jennifer Hudson, and Terrence Howard. [JJ]
Girls costume designer Jenn Rogien says that the reason most of that show's characters dress a lot like entry-level-job-having early-20-somethings in real life is that they shop like entry-level-job-having early-20-somethings in real life: at thrift stores, fast fashion chains, and, more rarely, for name brands from the big discounters or sample sales. "There's a ton of vintage with a ton of thrift. We spend a lot of time in Williamsburg. We love H&M. We love Zara," says Rogien. "We've gotten some really amazing things at Loehmann's and Century 21." A woman after our own hearts. Rogien also says that Jessa's SURPRISE WEDDING dress came from Geminola, the vintage boutique that actress Jemima Kirke's mother owns. And the feathered dress that Jessa wore to that oddly brightly lit Bushwick warehouse party was a modern reproduction of a 1930s dress. [Fashionista]
Stephen Jones will be doing hats for Raf Simons' Dior couture collection, his first women's collection for the house, which is to be unveiled next month in Paris. The milliner would only call the clothes "Exciting, beautiful, and new." [Vogue UK]
The opening of a Uniqlo in Manila was marred by a handful of PETA protesters, who do not like that Uniqlo sells garments made with Australian wool. In Australia, mulesing — the removal of folds of skin around a sheep's butt — is a common tactic against flystrike and other life-threatening sheep diseases. Some people think mulesing is cruel. That didn't stop Filipino shoppers from lining up outside the store starting at 4 a.m. [WWD]
Margherita Missoni got married to Eugenio Amos in a Giambattista Valli wedding gown with big, poufy sleeves. [Hello]
Target turned 50 last month, which is why Women's Wear Daily published a long series of articles on the state of the store today, its advertising, its embrace of the digital, its timeline of designer collaborations, its international expansion, its relationship with competitor Wal-Mart, its stock price and 2011 global sales. One thing left unexplored: the word "union" appears nowhere in the piece. Which is odd, to say the least. [WWD]
Today in signs we should all just go back to bed and pull the covers over our heads, here is a quote from a Target executive, presented without context: "'We recently had a Twitter chat about corporate responsibility,' he added." [WWD]
Mary Katrantzou says that at her company's present staffing level, it cannot undertake to make more than two seasonal collections per year. That means no Resort and no Pre-Fall. "It takes on average four days to create a print, and we create about 40 prints a collection, so we need 160 days — that's eight months for one person, four months for two people," she explains. "Perhaps next season we might have grown the team enough to be able to do it in time." [Vogue UK]
Moody's raised Dillard's credit rating by one notch, to Ba3. That's just below investment grade. [WWD]
Three thieves broke into the Bergdorf Goodman flagship store in Manhattan around 3:30 a.m. and smash-and-grabbed fine jewelry worth in the hundreds of thousands of dollars. [NYPost]
How does Zara, like other fast-fashion chains, often get its knock-offs into stores faster than the designer brands that actually, you know, designed the originals? By placing more and smaller orders with factories and training its customers to expect that it will switch up stock frequently, in a nutshell. [Slate]
And now, a moment with Council of Fashion Designers of America Awards host Seth Meyers. Seth, whose idea was it for you to wear Marc Jacobs' Met Ball dress as a joke?

"I agreed to host these fashion awards, and Anna Wintour said to me, 'I have the funniest idea.' And I had this moment where I was like, 'Oh, DO you, Anna Wintour, have the FUNNIEST idea?' And she was like, [fakes a British accent] 'Yes, you should wear Marc Jacobs' Met outfit.' And I was like, 'Ohhh, that is a pretty good idea. You were right, Anna Wintour.'"

[The Cut]