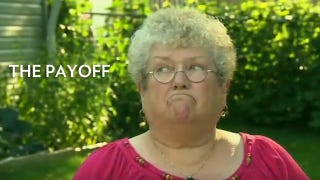 The vacation fund for Karen Klein, the 68-year-old grandmother who was harassed and threatened by boys on the school bus she was monitoring has just hit half a million dollars. It's great that kind souls, feeling like they want to do something, have stepped up and made financial donations. But let's get real: We're to blame. We're the reason she was taunted and teased. We created this environment.
Over and over again, the boys on the bus called Klein a "fat ass." At one point, Klein, clearly shaken, told the boys she was crying. One of them responded, "She probably misses her box of Twinkies."
That's terrible, people said. But only because the kids were saying it to Klein's face.
The truth is, Americans love to mock people. Especially women. Especially overweight women.
Perez Hilton became an internet sensation calling women fat; sites like like People of Walmart and The Skinny exist solely to critique and mock people's bodies. Tabloid weeklies zoom in on cellulite, scold female celebrities for being too fat (and also for being too thin.) Donald Trump called Rosie O'Donnell a "fat pig" and went on to enjoy a lucrative career on NBC.