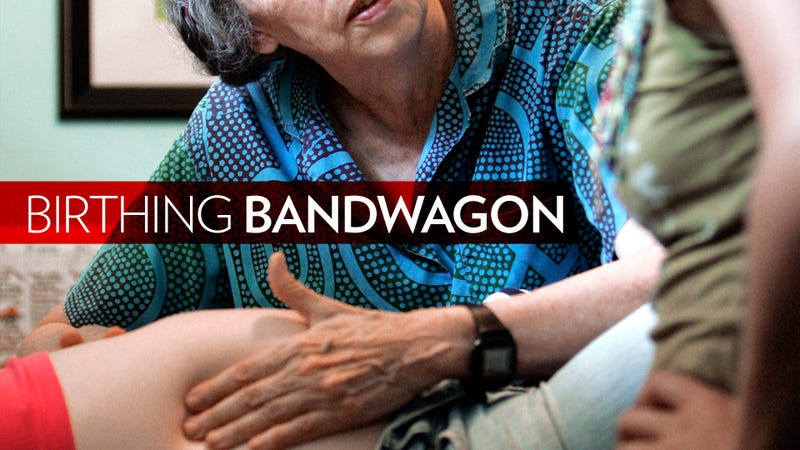 OBGYNs are so three seasons ago. Midwives are the pregnant lady's "status symbol" of the moment — the birthing choice of models like Gisele Bündchen, Christy Turlington, and Karolina Kurkova. Who would've thought that midwifery would be so in vogue? When you hear "midwife" you don't think Birkin bag. You think Birkenstocks.
Reading trend pieces can be difficult because of all the eye-rolling. It's irksome when people place so much emphasis on style over substance. The New York Times ran a piece in its "Fashion & Style" section about how midwives are the new "must have" for a certain set of pregnant ladies, likening the practice to "juice cleanses or Tom's shoes."
Maybe the Times is correct in crediting supermodels with this sea change. If Gisele can sway women into buying a certain kind of bra, perhaps what she does with her vagina is just as aspirational as what she does with her tits. Personally, I don't look to supermodels for my womanly cues. Instead, I blame Ricki Lake.
After discovering I was pregnant last year I watched her documentary The Business of Being Born. I felt like I'd be an ignorant tool of the patriarchy if I didn't take control over my body and refuse an epidural. I didn't want to seem uneducated, so I immediately signed on with a desirable midwifery team to help me achieve a drug-free birth. I've always been of the opinion that drugs are fun. Ironically, for the most painful experience of my life I chose to abstain from the kind of medical intervention I'd previously sought out so enthusiastically. It was honestly the first time that I had encountered the kind of social influence I'd really only ever seen depicted on TV shows. And I succumbed! I didn't choose midwifery because it was trendy. I did it because I felt peer pressured.