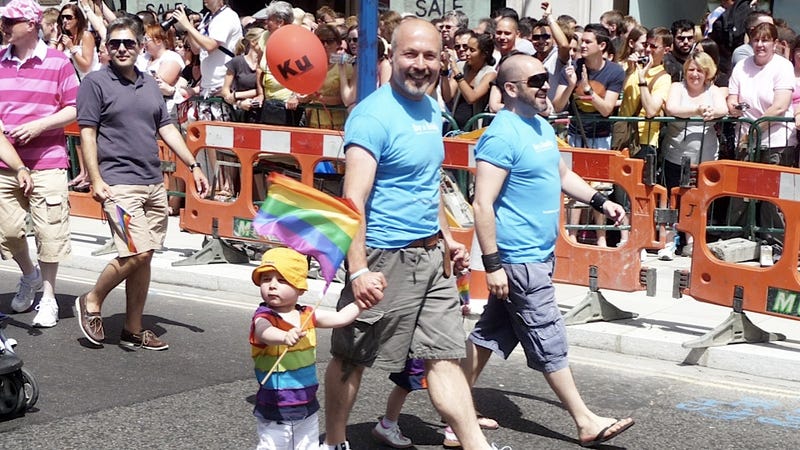 On a day when cultural conventions have forced us to laud fatherhood by purchasing something at Lowe's, it might be worth noting that more lucky kids than ever will only have to remember one of the parental holidays the evil greeting card conglomerates have foisted onto our Gregorian calendar. The Census Bureau estimates that the percentage of same-sex couples raising kids has more than doubled in 10 years, from eight percent in 2000, to 19 percent in 2010.
CBS News profiled couple Sean McGill and Luigi Caiola, who decided that after 10 years, they were ready to let children fill their middle-age with joy or drain their collective life force, depending on your perspective. McGill and Caiola opted for surrogacy because adoption can be unduly difficult for same-sex couples in states such as Mississippi, which bans gay people from adopting. The beaming fathers have three kids — a 5 year-old and twin 4 year-olds, and while that situation may sound like a horror movie full of insomnia, bedtime stories, and hurried meals next to a whirring garbage disposal, consider what Dr. Kim Bergman, director of a program that matches same-sex parents with a surrogate called Growing Generations, says about parenthood: "Parenting is one of the greatest joys any human being can experience." It would stand to reason that this assertion proves especially true on present day, unless you get stuck with a do-it-yourself kid and several years' worth of macaroni art.
Same-sex couples raising children on the rise [CBS News]
Image via Chris Harvey/Shutterstock.