Oh, hey: Now spray tanning might give you cancer. The chemical that actually darkens skin, dihydroxyacetone or DHA, was only approved by the Food and Drug Administration for external use in self-tanning lotions. The FDA does not recommend spray-tanning and says DHA should never be inhaled or ingested. Scientists say that more research is required, but that there is evidence that DHA may cause problems when it is inhaled. And inhalation is nearly impossible to avoid when microparticles are being sprayed through the air at close range in an enclosed space.
"I have concerns," said Dr. Rey Panettieri, a toxicologist and lung specialist at the University of Pennsylvania's Perelman School of Medicine. "The reason I'm concerned is the deposition of the tanning agents into the lungs could really facilitate or aid systemic absorption — that is, getting into the bloodstream...These compounds in some cells could actually promote the development of cancers or malignancies, and if that's the case then we need to be wary of them."
This is of potential concern not only to people who may get spray tans — just think of the Kardashians! — but to salon workers who experience prolonged exposure to the airborne spray. [ABC]
---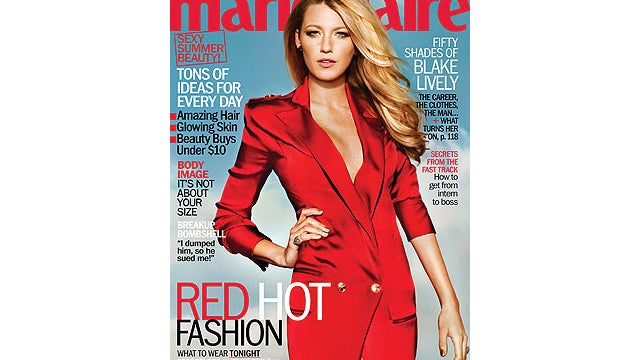 Getting all famous and stuff has changed
Blake Lively
's perspective on her dream wedding. "What I planned before I got into the business has changed. Now I'm like,
'Hmm, I wonder what shoes Christian [Louboutin] is going to make me. And which couture house should I go to?'
"
I wonder
. [
People
]
---
Anna Wintour
spoke last night at a
Runway to Win
campaign fundraiser in Chicago. As always when forced to speak publicly, the
Vogue
editor looks and sounds like she wouldn't say no the floor suddenly opening and swallowing her up.
"Thanks to our President, America is a fairer, healthier, and more tolerant place to live,"
she says at one point, after introducing new campaign merch including
Marc Jacobs
doggie t-shirts ("Bark for Obama") and
Thakoon
doggie collars to the crowd. "But there's still so much more to be done." She also makes what is perhaps an oblique reference to the right wing's criticism of her campaign fundraising work, fashion being so élitist and frivolous and lady-run, and all. "The enormous interest of the public in this challenge is indicative to me of just how much fashion means to so many people from all walks of life.
It's also a global business that's worth $20 billion to the economy and one that employs 4 million people.
" The fashion industry means American jobs. That's a message Wintour and the campaign out to push a little harder when Glenn Beck and the Podhoretz clan
get all rheumy
. Wintour's fundraiser dinner for Obama — the one at Sarah Jessica Parker's house — is tomorrow.
UPDATE
: The video has been inexplicably pulled. [
Vimeo
]
---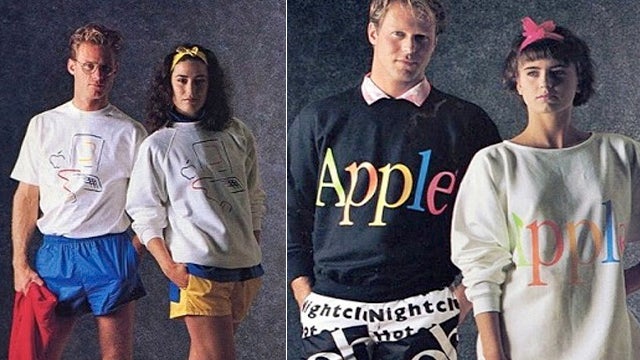 Apparently, the
Apple Computer company
had a clothing line in 1986. iPhone-enabled hipsters would
kill
to find almost any of this stuff at the Salvation Army. [
Complex
]
---
Are you ready for a story involving a modeling competition, a stage dad's epic rant, a former singer for a "neo-progressive '80s band" stagenamed Fish, Annie Lennox's daughter, and a very long comment thread on the Web site of a local newspaper? Well, it's Wednesday, so let's rip! Fish — real name Derek Dick, of the now-defunct actually still extant band Marillion — has a daughter named Tara Nowy. She is a model. Nowy was nominated for Scottish Model of the Year at the Scottish Fashion Awards, which is a thing that exists, but lost to Tali Lennox, the model daughter of Annie Lennox. Fish thinks that the competition outcome was "preordained" — which, hello? How could a bullshit "Model of the Year" competition not be rigged? — and that, more concerningly, the backstage conditions were terrible. He wrote on the site of the Scotsman:

What upset me was seeing her so down at the treatment both she and the other models endured during the day. Backstage I was told it was chaotic. She stood at side of stage for nearly the entire performance and waited to be introduced with the other contestants.She never made the stage.Her nomination on the video screens was fleeting considering the accolade at stake. Hours waiting in freezing ac'd rooms with hardly anything to eat or drink, no information, a delayed show, confusion with regards arena access and a lacklustre cat walk where she had one outfit before the show closed abruptly and the VIP's emptied out to dinner next door.Staggeringly badly stage managed. She is quite frankly incandescent at the manner in which both she and her fellow models were treated and was too upset to attend any aftershow party. For someone who was one on the main "faces" in the advertising for the Scottish Fashion Awards,which she did as an unpaid piece of work and who was also unpaid for the catwalk appearance and the entire day spent in Glasgow she did not even get a "wristband" to give her access to the aftershow or the dinner.

Fish added that organizers should have been more gracious towards all the models, who were donating their time and their image for the honor of participating in a for-profit event. Tickets to the Scottish Fashion Awards cost £35-£300; 2000 tickets were sold. Other commenters — including the mother of a volunteer backstage dresser, and the aunt of another model in the show — quickly wrote in to echo Fish's concerns about the "chaotic" backstage and "the cheap way all the people were treated." Wrote Fish,

"These words are my own but I felt tonight I wanted to put my own opinion across as the father of someone who deserved far more from a night she had looked forward to for so very long like so many others out there trying to make a name for themselves in a cold and brutal industry that generates millions for those in control of their fragile dreams."

Let's put Fish in charge of next year's Scottish Fashion Awards! He sounds like a sensitive, fair-minded guy. [The Scotsman, The Scotsman]

The fourth Full-Figured Fashion Week is taking place this week in New York. For the first time, it will include a runway show at Bloomingdale's featuring plus-size clothing from brands including Michael Kors, Ralph Lauren, Elie Tahari, Jones New York and Eileen Fisher. Independent designers will also be featured in a showcase. The plus-sized market is worth around $17 billion annually. "If you're in this business for the sake of doing business, why are you excluding this entire community?" asked event founder Gwen DeVoe. "We need to stop with the marginalization. I'm not asking for couture, but I demand the right to go into any store and buy a simple black dress." [WWD]
Kate Moss says she's wearing more flats since getting a dog with husband Jamie Hince. Says the supermodel, "You can't do a dog in a heel!" Holy use of the Fashion Singular, Moss. [Grazia]
Project Runway will be taping in Times Square this Friday, so you know which part of town to avoid. For the premiere episode of the 10th season, the show is staging a fashion show featuring 16 contestants. [WWD]
Everyone knows there's fashion-famous and then there's regular-famous. Anna Dello Russo is fashion-famous but not regular-famous. Fan Bingbing is regular-famous but not fashion-famous. Which is probably why when the Vogue Japan editor was walking to her seat at the Ferragamo resort show in Paris (the one at the Louvre), the front-row photographers nearly bowled her over in an effort to get shots of Fan BingBing. [P6]
Cynthia Rowley looks back on her wedding to Bill Powers for Racked's Weddings Week. The designer made her own dress — the day before the ceremony. She advises couples to "make it fun and memorable…which usually has nothing to do with the color of the tablecloths, or the types of flowers in the centerpieces." [Racked]
And now, a moment with Lauren Hutton. Lauren, why and how did you recently cut off your hair?

"I guess I was depressed. I'd been doing that thing where I read the Economist too much. You know, reading it front to back for weeks on end isn't always good for you...Instead of suicide, I ran into the kitchen and grabbed a pair of poultry shears. I grabbed one half and went whack, and then I grabbed the other side and went whack again! Then, two weeks later, I was here in New York and had my guy clean it up."

[The Cut]