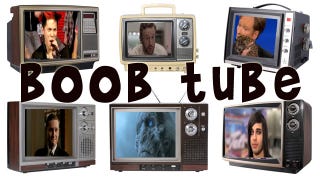 In this week's TV roundup, dead people walk on Game of Thrones, Chris O'Dowd wants a threesome, Jimmy Fallon does "Call Me Maybe" and we bravely face the return of The Glee Project.
---
1.) OMG! It's the return of Lori Beth Denberg!
Everyone's favorite All That cast member appeared as herself on an episode of Workaholics. Oh, Rumer Willis was there, too.
---
2.) Chris O'Dowd is a real creeper on Girls.
But we love him so much that we'll forgive him anything — even that not-so-hot American accent.
---
3.) The Daily Show covers the aftermath of Wisconsin's failed recall.
Wisconsinites are the closest thing this country has to Canadians. Correction: They were the closest thing this country had to Canadians.
---
4.) Andy Samberg discusses why he didn't get a Kristen Wiig-style send-off from SNL.
You want to know what happens when you procrastinate? Mick Jagger sings for someone else.
---
5.) Ken Cosgrove makes a major move.
Overall, it was a very dark week on Mad Men, but there was one bright spot. Ken Cosgrove — arguably the most good-hearted person on that whole damn show — leveraged himself into a pretty powerful position, locking Pete Campbell out in the process.