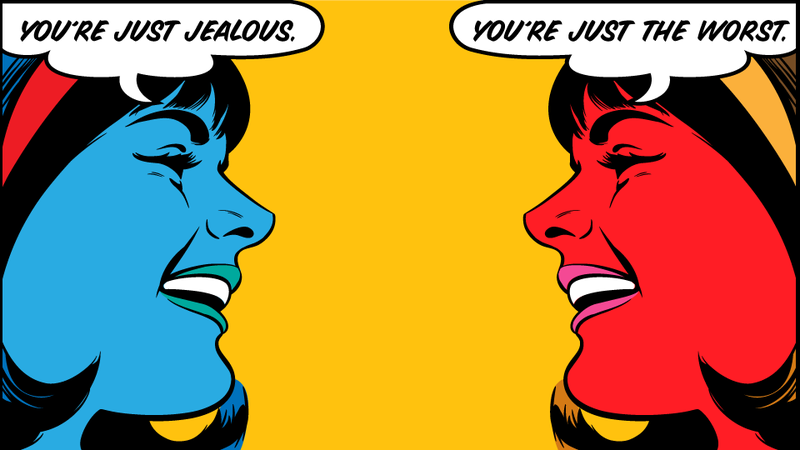 When you're in eighth grade and you don't understand why your best friend has suddenly teamed up with the class bully to write you jerky, unsigned notes that they leave in your locker every day (without fail) between fourth period science and fifth period study hall, having a mother who tells you that the girls are mean to you because they're "just jealous" can provide a mental sanctuary necessary for temporary self-preservation. But when entire swaths of the population — from Real Housewives to real pundits — internalize and spout the notion that all women who so much as disagree with another woman must be jealous bitches, we have a problem. The phrase "just jealous" is not only usually incorrect, it's reductive, and paints women as petty harpies. It's fucking ruining America.
I have to hand it to the phrase "she's just jealous." It's pretty much the most perfectly infuriating thing someone can say to another person who is trying to have a legitimately critical discussion besides "relax." Simultaneously lazy, self-aggrandizing, and indicative of a pathological lack of self-awareness, "she's just jealous" does it all. It's a humblebrag! (I'm so fabulous that every possible thing I or this person I support does is not only unassailable, but envy-inspiring.) It's a quick and dirty dismissal! (You're wrong; I'm awesome.) It's a way to characterize enemies as petty! (There is no legitimate way to disagree with me! All disagreement is bullshit!) And it reliably shuts down dialogue; it's nearly impossible to respond to accusations of being jealous without sounding defensive. It's the idiot trump card.
While accusing any and all detractors of an incurable case of envy is hardly a new phenomenon nor is it exclusively used against women — recent example: back in January, Presidential candidate Mitt Romney dismissed public scrutiny of his role as a corporate skullfucker at Bain Capital by characterizing their concern as "based on envy" rather than, you know, legitimate concern that a guy who wants to be the President made millions of dollars buying corporate carrion and selling it as steak — it's certainly something that's disproportionately used to shut women up. And I've noticed it most often, at least on a cultural level, that it's been used to shut down political debate between women.