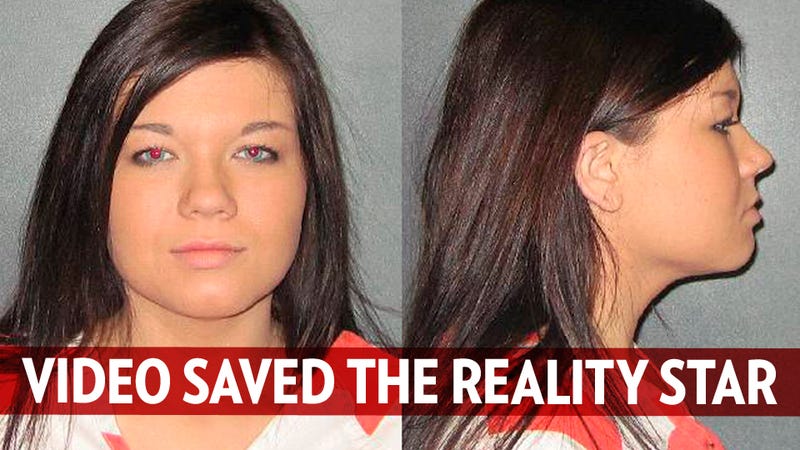 Yesterday Amber Portwood, star of MTV's Teen Mom, was sentenced to five years in prison. We've watched her unravel before our eyes in a swirl of violence, drug addiction, and self-harm that ultimately led to her losing custody of her toddler. Some would argue that reality television ruined this girl's life. But it was actually good for her.
Two weeks ago, Portwood stood before judge at a hearing and requested that he reinstate the original five-year sentence she initially received in February, instead of mandating rehab. Her lawyer looked on in dismay, shaking his head. She said that prison was the only way she could get sober. Portwood did a two-month stint in rehab last year after a suicide attempt, but said she could not stay clean and admitted that she's struggled with drug addiction since she was 13, long before she appeared on Teen Mom.
Portwood was in court because she had violated the terms of her drug court program. She was in drug court because of a felony arrest in December 2011 for possession of over 40 pills—pain killers, opiates, and muscle relaxers for which she had no prescriptions—after police searched her home. Police searched her home because she was in violation of probation stemming from a 2010 arrest for domestic violence.
It was a disturbing episode of the second season of Teen Mom—in which Portwood is seen punching, slapping, and choking her baby's father as their child looked on—that first prompted police in Anderson, Indiana to conduct a seven-week investigation into the violence. She was subsequently arrested and charged with three counts of domestic violence and was released from jail on $5000 bond after pleading not guilty. Child Protective Services then stepped in to monitor the family for six months, eventually removing Leah from Amber's care.