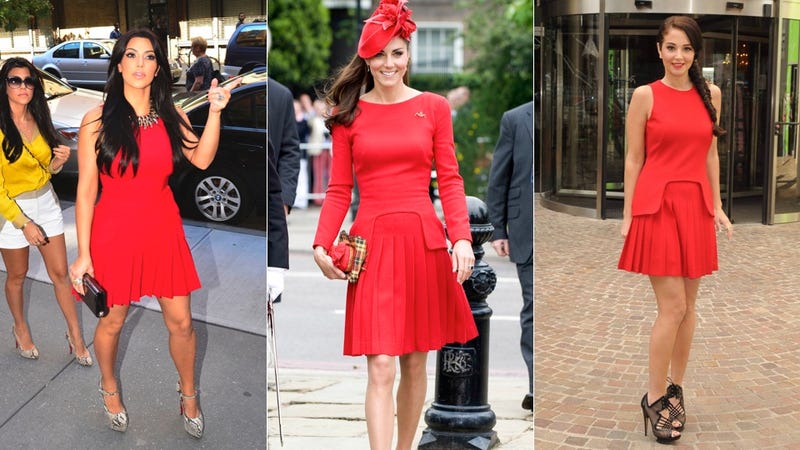 Kate Middleton wore a red Alexander McQueen dress to the Queen's Jubilee celebrations this weekend that was — gasp — previously worn by Kim Kardashian. (Kim's version lacked sleeves.) It was additionally worn last summer by Tulisa (above right), which must be some British thing we don't have here. [WWD]
---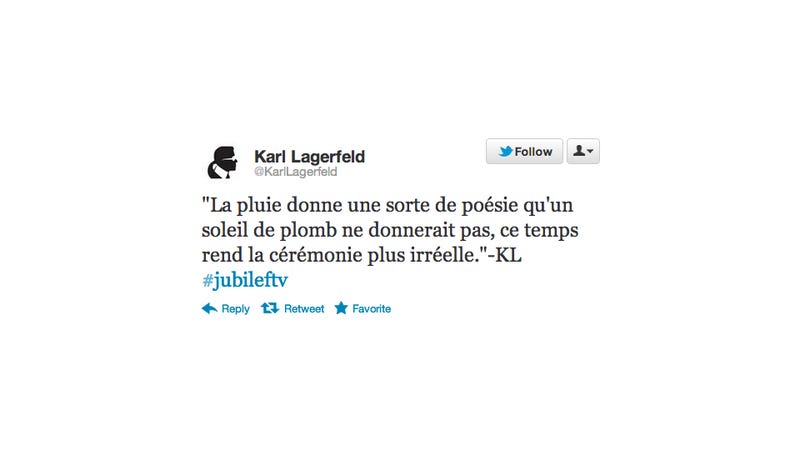 Meanwhile,
Karl Lagerfeld
live-Tweeted the Diamond Jubilee and offered his commentary on French television. Among his thoughts: "I asked my parents to buy me my first TV set so that I could watch Queen Elizabeth's coronation,"
said
the Chanel designer. Of Middleton's red dress, Lagerfeld said,
"She's showing us that the small of her back is just as lovely as her sister's."
(That is
such
a delicate way to refer to the shapeliness of the Royal ass.) "It is surprising in the 21st Century, in a modern city such as London, to find oneself inside a
Canaletto
painting," he then
remarked
of the scene. "The Queen is mysterious but human. Without mystery, it wouldn't work." More
bons
mots
: "The rain gives the scene a sort of poetry that a sunny day wouldn't. This weather makes the ceremony more surreal." [@
KarlLagerfeld
]
---