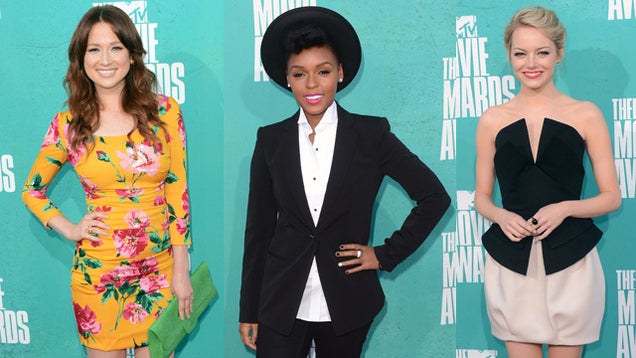 With all the neon palettes, fedoras, and above-the-knuckle rings, last night's red carpet of the MTV Movie awards looked a lot like Swell's fashion show in Don't Tell Mom the Babysitter's Dead.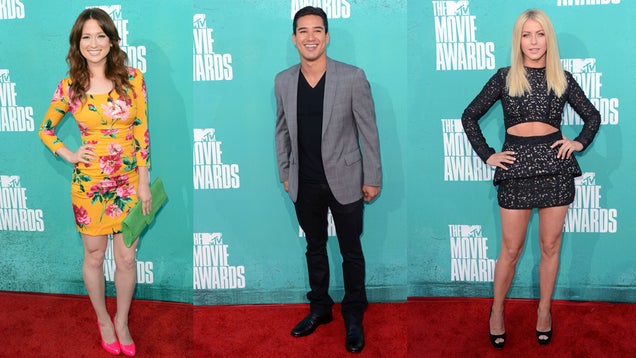 S
Ellie Kemper and Julianne Hough reminded me so much of Hot Sundae that it was perfect that Slater was in attendance.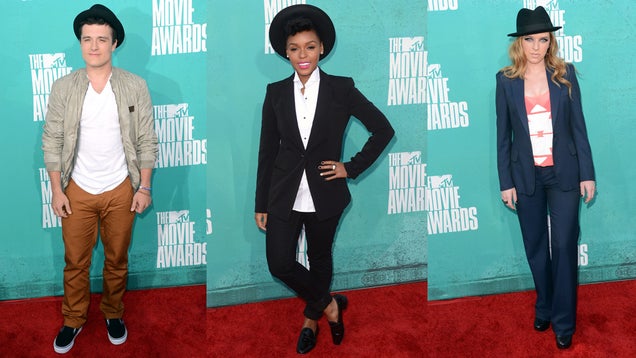 S
I know that Urban Outfitters and Demi Lovato—and not apparently Josh Hutcherson, Janelle Monae, and ZZ Ward—are trying to make these hats happen, but for people of a certain age, they can't be divorced from Debbie Gibson or early 90210.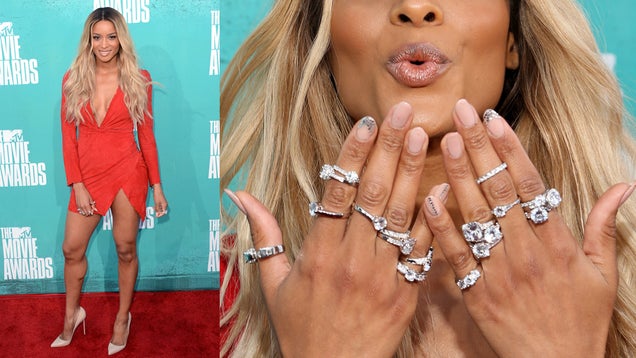 S
One trend that I never thought would be cyclical (but I'm loving that it is) is above-the-knuckle rings. I love everything about Ciara's hands here—from her nail art to her 18 engagement rings.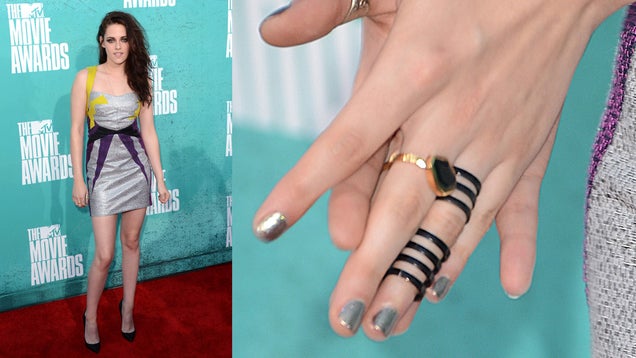 S
Kristen Stewart works above-the-knuckle as well.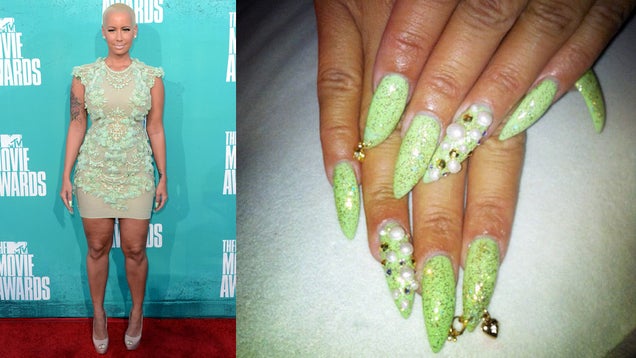 S
The only good thing I can say about Amber Rose's dress is that at least it doesn't look like she's wearing a one-piece bathing suit beneath it. However, her nail art is amazing and makes that entire outfit.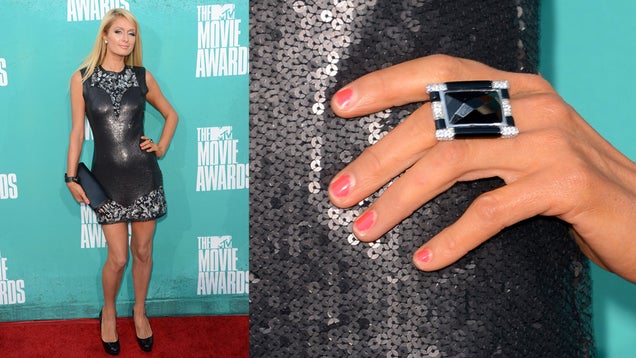 S
Paris Hilton is over the red carpet routin, almost as much as we are of her.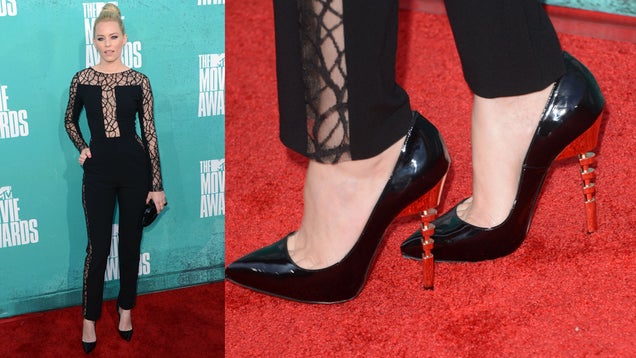 S
From head-to-toe, Elizabeth Banks was one of my favorites of the night, even though she undoubtedly had to get totally naked when she peed.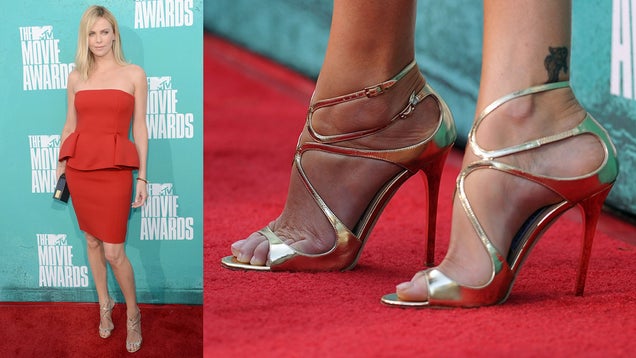 S
Another big trend of the evening, worn by Charlize Theron, was hip flaps. Oh, excuse me — peplums.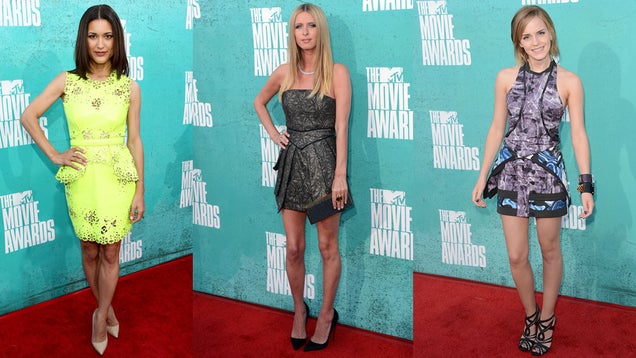 S
More hip flaps: Julia Jones, Nicky Hilton, and Emma Watson.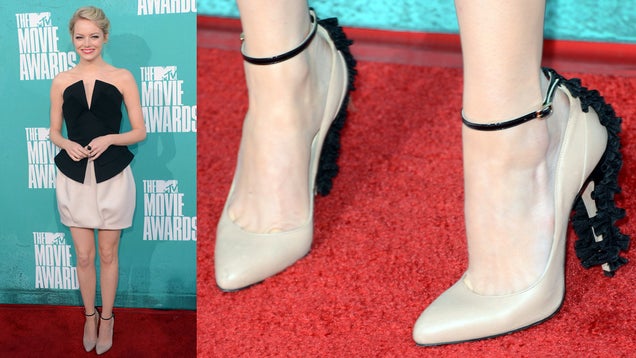 S
Emma Stone is grownup without looking too stuffy and edgy without looking too weird.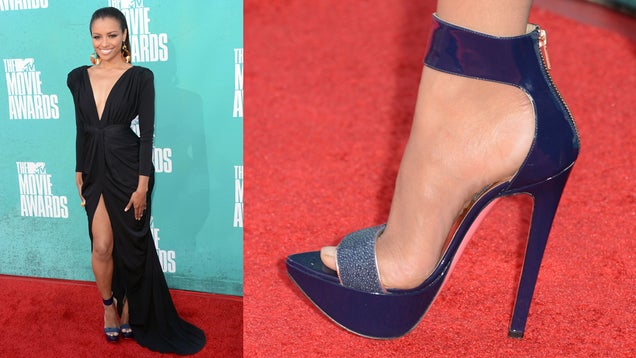 S
I'm a sucker for Morticia Addams sexiness, but I didn't like how Kat Graham paired it with dark purple, crystal-y shoes.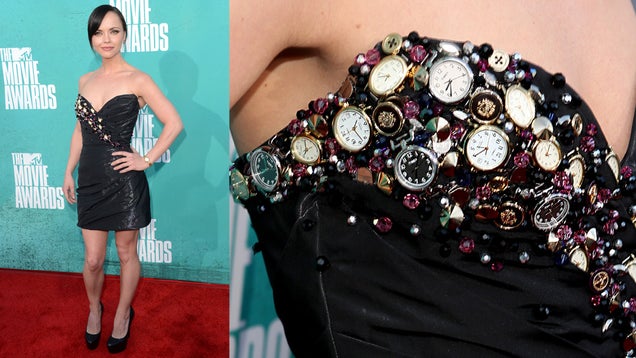 S
From a distance, Christina Ricci's dress was kinda meh, but a closer look revealed it was beaded with little watch faces, making it much cooler.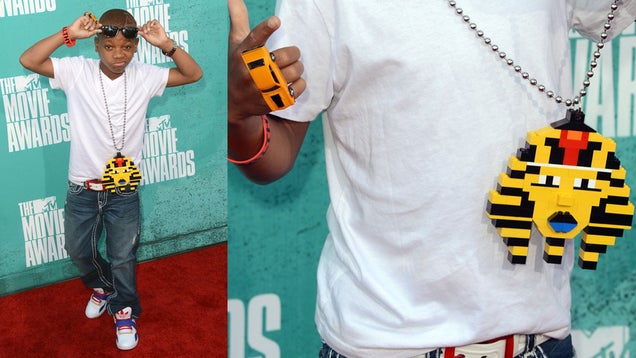 S
Lil Niqo's Matchbox car ring and Lego necklace wins for best jewelry of the entire night.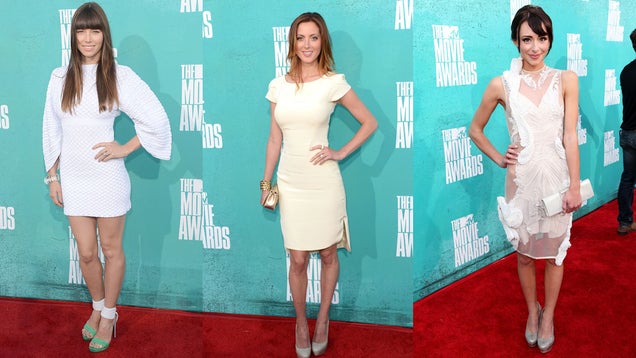 S
Jessica Biel and Eva Amurri look grown up in white, but Lauren McKnight's appearance is unsettling. Particularly because it looks like someone pelted her with wads of wet toilet paper.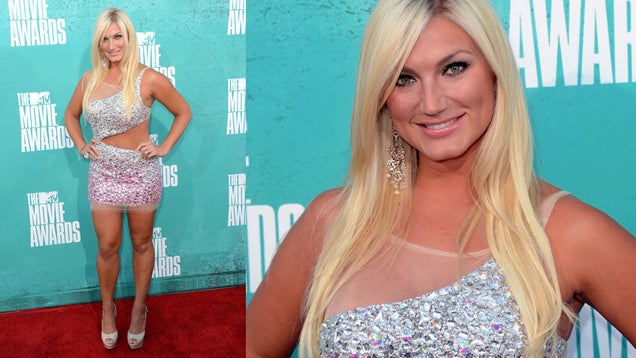 S
The mesh portions of Brooke Hogan's dress just looked like really shitty tan lines.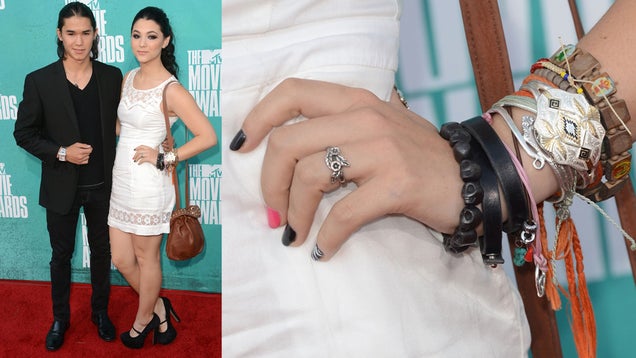 S
I'm going to just ignore the fact that Mr. and Mrs. Stewart are total assholes for naming these kids Booboo and Fivel. Instead I'll just point out that Fivel's arm looks so much like a head shop that I can practically smell the patchouli from here. And I have a cold.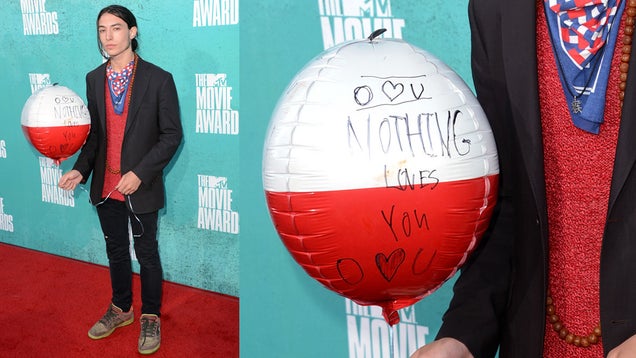 S
Look at this fucking asshole trying seem all cool shitting on everybody's good time with his bad-news balloon that doesn't even make sense and all the stupid shit he's wearing around his neck. (Ezra Miller)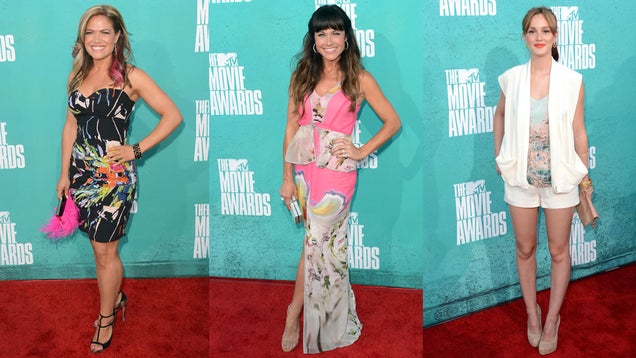 S
This is the first I've heard of Lauren Hutchinson, but she's wearing the dregs of Ke$ha's closet. Nikki Deloach should've just went full-on Mrs. Roper. Tacky is forgiven when it references pop culture. Lastly, there's Leighton Meester in a vest that's like a sweatshirt. A sweatvest? Whatever. There have to be better, more attractive ways to distinguish oneself from Minka Kelly.