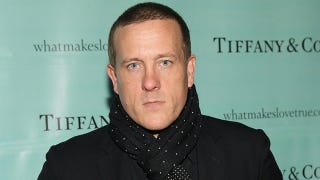 Scott Schuman is profiled in this month's GQ. He fails to say anything entertaining about his sex life or talk any shit on other bloggers, but the street-style photographer does say that he thought Dolce & Gabbana's blogger front row publicity stunt was stupid. At its spring-summer, 2009, show, the Italian brand seated the bloggers BryanBoy, Garance Doré, Schuman, and Tommy Ton in its front row — and even gave them little loaner laptops, to make it clear this was a photo op just in case they wanted to do their type-y, Internet-y, blogger thing.
"They got a humongous amount of press," Schuman says. "Look, we brought the bloggers in and gave them the front row. Look at the dancing-monkey bloggers! I could barely bring myself to sit down." It's true, in the picture he almost looks like he's trying to escape. "Like, 'Ugh, I don't want everyone looking at us.' Like, Oh, look at the cute bloggers! Isn't that cute! Are they playing Angry Birds? When you've got Ron Frasch behind you going, 'I spent two fucking million dollars on D&G's last
collection, and I'm sitting here? For these little schmucks?'"
Tragically, the photo triggered an avalanche of "Fashion bloggers! Wowza!" trend stories the Styles sections of the world's most prominent newspapers have yet to dig themselves out from under.
Ron Frasch, by the way, is the president of Saks. It turns out that he has a sort of totemic presence in Schuman's life.
Schuman says they actually worked together years ago when Schuman was at Valentino, but Frasch didn't pay much attention to who he was. Later on, during Schuman's stay-at-home-dad period, they were introduced at a party. "He's looking right over my head,"3 Schuman says, "and I remember thinking, I'm gonna make this fucking blog so he looks at me when I'm talking to him."
How's that working out? Well, in Florence for the men's wear shows, Schuman runs into Frasch:
He catches the guy's eye and says, "Hey, Ron."

"Hey, Scott," says Ron, politely but without slowing down.

"Happy New Year, buddy," Schuman says.
Ouch.
Schuman doesn't, to the writer's disappointment, say anything about his sexual prowess or his earning power. (Both topics he has been quoted on extensively in the past. Sample: "I'm pretty good at the sex. And pretty good at picture taking. That's about it. Garance is pretty happy. And the hotel-room neighbours are pretty pissed. You can write that; that's totally fine with me." And "those two ads alone are a good fraction of a million dollars: more than a quarter million and less than a half a million." He also has a history of saying dismissive things about Tavi Gevinson.) He does, however, offer his opinion of magazines: