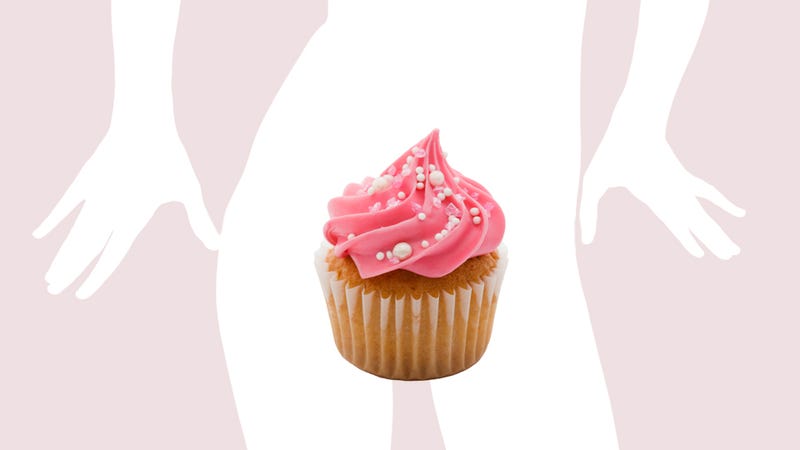 Cupcakes are not new. Cupcakes have been around the block. Cupcakes have been declared the "it" treat for years, both "recession proof" and simultaneously "over." Yet cupcakes persist, now more than ever. And cupcakes are no longer just a delicious bite of sugar and frosting, cupcakes are a symbol. When you see a cupcake, your brain interprets it as a message. But what?
On June 16, Dean Cain will star in a Hallmark original movie called Operation Cupcake. He plays a soldier back from war; Kristy Swanson plays his wife, who's been running a "quaint cupcake shop" (what else?) in his absence. In the promotional photo, both actors are straining to send a message: She, the baker, stands smug and secure as he, in military fatigues, holds a tiny cupcake aloft. As though the juxtaposition — war and sugar, fierceness and sweetness, masculine and feminine — is ridiculous. A soldier holding a cupcake? Absurd! A brawny dude would never possess a ladything like that.
Because, friends, a cupcake is a symbol for both a vagina and the female orgasm.
It wasn't always this way. Ye olde nursery rhymes and ancient tales inform us that in Western history, baking was a male-dominated endeavor. A baker was a man, period. Hot, fresh bread, cakes, pies, meat pies… these were whipped up by men. But when industrialization made ovens less dangerous, the labor force divided, and men did "manly" work, and women took over kitchen duties. Any cooking still done with fire (grilling) is still considered fit for a man. But baking is a woman's job. Unless, of course, you're dealing with well-paying "professional" jobs: A chef — even a pastry chef — is still considered a manly profession.
Cake is a group dessert. Cakes involve gathering, celebration: Birthdays, weddings, holidays. Cakes are made to be cut and shared. Cake is democratic, giving. If food were sex, cake would be baby-making missionary position. Family-oriented.
Cupcakes, on the other hand, are single-serving indulgences, selfish celebrations. Party of one. Cupcakes are not designed to be shared. Cupcakes are brats. If food were sex, cupcakes would be masturbation. Self-pleasure. Cupcakes encourage you to take big gulping bites, lick that frosting from your fingers and feel a smug, personal satisfaction that is all yours.
Plus, cupcakes are small, and small is cute, and women are supposed to be cute. Non-threatening. Not taking up too much space. Cupcakes say I splurge! But only a little. Just the adorable and acceptable amount.
Since men are threatened by anything that can bring a woman pleasure better than they themselves can (see: cats, vibrators), cupcakes and men have a vaguely contentious relationship. Oh, guys will eat cupcakes, sure, but we all know a cupcake is A Thing For Girls. (Is it any wonder that cupcakes are popular in a time when women are frustrated by the wage gap? Fill that gap with frosting!)
And thus, in this post-World War II, post-housewife, post-Sex And The City climate, cupcakes have become shorthand for womanhood. Cupcake is code for "I am female." We're also riding a new wave of what being a woman means: Unlike the ERA-era ladies who questioned patriarchal habits like leg-shaving and bras, women today are enjoying and embracing femininity. Cupcakes fit right in alongside pin-up lingerie, knitting and crafts on Etsy. Cupcake tattoos have become increasingly popular. It seems like lady-centric site Pinterest is at least 90 percent cupcake. And when women heard about the cupcake ATM, they nearly lost their damn minds.