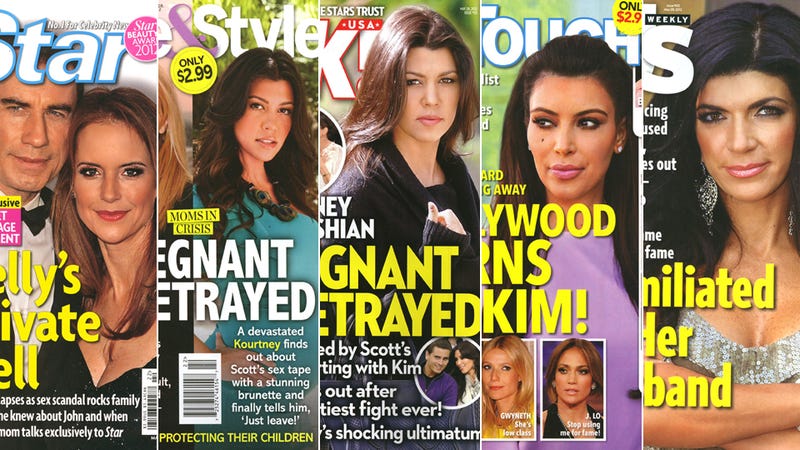 Welcome back to Midweek Madness, in which we sniff the pollen-spewing blossoms of gossip from In Touch, Us, Ok!, Life & Style, and Star. This week, Rachel Zoe is "back to scary skinny"; Brad and Angelina have set a wedding date; all of Hollywood have, in unison, collectively turned their backs on Kim Kardashian; and Reese Witherspoon's dad has serious issues.
---
Before we go any further, take a look at this:

Take some time to process what it all means.
---
Ok!
"Pregnant & Betrayed."
Remember this cover line. You'll see it again shortly. Kourtney is in a "pregnancy panic" because Scott "American Psycho" Disick arranged a baby shower for her in Riverhead, NY — the first of two — but spent the day "hiding in another room with a bunch of his buddies." Kourtney also feels betrayed by Scott because he bought a ridiculously expensive sports car and let Kim Kardashian drive it and tweet about it. Plus, she feels betrayed because he teased her about her pregnant body, calling her "Port-ney." So much betrayal. So little time. Moving on! Jennifer Aniston and Jason Sudeikis — who had a fling in 2010 — will be making another movie together and Justin Theroux is pissed and jealous. Apparently J'Anthrax had a fight in the car about it: He pulled over, turned off the engine and looked into Jen's eyes, asking, "Why are you doing this to me?" The source on this is small shrub on the side of the road, I guess. Next, Jennifer Lopez and Casper Smart had a "very awkward conversation" in which she talked about having more kids and he "freaked out." Apparently the 24-year-old backup dancer doesn't have reproducing on his agenda "for at least another 10 years." Still, an insider says: "All his buddies tell him he'd be set for life and that he's totally nuts to turn down her offer to start a family." Yes, babies equal money! Last, but not least, if you live in the New York metro area, the editors of OK! want to meet you. (See Fig. 1) Be sure and show up armed with your statistics about how the cover is only accurate seven percent of the time.
Grade: F (light-sensitive migraine with nausea)