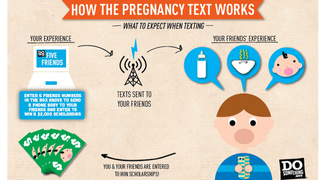 When I heard about Do Something's "Pregnancy Text" campaign — "challenge your friends to take care of a phone baby for a day" — I was obviously intrigued. The projects allows users to experience having a baby for 24 hours via text message, as well as the chance to win a $2,000 scholarship if they text five friends and ask them to do the same.
(Okay, so I'm older than the target demographic. But I still signed up — in the name of journalism! — and texted five of my non-teenage friends, who instantly wrote back asking me why I invited them to raise a text baby. Sadly, I don't think any of them accepted the challenge.)
Here's how Do Something describes the campaign:
America has the highest teen pregnancy rate of any industrialized nation. If you're a girl you may already know this since most campaigns about the issue targets females. We think guys should learn a bit about this too, don't you?

Sign up your guy friends for a day of funny text messages to show them how their lives would be different if they were a teen parent.
After texting my friends, I got a response telling me to text "Diaper" to start my own challenge. Next, I received this message: "Get some sleep, your phone baby will let you know tomorrow morning when it needs you. She will text you throughout the day."
I completely forgot that I had a phone baby — who I have since named "Kyndal," since it was one of the least popular girl's names in 2011 and I want my phone baby to be ~*~unique~*~ — until I looked at my phone at around 10:30 am the next day. My baby's first "words" were: