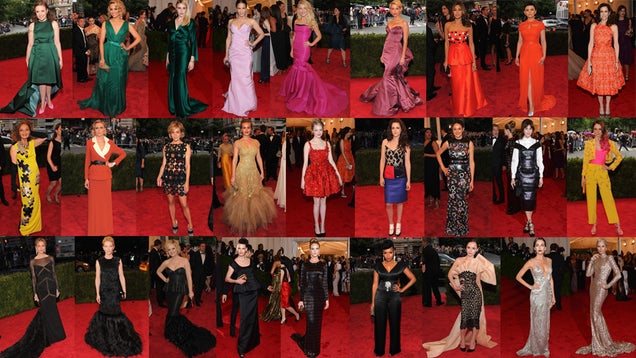 S
The annual Costume Institute Gala at the Metropolitan Museum of Art is the biggest, fanciest, most fashion forward red carpet event on the East Coast. If there was one go-to look for the night, it was the "witchy woman," a mix of black feathered dresses, dark lipstick, cloaks, and talons.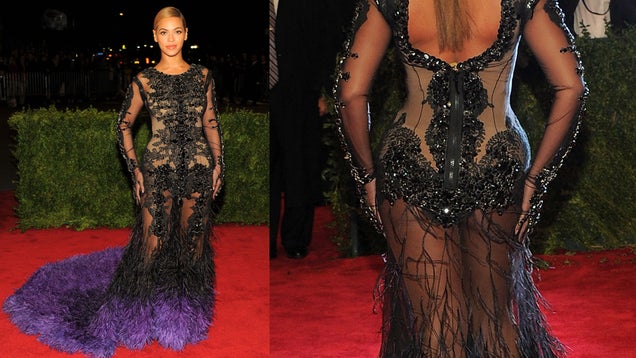 S
Let's start with the best: Queen Bey. Her nude illusion Givenchy is undoubtedly polarizing but I love the feathered bottom and the all-in-one sleeves/gloves. The nude suit underneath is problematic, but judging from other pictures, it only seemed to be an issue under a certain kind of flash of the camera.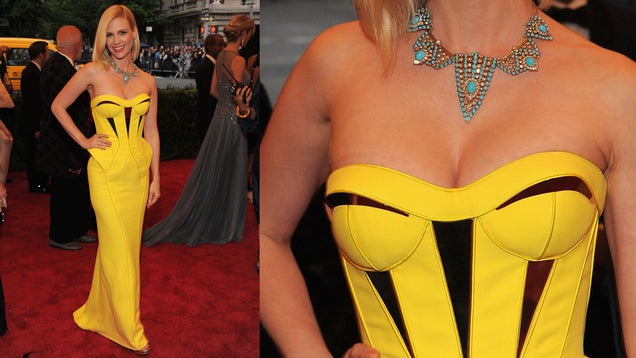 S
Yellow was a popular color choice, with January Jones' metal-accented bodice and turquoise necklace making her effort a perfect marriage of hipness and elegance.
S
Solange is always doing cool things that make her look amazing, like putting some geometry on her arm.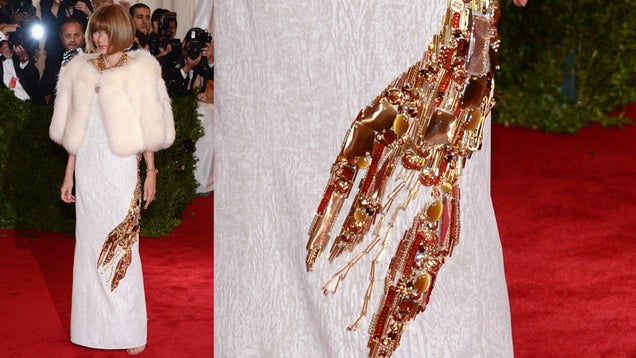 S
Anna Wintour wore a white fur cape and a motherfucking lobster dress.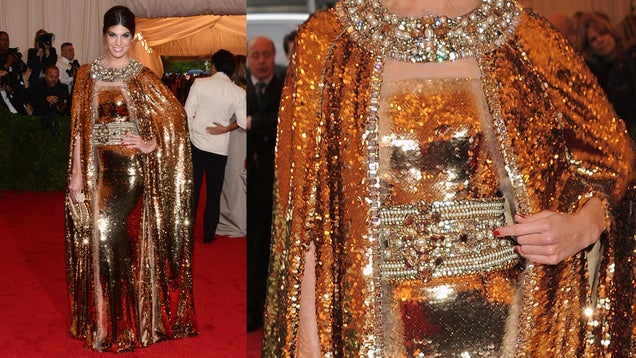 S
I know, I know, Bianca Brandolini D'Adda is wearing some gaudy-ass shit, with every inch of her shining. Her commitment to this look, though, is what pulls it off.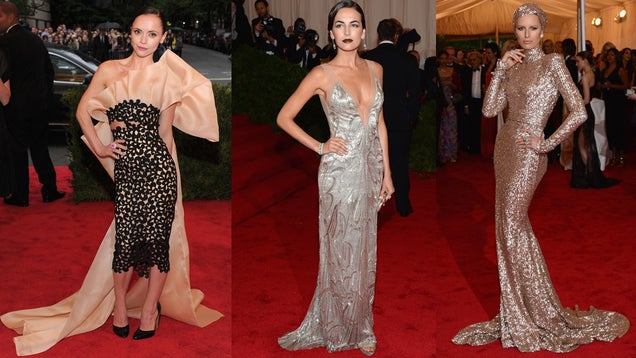 S
Three of my favorite looks last night were some of the riskier ones: Christina Ricci, Camilla Belle, and Karolina Kurkova, who is flawless as Gloria Fucking Swanson.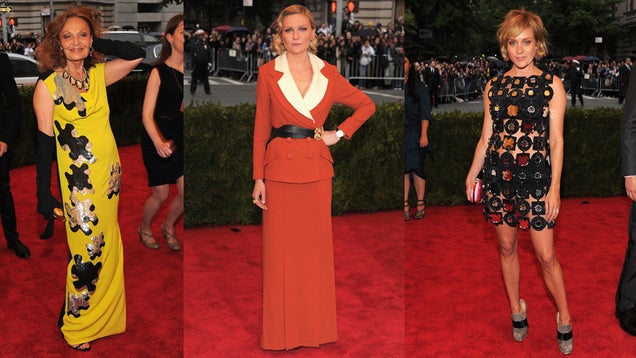 S
Some more risk/reward with Diane von Furstenberg in puzzle pieces, Kirsten Dunst in a '40s-inspired suit dress, and Chloe Sevigny channeling Edie Sedgwick.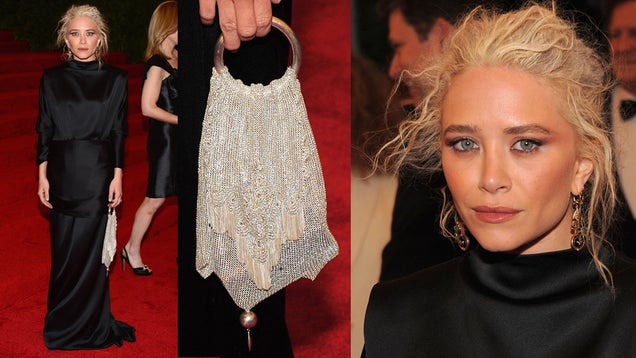 S
Mary-Kate Olsen is the coolest 80-year-old woman in the world.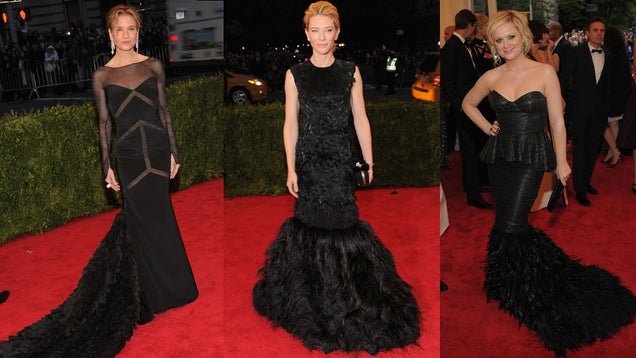 S
The feather fishtails are dramatic and flattering, but the red carpet was saturated with them: Renee Zellweger, Cate Blanchett, and Amy Poehler.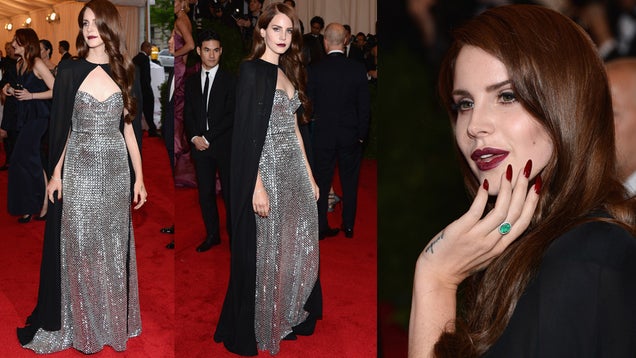 S
This happened after Lana Del Rey was twirling in a cauldron.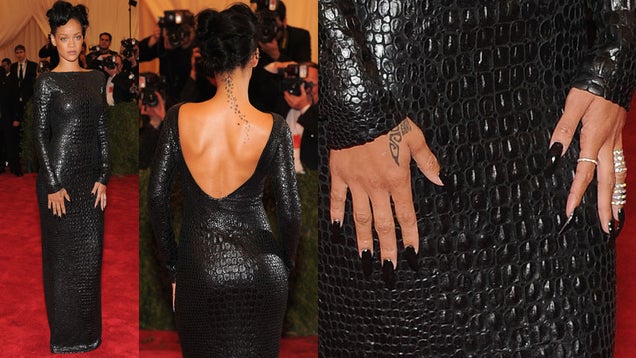 S
Rihanna in crocodile skin with talons.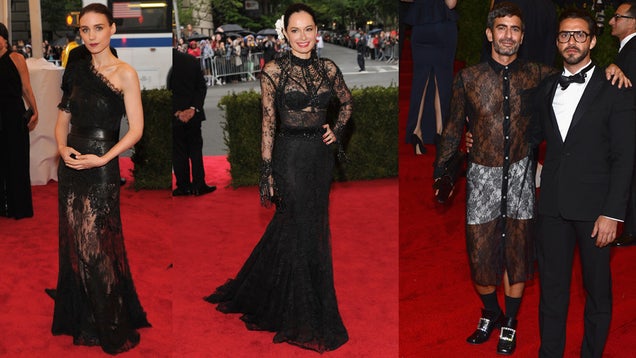 S
Lacy: Rooney Mara, Lisa Airan, and Marc Jacobs.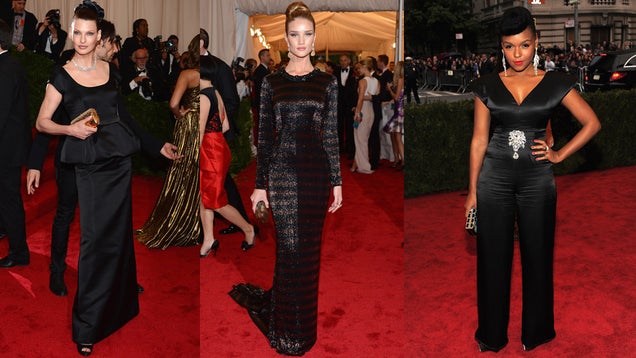 S
Linda Evangelista's otherwise stunning gown is marred by what appears to be a large scrunchie. Rosie Huntington-Whiteley is absolutely flawless in beaded stripes. Janelle Monáe's jumpsuit got a bit rumpled en route.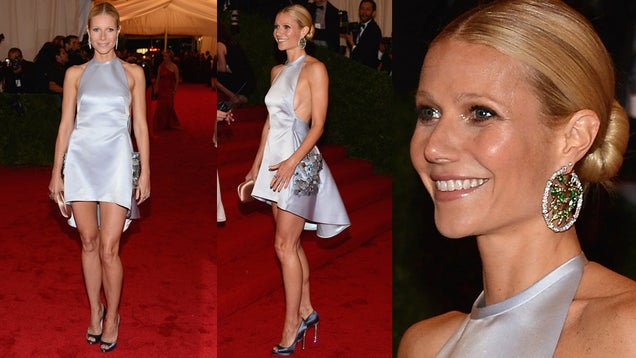 S
Gwyneth Paltrow and some serious side boob.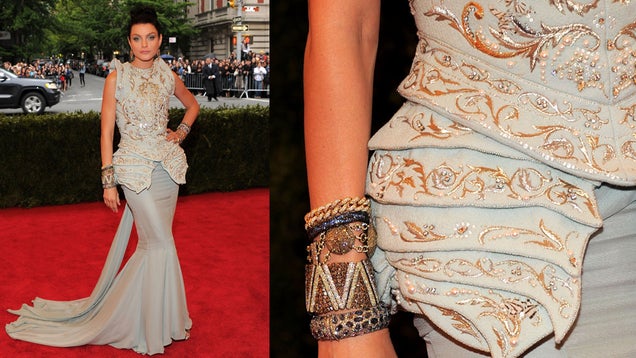 S
Jessica Stam's intricately beaded and stitched gown is nothing short of art.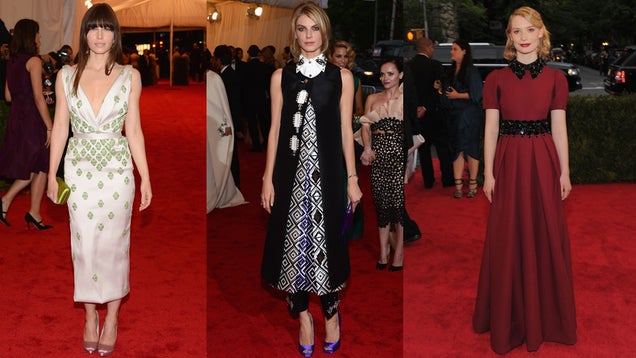 S
Slightly left of center: Jessica Biel, Angela Lindvall, and Mia Wasikowska (who had an unfortunate issue with pit stains).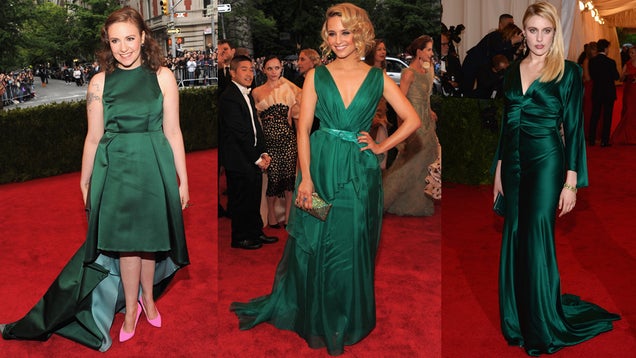 S
Greens: Lena Dunham, Dianna Agron, and Greta Gerwig.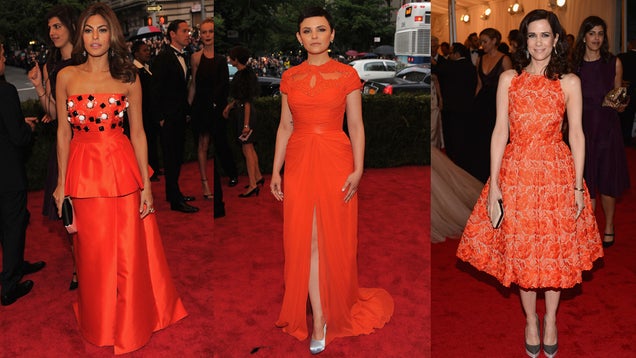 S
Orange: Eva Mendes, Ginnifer Goodwin, Kristen Wiig.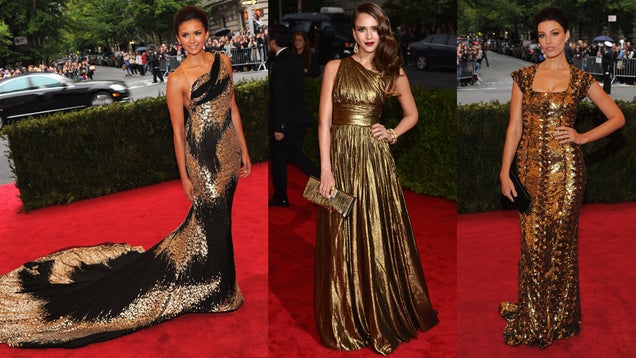 S
Gold: Nina Dobrev, Jessica Alba, Jessica Paré.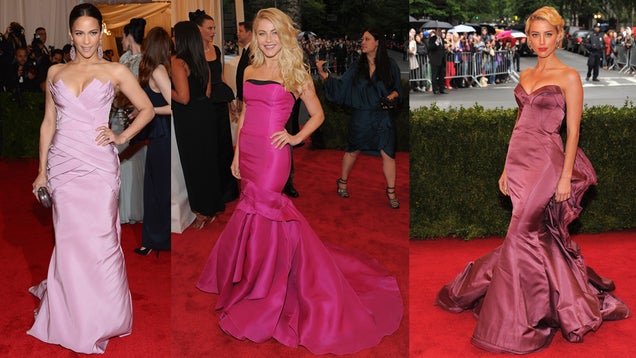 S
Pepto Bismol: Paula Patton, Julianne Hough, and Amber Heard.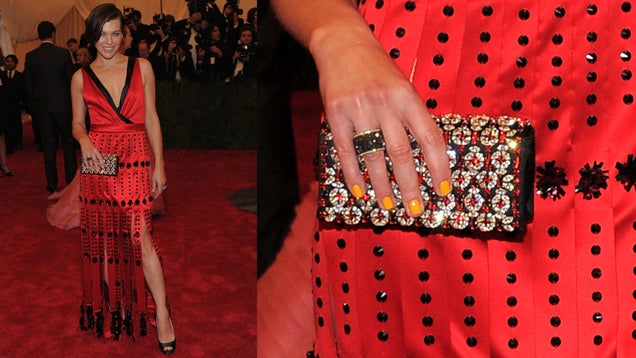 S
It's refreshing to see a flapper-influenced dress without having the dreadful drop waist all the time (Milla Jovovich).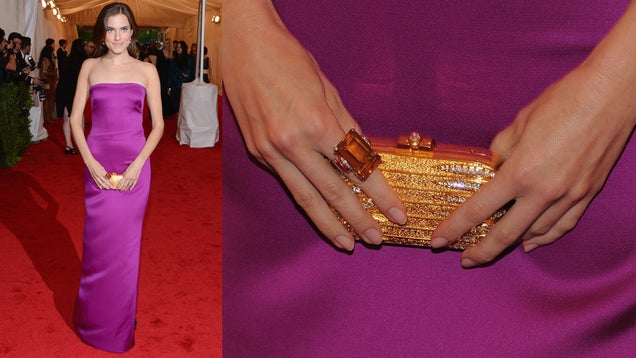 S
Allison Williams' dress is exceptionally boring, but what intrigues me about this shot is trying to figure out what one item in the world made the cut to fit in that clutch. A lipstick? A $20 bill? A flash card?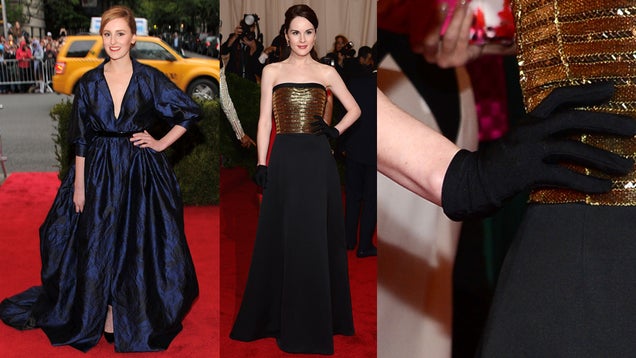 S
Lady Edith and Lady Mary.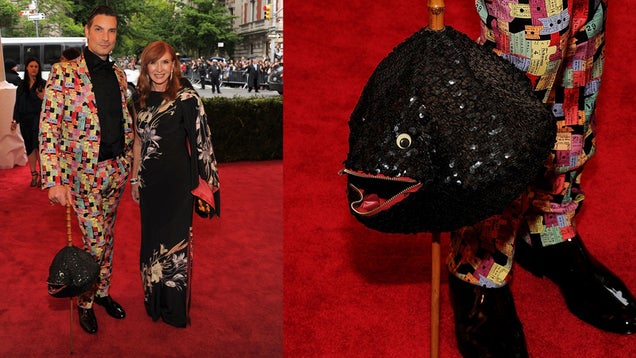 S
Nicole Miller's pal Cameron Silver had a purse attached to his cane.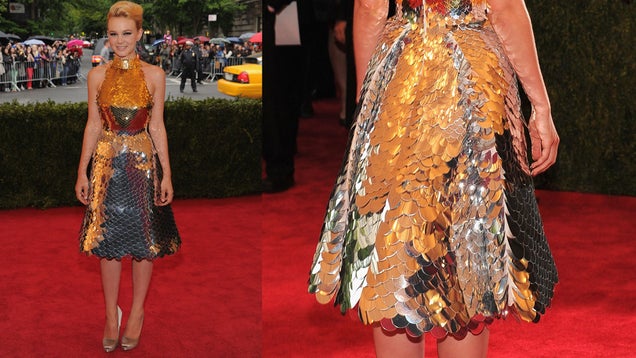 S
The splendor of the graduating paillettes of Carey Mulligan's dress was dampened by the bad hair day.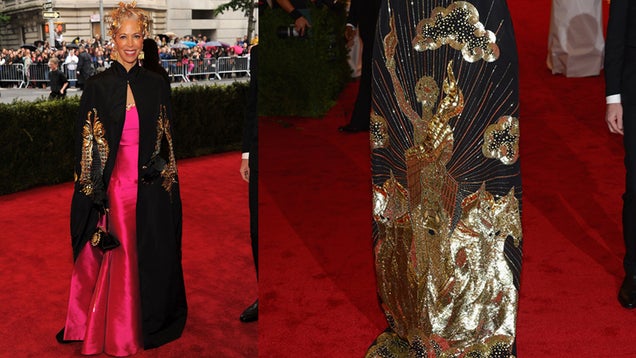 S
I feel like Linda Fargo is doing a Björk impression here.
S
Leslie Bibb wore the biggest garment to the event.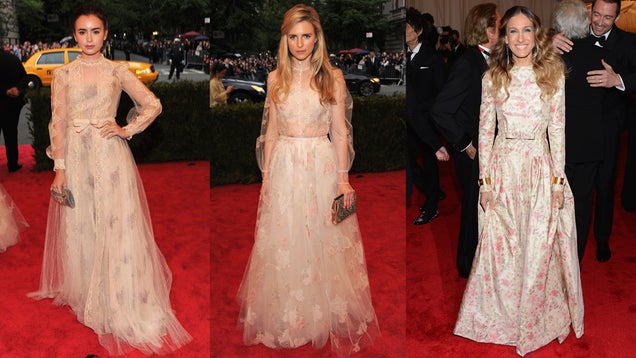 S
Little House on the Prairie: Lily Collins, Brit Marling, and Sarah Jessica Parker.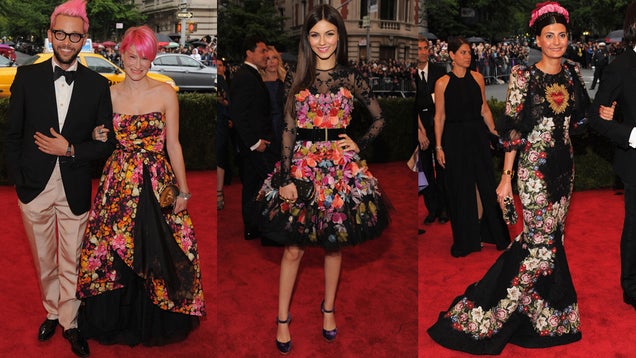 S
Bold florals: Chris Benz, Julie Macklowe, Victoria Justice, and Giovanna Battaglia.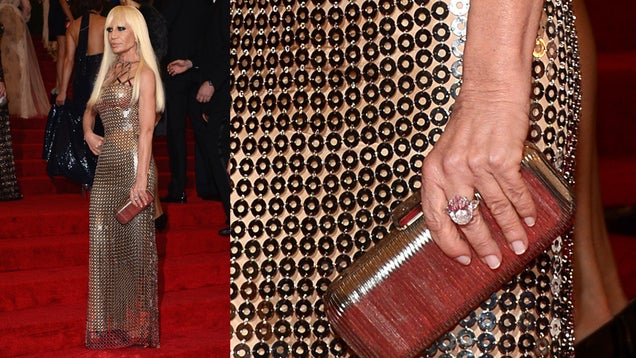 S
The OG Tanning Mom: Donatella Versace.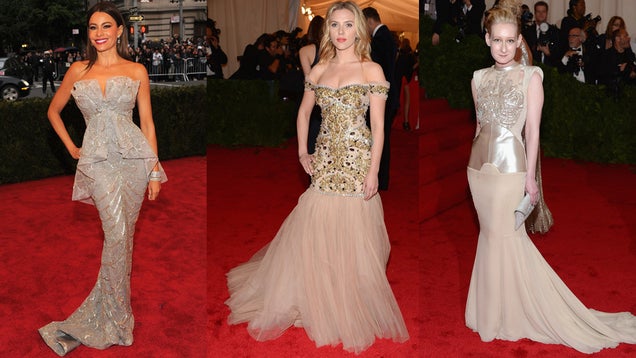 S
Sofía Vergara and Scarlett Johansson have amazingly sexy bodies that look great in basically anything, especially these kinds of dresses that are probably gorgeous in person but seem like wallpaper at this point because they've been worn a million different times. I have to say that I'm uncomfortable with the attention drawn to Vogue Beauty Director Sarah Brown's mons pubis.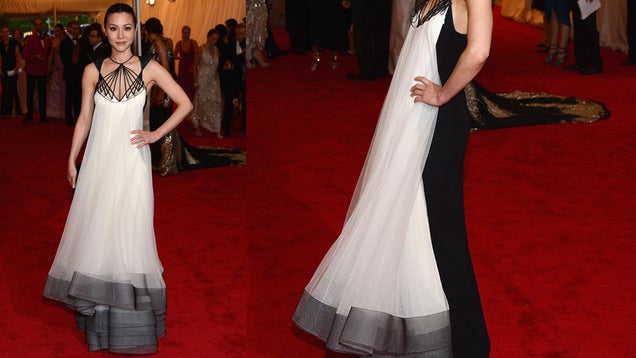 S
Did you ever take a dress on the hanger and put it over your head, hanging it from the front just to see what it might look like on you? So has China Chow.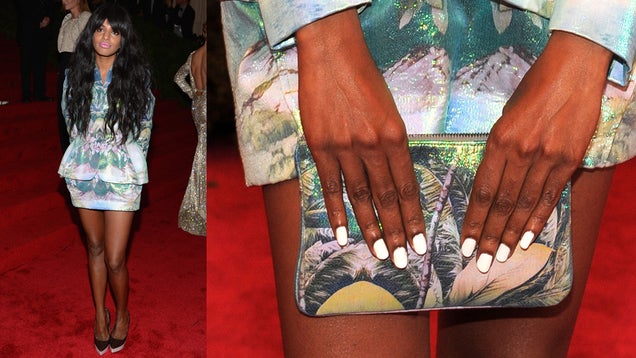 S
M.I.A. should've given her stylist the finger when this getup was suggested.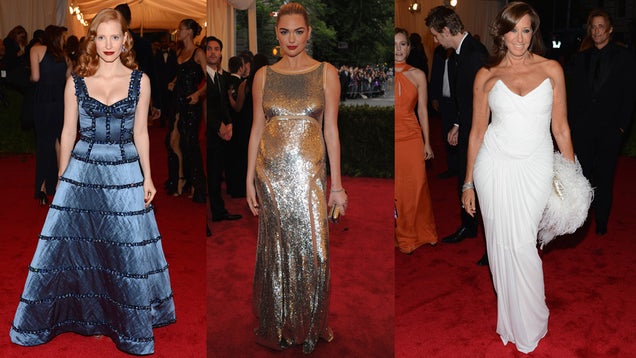 S
A rare miss for Jessica Chastain. How can a dress be so unflattering on Kate Upton, a Sports Illustrated swimsuit cover model? What went wrong here? Donna Karan's right boob is trying to escape the embarrassment of her Marilyn Monroe gone wrong look.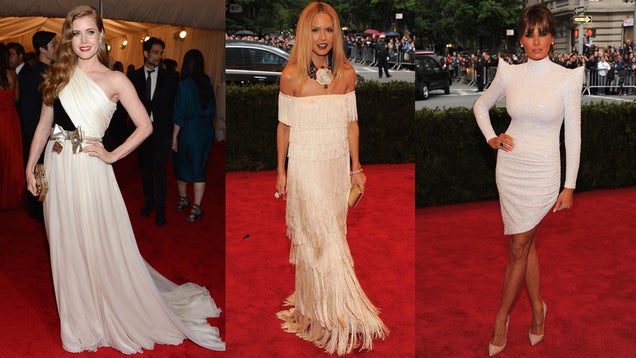 S
Amy Adams whole persona is like a pretty bow so the one around her waist just seems like overkill. On the one hand, Rachel Zoe might be the only person who can wear this dress. On the other hand I'm making a thumbs down motion. Melania Trump's boobs and shoulders form the perfect "W" for this whatever outfit.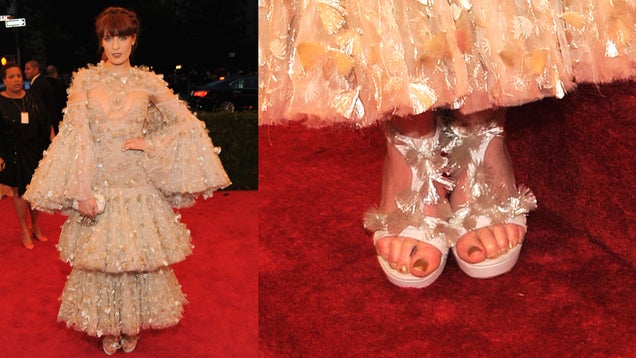 S
I respect that Florence Welch is daring everyone to put her on their Worst Dressed lists. I respect it so much that I will go ahead and do so.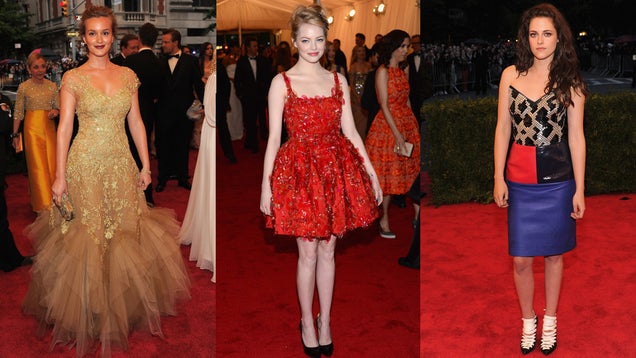 S
Girl, no: Leighton Meester, Emma Stone, Kristen Stewart.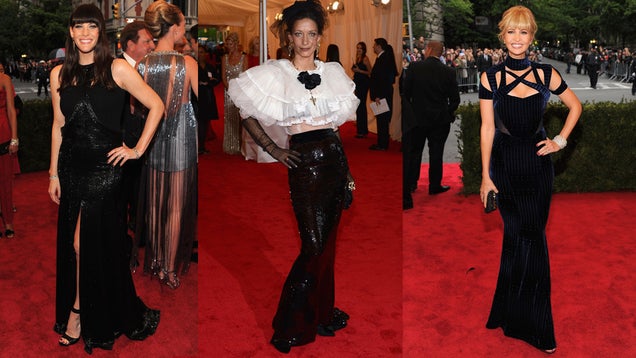 S
I can't imagine that any of these even seemed like good ideas when they were first sketched: Liv Tyler, Marpessa Hennink, and Ivanka Trump.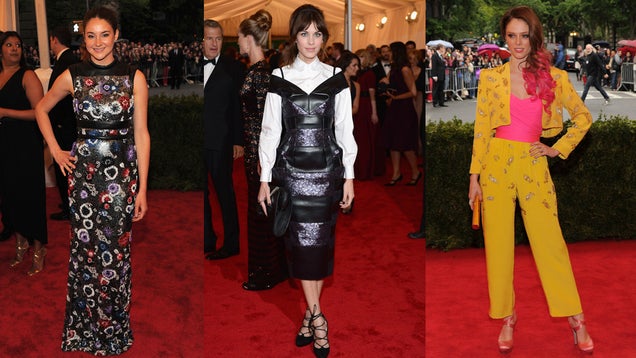 S
I mean, Shailene Woodley and Alexa Chung's dresses here are remarkably terrible but Coco Rocha's extensions that match her bathing suit that she's wearing under her (matador?) floodwater pantsuit is in a class all its own.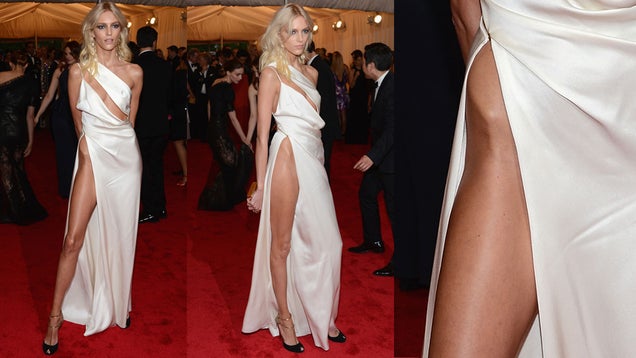 S
Last and least is Anja Rubik. I don't know if I've ever been so sincere when uttering, "What the fuck?" Her non-outfit—that inexplicably showcases her hipbone—reminds me of the first season of Real Housewives of Atlanta when Sheree had her first She by Sheree event, but didn't get the dresses made in time. Dwight says, "Who has a fashion show with no fashions? How dreadful!"