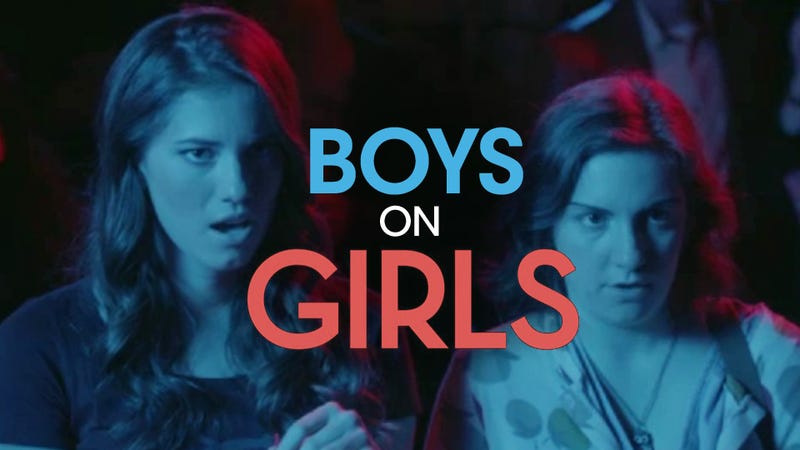 Welcome back to Boys Who Talk About Girls, where we interview regular men who are part of the show's target demographic and don't write for the Internet for a living about the show Girls. We get them to speak candidly about sex and relationships publicly in a manner that most men don't, which is to say, in a way that will either instill hope or utter despair, such as it is.
Ready?
This week's interviewee is a man who we'll call Sean. He's 29, lives in L.A., and is a radiologist.
Good morning, Sean! It's 4:30 AM where you live. How the hell are you talking to me about Girls right now?
I work at a hospital, I'm on-call for a graveyard shift. I watched it on HBO Go.
When we first emailed, you explained that you once dated a girl who lived in Brooklyn. Did you live there?
I didn't live there, but I dated a girl who did. I lived in the midwest. It was a long-distance relationship, but I've been in LA for a year, now.
Safe to say it didn't work out?
Nope. I'm single.
So, what do you think of Girls? You told me you had a specific experience vis-a-vis one of the characters-and we'll get there-but on the whole, does it ring true to you?
Yeah, it rings very true, but the male characters are not as realistic in everything I seen [as the female characters]. For one thing, the dialogue between the guys doesn't seem to be realistic. As a gender, I think the guys are coming off pretty poorly in terms of the way they're depicted.
To be fair, we come off pretty poor in reality, too.
Do we? There's that line from this week spoken by the friend of the father whose kids Jessa babysits, how she has "Brigitte Bardot's face and Rihanna's ass." I've never made a comment like that to my friends, in terms of how a girl is attractive.
Right. I've never taken the time to break a woman down into approximated cuts of meat.
It doesn't need to be said, it's not a realistic thing. If he said that to us, we'd both know that the guy was a jackass. Similarly with the boss who was very touchy, and obviously that guy Adam, who is awful.
You don't think bosses sexually harass women like that?
I'm sure it happens, but do they speak like that?
I wouldn't rule anything out, but I get what you're saying. So, opening scene, Hannah gets sent a picture of Adam's dick. You ever sent a girl a picture of your dick?
I have never even considered it. Have you?
Can't say I have.
Right? Never. I was thinking about that when I was watching it. It's the permanence of it. I guess it goes without saying, but just because you're letting them see your penis temporarily doesn't mean you're not doing it permanently. If there was a way to send them only temporarily and then disappear, however, I think people would be doing that a lot.
Would you?
I don't know.
I never really understood the appeal of photo-sexting, besides my own horror of compartmentalized body parts. It's too science-y?
Yeah, but it's kind of, like, symbolic of commitment. If you're willing to trust someone with a photo like that, knowing that they would have the power to make that, you know, make you look like an idiot? I wouldn't want a girl to send me a picture of herself, but I wouldn't want her to feel as if she couldn't trust me to do it, either. It could represent a new sort of vow or commitment practice. You know that in middle school, that's what they do now? They give each other their Facebook passwords, just so they don't have any secrets. Maybe that's what adults should do, to entrust each other with every piece of potential blackmail. I think that'd be of great significance: if a girl sent a picture of her naked, as if she trusts me with with that, and I make her feel good about being able to do that.
This touches upon the diary of Hannah's read by men at the end of the episode, which we'll get to. But, wait a second: Middle school kids actually do that?
Oh, yeah. I'm forgetting if I read it or heard it on NPR. [Ed. This is actually a thing.] The kids the reporter was talking to felt if they couldn't trust each other with their passwords, then they weren't at the level they wanted to be with their relationships.
Christ. They're in eighth grade.
Well, I've been in relationships where I've had access to passwords for everything and I've never felt the inclination to go through someone's stuff, or their journal. Again, one way the show is off in its characterization of guys.
Or maybe the type of guys they're characterizing (like those who would identify with the show). I was in two relationships where my girlfriend went through my email. One was imperiled at the time, the other wasn't (at least, superficially). You don't think if your relationship was in some sort of tumoltuous phase, you would be able to resist the urge to use those passwords?
That's a different situation. If you're in a relationship where you don't trust each other and your really need to know what's going on, then...yeah, I might. I suppose there are definitely circumstance where it's warranted. But: Definitely a grey area.
Have you ever heard of this site, Is Anyone Up?
Yeah, I have. I think I read about it on Gawker. But I haven't gone to it.