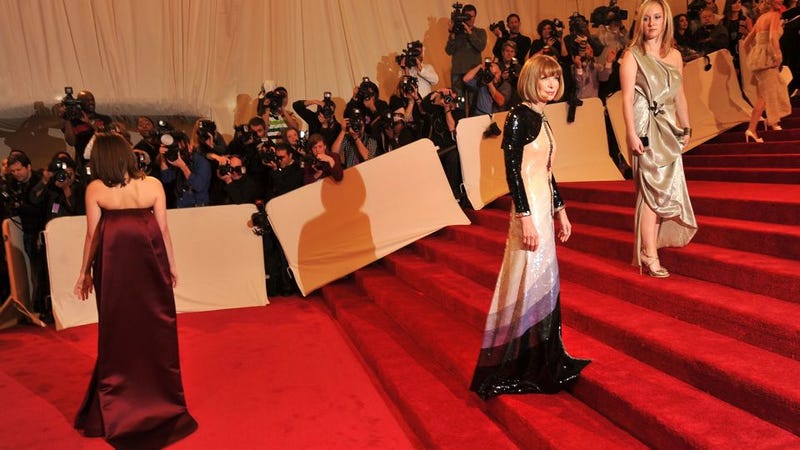 It's Met Ball day! That means tonight's the night all the top models, designers, celebrities, and assorted rich people in New York head to the Upper East Side to listen to Azealia Banks and drink prosecco in the Temple of Dendur. The event has raises millions for the museum every year, and fêtes the annual Costume Institute show — "Schiaparelli and Prada: Impossible Conversations" opens Thursday, friends. Only the guest of honor and the only surviving member of this year's headlining duo may not be able to attend. Miuccia Prada reportedly fell off her "high-rise platform shoes" this weekend; when journalist Suzy Menkes met her at her hotel for an interview, Prada was "resting" and unsure if she would be able to make it to the ball. Karma. [IHT]
Not entirely coincidentally, the house of Schiaparelli — which closed its doors in 1954 — is being prepared for a relaunch. Tod's owner Diego Della Valle acquired the Schiaparelli name and archives in 2006. He has hired model Farida Khelfa to serve as a brand ambassador (kind of like he hired Inès de la Fressange to lend a little glamour to the relaunch of Roger Vivier shoes in 2002); Khelfa will be wearing vintage Schiaparelli at the ball tonight. The company is still searching for a creative director, and says the first new Schiaparelli goods will hit stores next February. [WWD]
Sarah Burton of Alexander McQueen says, "I often look to Schiaparelli. I think she was an incredibly inspiring designer. We've had her on our research boards many times." [Refinery29]
Some of the pieces for this year's show were loaned to the Met by a 70-something rich lady in Michigan who has spent her life collecting rare, old couture. And, through some feat of (enviable?) self-repression, never wearing any of it. [NYTimes]
Here's a list of which designers are taking which models and celebrities. Azealia Banks is being dressed by Alexander Wang, and Proenza Schouler is taking Isabel Lucas. Poor Joan Smalls has to wear Balmain. [Fashionista]
"Sources" say that no less an authority than Anna Wintour has asked all of the Vogue editors to wear pink to the ball tonight. Shocking pink was Schiaparelli's favorite color. Reports Women's Wear Daily: "Wintour is said to have asked the magazine's editors to take pictures of themselves in their dresses, with a few different hairstyle options, and send them to the Vogue editor in chief." [WWD]
---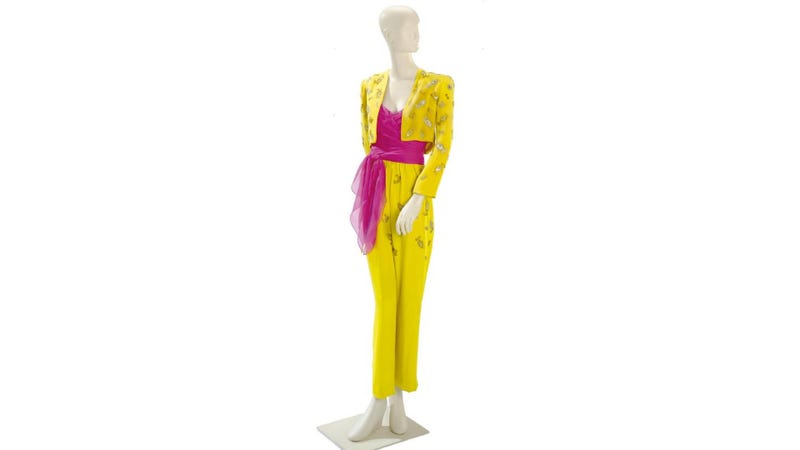 Coco Rocha
is wearing a vintage yellow and hot-pink
Givenchy
couture jumpsuit that once belonged to
Elizabeth Taylor
. The model bought it at the auction of the late actor's things last December for
$3250
. It's not quite pristine, says Rocha. "If you look carefully, you can see
the suit has this very faint red wine stain on it
. After I had it cleaned I took it to show the editors at
Vogue
and we could still see the stain.
We all agreed that since it was Liz Taylor's wine stain, it's OK to wear as is.
" [
USAToday
]
---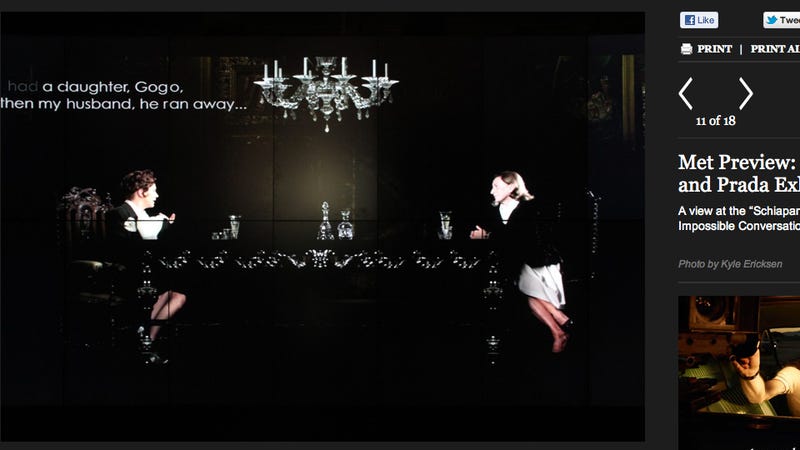 As for the small matter of the actual show? Apparently, it involves a film directed by potential imminent
Gatsby
-ruiner
Baz Luhrmann
, in which the Australian actress Judy Davis — playing Schiaparelli — has a conversation with Prada. [
WWD
]
---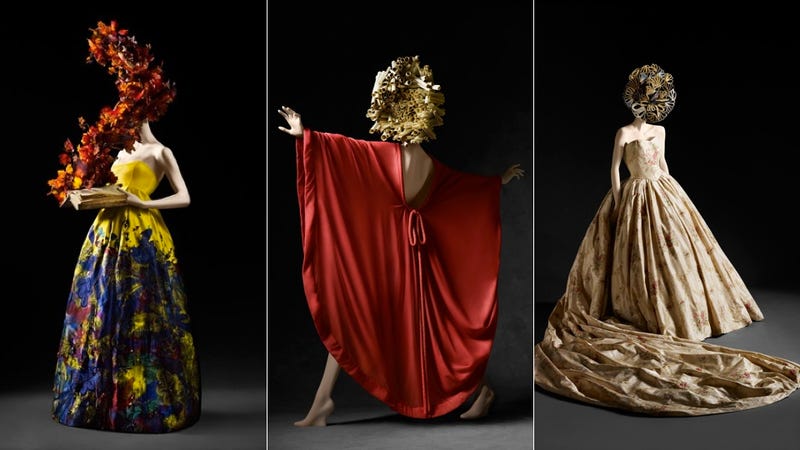 Meanwhile in London, the
Victoria & Albert Museum
is readying for opening an exhibition called "Ballgowns." These are some of the gowns featured. [
Vogue UK
]
---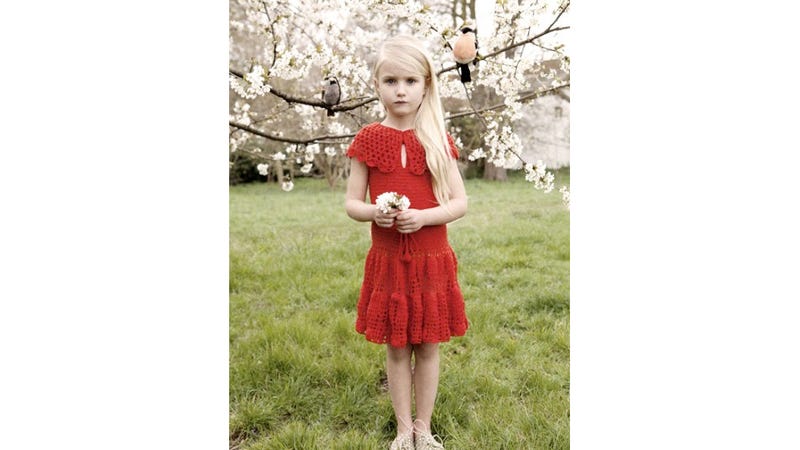 Natalia Vodianova
designed a girl's dress with the label Caramel Baby and Child and had her six-year-old daughter Neva model it. Half the proceeds go to support Vodianova's charity, the
Naked Heart Foundation
. [
Telegraph
]
---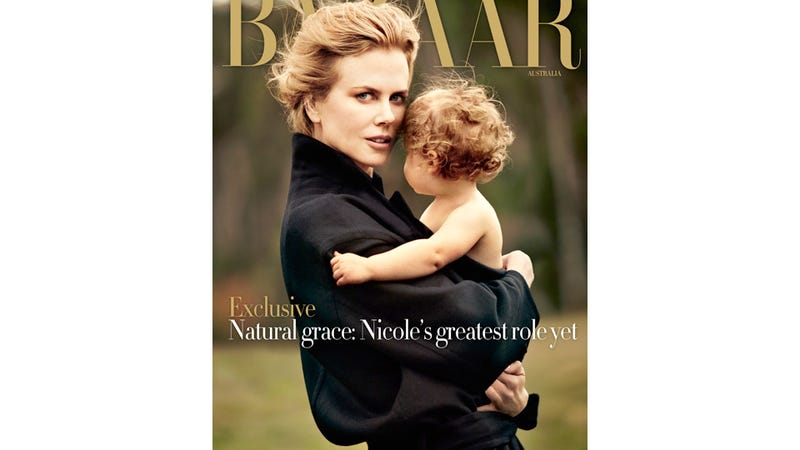 In other mother-daughter news,
Nicole Kidman
and her daughter Faith Margaret are on the cover of Australian
Harper's Bazaar
. Only the kid is looking away from the camera. [
DS
]
---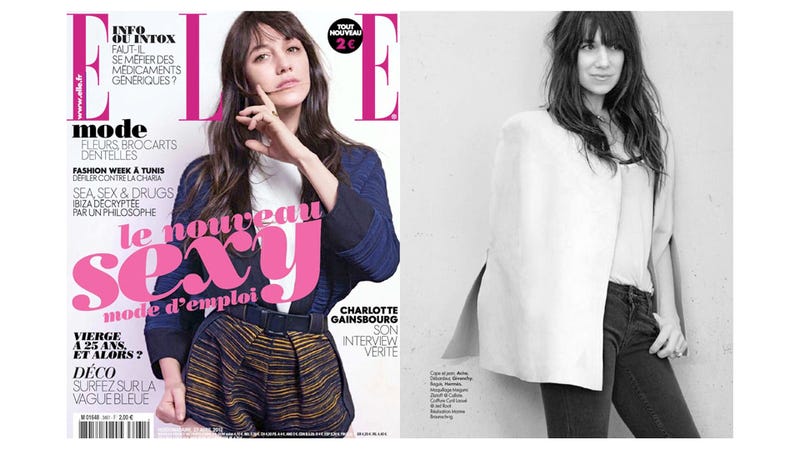 Charlotte Gainsbourg
is
le nouveau sexy
, according to
Elle
France. [
FGR
]
---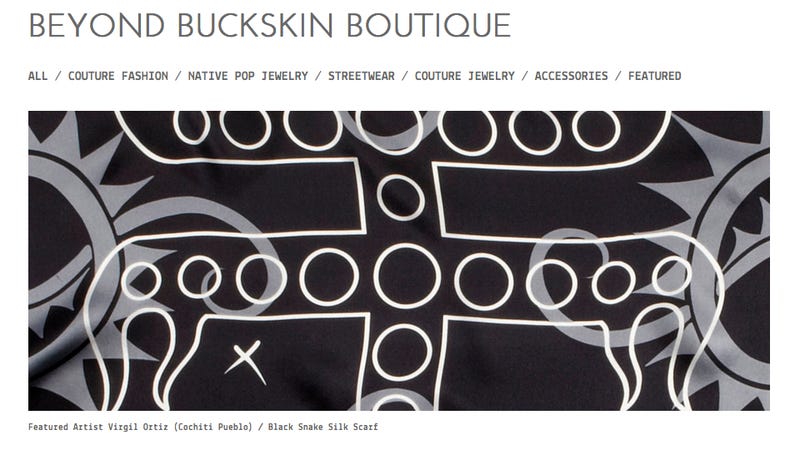 Want to participate in
the "Navajo" "trend"
? Don't want to give money to
Forever 21
or
Urban Outfitters
? The Native American fashion blog
Beyond Buckskin
has just launched an online boutique showcasing the work of 11 Native American clothing, jewelry, and leather goods designers. T-shirts start at $30, and right now silk scarves
are 50% off
. [
Beyond Buckskin
]
---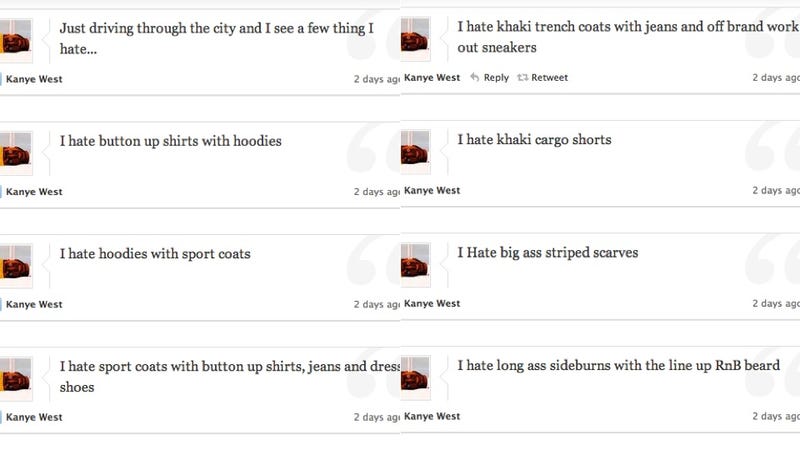 Kanye West hates everything you own.
Look at your life. Look at your choices. [
Storify
]
---