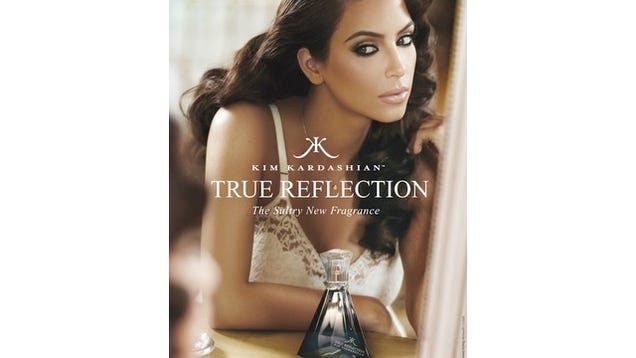 Kim Kardashian is launching her fourth signature perfume since 2009, True Reflection. Explains the hyperreal star, "I definitely think I'm in a reflective period in my life, probably more so than any other period." This is Kardashian's first attempt to crack the department store market — True Reflection, starting at $55, will hit Lord & Taylor shelves this summer. Lest you think it an Eau de Divorce, Kardashian says, "That is definitely a part of who I am, but that is not what the fragrance is about at all." What is it "about," then? "It is about overcoming things and letting your true self come out." [WWD]
---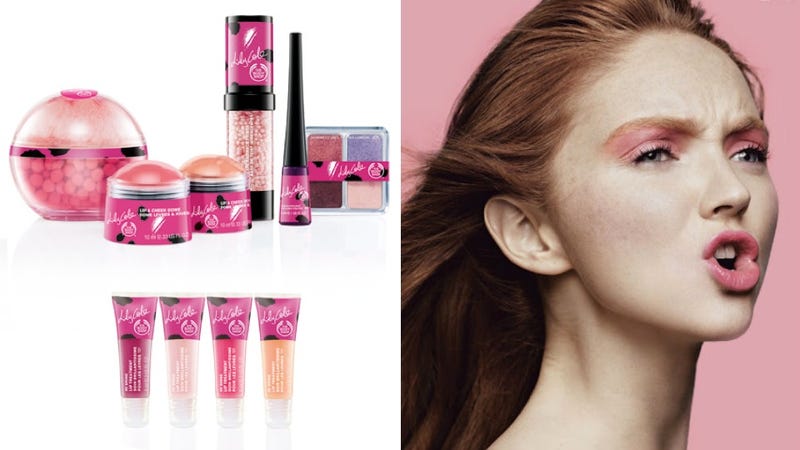 Lily Cole
is the face of a limited-edition line of makeup marketed as cruelty free by the
Body Shop
. As you can see, there's a heavy reliance on the color pink. [
Vogue UK
]
---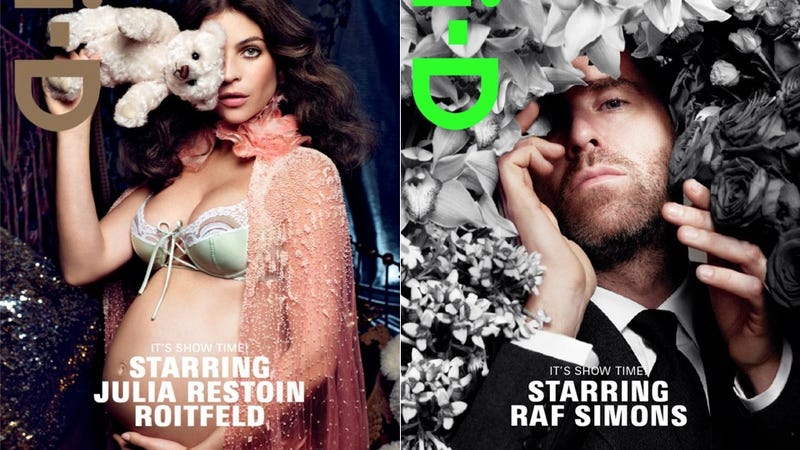 A pregnant
Julia Restoin-Roitfeld
was styled by her mother, Carine, for the latest cover of
i-D
. "Pregnancy's a moment in a woman's life when it's really important to still feel seductive," says Restoin-Roitfeld. "I loved that my mum dressed me sexy like that...I still dress how I used to dress and
sometimes people look at me weird on the street, as if because I'm pregnant I stop being a woman.
" [
Fashionista
]
Meanwhile, newly minted
Christian Dior
creative director
Raf Simons
is on the magazine's other cover. This is the ordinarily very private designer's first magazine cover and first magazine profile since the news that he would be taking the reins at Dior was announced last month. [
Fashionologie
]
---
Speaking of
Dior
: here's a short online ad, shot at
Versailles
, featuring Depeche Mode's "Enjoy the Silence." [
YouTube
]
---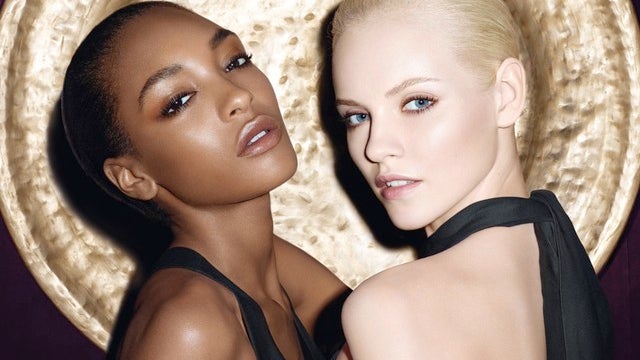 Yves Saint Laurent
is launching a foundation to match its popular
Touche Eclat
concealer. Reports
Women's Wear Daily
:
Unlike traditional foundation formulas, which contain opaque powders that can make skin look dull, and mother-of-pearl pigments that may reflect light like mirrors, Le Teint contains neither, explained YSL executives. Rather, it has a "soft-focus gel" with a translucent texture said to smooth imperfections while ensuring skin's color purity. There is also a "fluid light concentrate" with gold-colored pigments and supple lamella lying side-by-side to form a film that reflects — yet doesn't modify — light.
YSL holds three patents on the formula. It'll retail for $55 a bottle. [WWD]
---
Luxury billionaire François-Henri Pinault took the stand yesterday in his family court hearing over child support for his five-year-old son with Linda Evangelista, Augustin, and endured a predictable grilling. Evangelista's lawyer asked if it was true that when Pinault found out Evangelista was pregnant, he told her to have an abortion. Pinault replied that he "was not involved in the decision" to have a child — but said he'd always told Evangelista he would "recognize" his son. (Later, via a spokesperson — who was, incidentally, unlike Pinault not under oath — Pinault categorically denied he'd ever pressed Evangelista to terminate the pregnancy.) And Pinault's differing treatment of his daughter Valentina, born shortly after Augustin to his wife Salma Hayek, came in for heavy scrutiny:

"You put your $12 million house in Los Angeles into a trust for your daughter?" asked Evangelista's lawyer, Bill Beslow. "Why?"

"Before getting married, my wife and I were separated between April 2008 to September 2008. That created a high level of anxiety, and my wife wanted to make sure there was a house for her and Valentina in case of divorce."

Salma is no dummy. Pinault admitted he had never taken Augustin on vacation to his house in the South of France or to Tahiti, as he has Valentina. He further admitted that he had not attended Augustin's third birthday party, even though he was in New York at the time and had been invited. Pinault defended himself by calling into question the timing of Evangelista's support petition. He said he'd been trying to work out a support agreement with Evangelista privately, but that she hadn't seemed particularly interested until the breakup of her subsequent relationship and the loss of a major cosmetics contract.

Pinault's voice scratched up as he said he'd been willing to send the checks, but that she wouldn't respond to him for several years about how much she wanted.

In fact, Evangelista had moved on to her next billionaire, Hard Rock founder Peter Morton, in the middle of her pregnancy. When they broke up four years later and she lost her L'Oreal contract, she came back with the demand of half a million dollars a year for round-the-clock nannies, bodyguards, and a chauffeur.

Pinault has a fortune estimated at $11.5 billion. Evangelista says she earns around $1.8 million per year. She is seeking $46,000 per month in support. [NYDN, NYDN]

Iris Apfel is launching a line of exotic skin and fur handbags at department stores this fall. The bags will retail from $228-$398, and the brand is called Extinctions. When Apfel and her business partner met, the partner made a quip about being "the last of a dying breed." Apfel shot back, "If you're the last of a dying breed, then I must be extinct." The hang-tag is shaped like a dodo. [WWD]
A very pregnant Adriana Lima says she's craving a nice, cold beer. "It's very strange because I normally don't like beer. Now I want some but I cannot drink it. It's been very hard!" We'll be sure to have one extra for her tonight. [People]
Model Damaris Lewis — the uncredited but undisputed star of that annoying Kate-Upton-does-the-Dougie video — has launched a sports blog. Specifically, a basketball blog. She writes about how her basketball fandom developed and today interviews players Dave Diehl and Terrell Thomas. [Hoops to Heels]
The American Society of Magazine Editors mostly shut out fashion titles from its biggest annual awards, with the prizes for magazine of the year, general excellence, and reporting going to titles like Time, Bloomberg Businessweek, and Lawrence Wright of the New Yorker (for his excellent profile of ex-Scientologist director Paul Haggis which OMG if you haven't read what have you been doing with your life?). But Vogue did snag an award for its photography, and Glamour won the award for personal service journalism. [WWD]
Burberry has filed a lawsuit against the owners of Humphrey Bogart's name and likeness over the use of a photo from the final scene of Casablanca. Burberry was rounding up photos of noteworthy people wearing its products through the ages to publish on Facebook and Instagram when it noticed the actor wore one of its trench coats in the famous film. So it licensed a film still from Corbis, the stock and historical photo agency, and published the shot. But Bogart LLC hit the company with a cease-and-desist, alleging that its publicity rights and trademark rights had been violated. Burberry hit back with a preemptive lawsuit, seeking a judgment in favor of its "right" to tell "the history of its brand." Burberry argues that its use of the photo was not commercial, but instead purely historical. [THR]
After only two seasons together, designer Manish Arora and struggling-towards-relaunch brand Paco Rabanne are going their separate ways. It's strange that Paco Rabanne's parent company, Puig, would let Arora go: his most recent collection earned critical praise, and Lady Gaga has worn Paco Rabanne on several occasions. [WWD]
Speaking of Lady Gaga, her fashion director Nicola Formichetti has announced that he's planning to launch his own fashion line. Formichetti, notionally the fashion director of Vogue Japan Hommes, already has a number of design-related side projects. He's technically the fashion director of Uniqlo (where he has had a line), the creative director of Thierry Mugler, and the curator of pop-up stores in New York and Asia. What will the newest line be like? High-tech, according to Formichetti. "We've been working with the same fabrics, the same techniques for hundreds of years. That's all great, but we need something new," he said, explaining that the world really needs clothes that can use solar power to recharge our electronic devices. And things that can mold to the body. "Why do you have to have a zipper when you can have a jacket that's molded to your body?" The brave new world of fashion will apparently be in stores by mid-2013. [WWD]
French model Loulou Robert was, after six months working as a model in Paris, put on exclusive by photographers Inez van Lamsweerde and Vinoodh Matadin. They haven't done that since Eniko Mihalik in 2008. Robert says that the attention of a pair of major photographers has changed her career and changed how people in the industry treat her. Before she started modeling, she says, she didn't

"have many good ideas about modeling. I had a lot of prejudices against it, but I heard my agency was safe, and the agency is now like a family to me. But, sometimes, it's difficult to be a model because you have to be alone, and people are not always very nice with you. It depends. Nobody was nice with me before Inez and Vinoodh, people didn't care, but now, it's nice. Things are different."

[The Cut]

Thom Browne has won this year's Cooper-Hewitt National Design Award for fashion. [WWD]
Estée Lauder's net profits rose by 4.6% during the last quarter, to $130.4 million. [WWD]