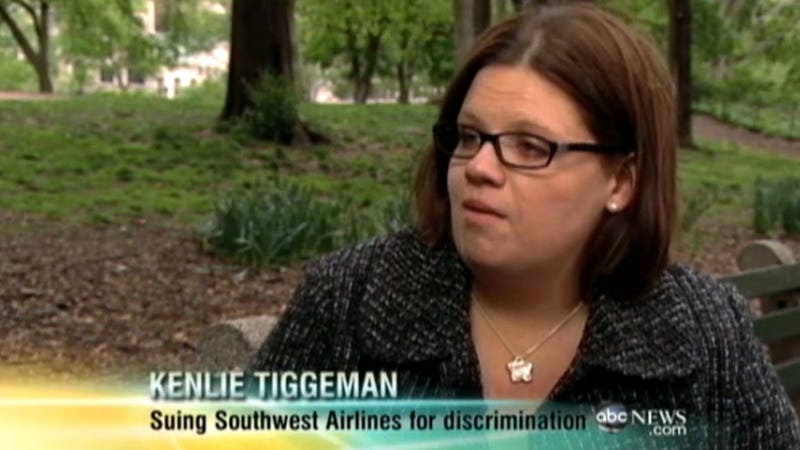 Last year, Kenlie Tiggeman and her mother were flying home for Easter when, during a layover in Dallas, a Southwest Airlines employee informed her she was too fat to fly. At the end of last month, Tiggeman filed an injunction against the airline in district court. She's not suing for money. She's suing for information.
As Nightline reports:
She said she wants an industry standard to be put in place for flyers who have to buy a second seat, including rules so that it is no longer up to gate attendants to decide whether or not an obese passenger has to purchase a second seat.

"If you're telling me I have to buy two seats, you should tell me at the point of purchase, not the day I'm flying when I check in at the terminal," she said.
When Tiggeman was confronted by the gate agent last year, it was a humiliating and embarrassing scene.
"The gate agent came up to me and he asked me how much I weighed, what size clothes I wore," Tiggeman said. "He said that I was too fat to fly, that I would need an additional seat, and he was really sort of crass about the whole thing."
She believes that the agent "did not follow their company policy and chose to discriminate, humiliate and embarrass" her in front of "airport onlookers," and that the airline uses "discriminatory actions ... toward obese customers."
For some reason, Nightline spoke to noted irritating wacko MeMe Roth about this issue. She's the lady who compared eating to rape and is not a doctor, not a dietitian, and not a medical researcher. She basically explained that as a thin person, she should not have to sit next to a fat person on a plane: "I don't want the person next to me on top of my seat, or coming underneath the armrest because I've paid for my whole seat." (Watch the video below to see Roth lose her shit and swear at Brandon Macsata, an advocate for passengers' rights.)