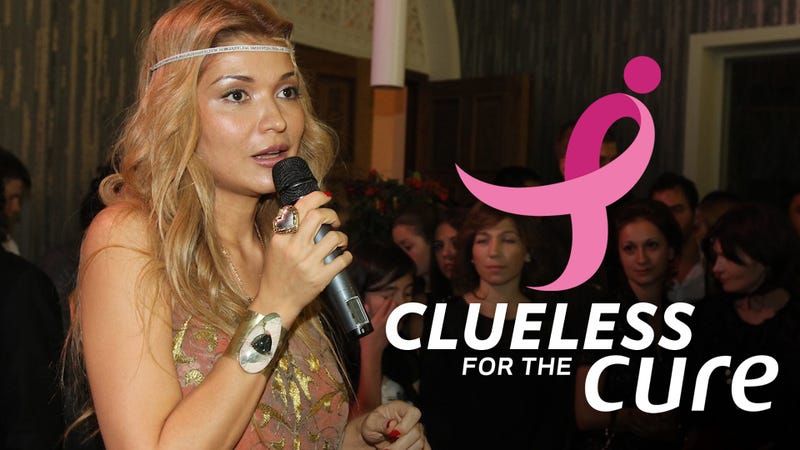 The breast cancer charity that managed to make almost everyone angry by defunding and then reinstating funds to Planned Parenthood earlier this year is involved in another poorly thought out venture — its partner charity in Uzbekistan is run by Gulnara Karimova, the ruthless child labor-exploiting fashion designer/pop star daughter of the country's dictator (a dictator who, by the way, has recently come under fire for forcibly sterilizing tens of thousands of his country's women). And so Susan G. Komen for the Cure's attempt to make itself look like its run by a bunch of drunk elementary schoolers continues apace.
Registan blogger Nathan Hamm noticed the ties between Komen and Fund Forum, a charity run by Gulnara Karimova in the Uzbek press. Apparently Karimova's organization received training from Komen officials after signing a partnership deal in January, and since then, Karimova has festooned her personal webpage with Komen marketing logos and used the brand to promote her own image as a fancy international jet setting lady of class and sainthood. Like the Mother Theresa, if Mother Theresa were a sexy pop singer who flew in magical cars to castles in the mountains.
But Karimova's far from the People of Uzbekistan's Hot Mom she tries so very hard to be. In fact, according to many reports, she's kind of a cruel jerk like her dad. When she divorced her husband in 2001, he was charged with crimes in Uzbekistan, some of his relatives were arrested, and his assets were seized. She was granted full custody of the couple's two children by Uzbek courts. According to Wonkette, Karimova's fashion show was scrapped from New York Fashion Week last fall after human rights protesters made a big deal about how her clothing is made using child labor. And Wikileaks cables released in 2010 revealed that Karimova's unquenchable vanity and bottomless cruelty have made her "the most hated woman in Uzbekistan." There's also the whole matter of her father, Islam Karimov, secretly running a government program that forcibly sterilizes thousands of women without their knowledge as a sort of fucked up eugenics-free form of population control. Gulnara currently lives in an $18 million dollar house in Switzerland. She's a real life Disney villainess. She's even got a Disney villainess name.