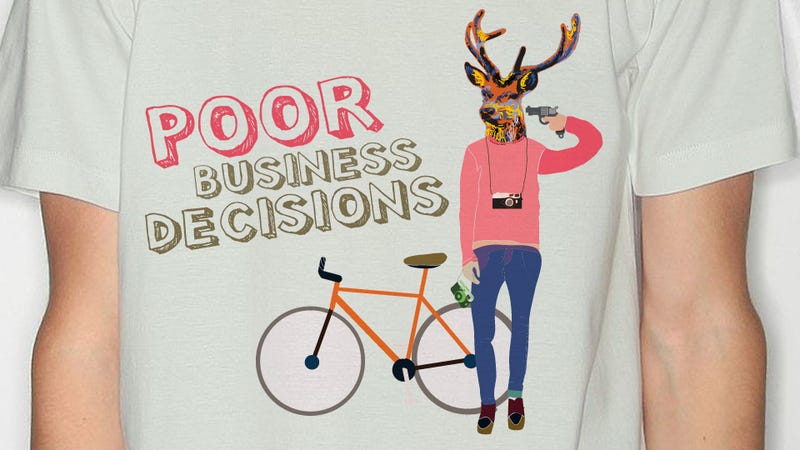 In a weird turn of events yesterday, I got the Urban Outfitters April 2012 catalog in the mail. They had never sent me one before and I haven't shopped there in ages. So okay whatever, I looked through it just because.
In an even weirder turn of events, right there on page two I found myself quite perplexed when I landed on the image below.
Obviously this is not to say that girls making out is inherently weird, but rather, the photo demonstrates yet another example of how embarrassingly little Urban Outfitters has done to excavate their brand identity, their message, and their location in the industry.
No, this is not the make-out issue. In fact, there is no other kissing of any kind - hetero or homo - in the rest of the catalog. So it seems Urban is testing some waters. Here's a brief history of some other waters they've tested – or as I like to call it - a trip down Urban's minor-to-epic-fuckup memory lane:
2003: UO released a board game called "Ghettopoly", replacing Boardwalk Avenue with Cheap Trick Avenue and Reading Railroad with Hernando's Chop Shop. Other charming areas included: Westside Liquor, Harlem, The Bronx, and Long Beach City, Smitty's XXX Peep Show, and Tyron's Gun Shop.
2008: UO began selling a t-shirt with a young Palestinian guy holding a big horrible gun with the word "Victimized" emblazoned across the front. This came after Urban sold an "Everybody Loves a Jewish Girl" t-shirt in 2004 (surrounded by dollar signs and shopping bags). Urban ended up pulling the gun shirt from their shelves.
Late 2008: They got into more shelf-pulling when they released an "I Support Same-Sex Marriage" t-shirt, then withdrew them a week later when a buyer cited "too much bad press" as the reason.
2011: But hmm guess what? Two years later, UO president and founder Richard Hayne donated upwards of 13K to Rick Santorum, the most disgustingly homophobic man on earth.