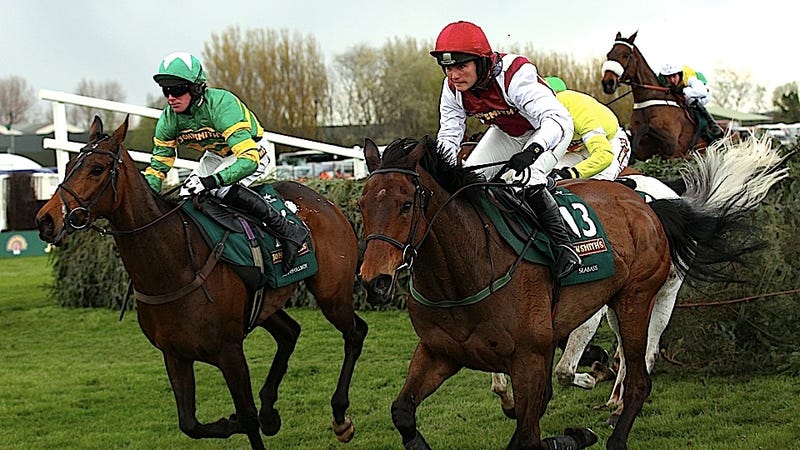 If you can set aside for just moment the fact that two horses died during this weekend's Grand National hunt horse race in Liverpool, England, you might be able to appreciate Katie Walsh's history-making third-place finish, the highest placement ever for a female jockey.
According to the Guardian, Walsh, riding a horse named Seabass (who I'm sure adores sugarcubes), had been a joint 8-1 favorite to win the race. Since the first woman competed in the Grand National in 1977, 18 others have followed suit, with only 7 actually completing the arduous course. Fans of UK racing hope that Walsh's stellar performance could create more opportunities for female jockeys in what is still a sport dominated heavily by narrow-shouldered men who speak in jarring falsettos. The British Horse Racing Authority reports that, of the 435 UK jockeys, only 46 are women, despite the fact that many believe women, with their naturally smaller frames, have a distinct advantage over men in a sport that prizes lightness in its human hangers-on.
Walsh, however, is quick to point out that her chromosome configuration is, if anything, a distinct disadvantage in a hunt race, which, unlike a regular track race, requires a great deal of physical strength. Jockeys are typically heavier in hunt races, and because of this, says Walsh, she's "just not as strong as lads, that's the way it is." Still, equestrian sports are one of the few arenas were men and women can compete against each other professionally, and there are indications that women may be getting more opportunities to compete (see last year's Kentucky Derby history-making hopeful Rosie Napravnik).