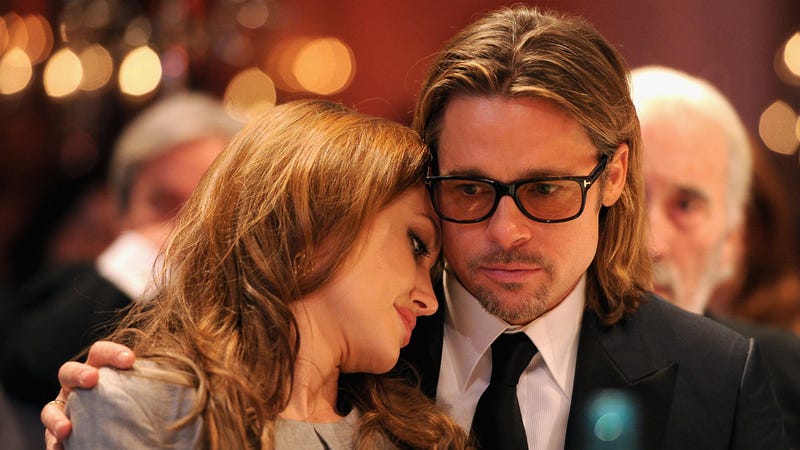 He finally "put a ring on it," as they say. A big ring, as far as we can tell. Jeweler Robert Procop, who designed the bauble, confirms that it is indeed an engagement ring, and not just a random present for the United Nations Goodwill ambassador and mother of six. Ms. Jolie was seen wearing the sparkling diamond at the Los Angeles County Museum of Art's Chinese Galleries on Wednesday. Do you hear that? That's the sound of gasps. And wedding bells.
As you may know, this engagement comes after years of speculation. Since meeting on the set of Mr. And Mrs. Smith in 2003, the couple have been subjected to an endless stream of rumors, but a wedding has thus far eluded us. But let's look back, shall we? Memories… light the corners of my mind…
---
September 14, 2005
Star magazine claims that Brad and Angelina will elope, even though Brad's divorce from Jennifer Aniston won't be final until October 2. Thus begins the villianization of Angelina.
---
February 27, 2006
Jossip ('member them?) reports that Brad and Angie have set a wedding date, and it is June 27, 2006. There is a Tiffany registry and everything!
---
December 8, 2006
Ok! magazine claims that following the birth of Shiloh in Namibia, Brad and Angelina are planning a "fairytale Christmas wedding in South Africa."
---
Feburary 1, 2007
"Wedding Bells For Bad Pitt and Angelina Jolie"
Star is reporting that Angelina Jolie's mom's last dying wish was for her daughter to marry Brad Pitt.
Sniffle. Let's head down the aisle.
---
May 12, 2007
Ok! is quite sure that Angelina is planning the "wedding of the year." Dress by Marchesa! Matching rings! Red velvet cake!
---
March 10, 2008
In Touch shouts, "Yes, They're Getting MARRIED."
We found a snippet of the article on an old message board. It read, in part:
Brad & Angelina: The truth about their wedding

After divorcing her second husband, Billy Bob Thornton, in 2003, Angelina Jolie insisted she'd never marry again, saying that she didn't need to be bound by "a piece of paper." But, after an eye-opening trip to Iraq in early February, Angelina, who's pregnant with twins, decided she should create a legal bond with Brad for the sake of their kids. When she called a close friend to spill the big news, it was a bit shocking. The friend joked that Angie was breaking her vow by taking a vow. But Brad is beyond happy about Angelina's change of heart.
This "doing it for the kids" business will persist.
---
March 29, 2008
Star claims that Angie and Brad have just been wed in the French Quarter Wedding Chapel in New Orleans. The original headline, "Star Exclusive: They Did It! Brad & Angelina Tie The Knot!" is later changed to "Did They Or Didn't They?" The Huffington Post keeps a running timeline as folks try to figure out if the wedding actually happened or not.