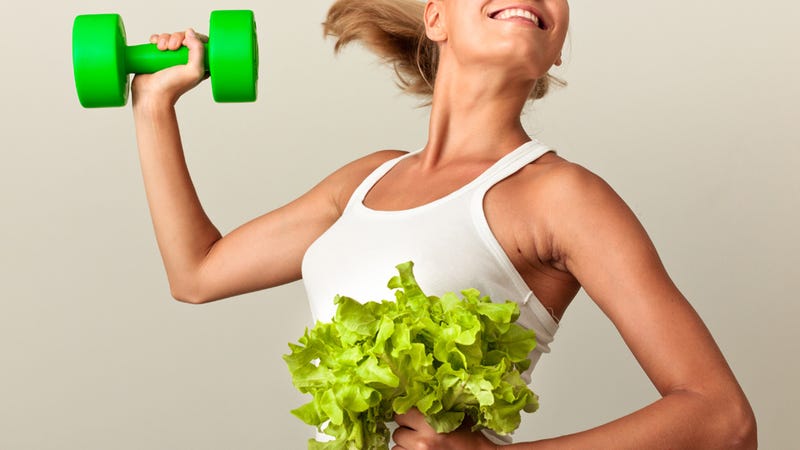 A lot of people complain that losing weight and getting in shape is "difficult" and "complicated," and to those people I say, "Shut up, fat-face! You're gross!" The media and the medical establishment are just full of super helpful advice for losing weight and keeping it off, if you're willing to TRY! That's how, after exhaustive research, I've designed the ultimate lifestyle for a fit and healthy body. And let me tell you, this shit works. Get ready for bikini season, bitchez!
I wake up every morning in Japan at whatever the fuck time I want. After my ritual morning burning of the flag of Nauru (world's fattest nation), it's time for breakfast! Obviously I never diet, so a normal breakfast for me is eggs, beans, salad, green tea, soup, beef, olive oil, grapefruit, cinnamon, vinegar, tofu, nuts, cereal, and hot peppers. Breakfast is typically followed by two to three hours of diarrhea—or, as I like to call it, "me time!" Diarrhea is a great way to shed excess water weight.
To minimize my portion sizes, I use an old Snapple lid as a plate and a shovel instead of a fork. Studies have shown that when food is stinkier, people take smaller bites. That's why I always keep a spray-bottle filled with rancid yogurt-water handy to spritz over all my meals and snacks. And as a failsafe, I hide one festering cat carcass in every room of my apartment where I might possibly eat something! Every time I consider cheating by having my olfactory glands surgically removed, I have to eat the nearest cat carcass as a punishment. Trust me, ladies, it works.
Time to get dressed! I have all my clothes custom-made out of form-fitting plate armor, because woven fabrics these days are full of spandex and SPANDEX IS FOR THE APATHETIC. I always feel a sense of accomplishment when I can fit into my "skinny cuirass!"
Everyone knows that being around other people—especially at the office—can make you super fat. That's why I can't hold down a job and avoid human contact at all times. The endless, grinding solitude does make it a little hard to use the "buddy system" when I work out, but I just built myself a new best friend out of a cinderblock and some clumps of my old hair! Her name is Julie, and she loves acai berries, Kardashians, and Zumba. (Julie talks too much, and she can be kind of a judgmental bitch because she's skinnier than me, but it's cool—shame is a great motivator!)