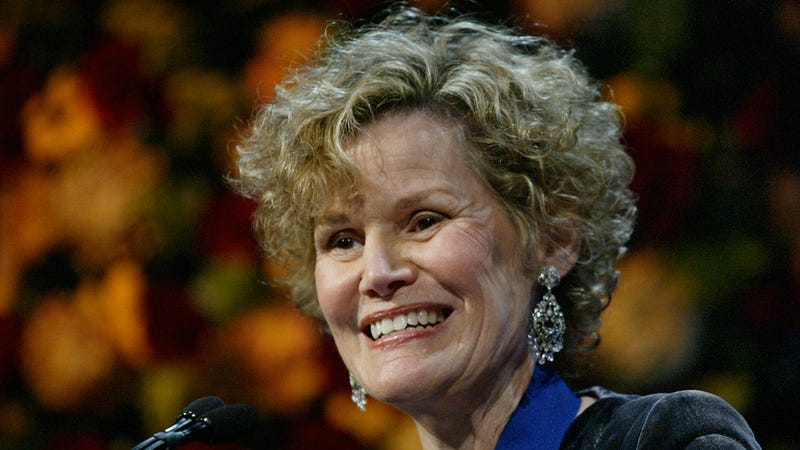 Young adult fiction has a rich and evolving history. But few writers have ever had the enduring success and cultural influence of Judy Blume. Having sold more than 80 million copies, many of her books remain in print (and widely read) 40 years or more after they were first published. Her influence on several generations of tween and teen girls is undeniable; as Jezebel founder Anna Holmes wrote last month in the New Yorker, "Blume's books were dog-eared talismans that, for a significant segment of the American female population, marked the passage from childhood to adolescence."
But it wasn't just young women reading her books. For many boys in the pre-Internet era, Judy Blume novels provided incomparable insight into the private lives of those ever-so-mysterious and endlessly fascinating creatures: girls. Borrowed (or stolen) from sisters, our copies of Deenie or Are You There, God? It's Me, Margaret? were just as dog-eared. We just hid them under the bed, embarrassed by our curiosity, unable or unwilling to talk as freely as our female classmates about what we were reading. But read many of us did. And we didn't just read; we learned.
On the very first night of my freshman year at Berkeley, my roommate and I went to chat up the cute young women who'd just moved in next door. One of the girls was still unpacking her books, and as she put a stack of paperbacks on the shelf, we saw she had at least half a dozen Judy Blume novels. "Oh my gosh, I love Judy Blume," her own new roommate exclaimed, "I'm so glad I'm not the only one who still reads her!" Chris, my roommate, blurted out, "Me too." I turned to him in skeptical astonishment, half-assuming that he was joking. "I'm serious," Chris protested. "I read all those too, in junior high."
I hit Chris on the arm; we'd gone to high school together, but I'd had no idea. "Man, you too? I thought I was the only one!" It was revelatory. Nerds that we were, Chris and I had openly shared our passion for Douglas Adams, Ken Kesey, and (weirdly) Yukio Mishima. But until that moment in the dorm, neither of us had dared mention that we'd secretly pored over Blume's books, hungry for knowledge. One of the girls laughingly suggested that we only read Blume for the "dirty parts." Only partly true, both Chris and I protested – we surely liked those bits, but read for the rest as well.
Judy Blume wrote for many different age groups. Books like Tales of a Fourth Grade Nothing and Blubber were aimed at elementary school kids; Wifey and Smart Women for adults. Perhaps her most influential and enduring writing, however, was for junior high and high school audiences. Deenie (1973) dealt with a teen girl struggling with scoliosis; Forever (1975) was the story of a passionate adolescent romance. Deenie masturbates herself to sleep at night; the sex scenes in Forever were groundbreaking by the standards of young adult fiction.