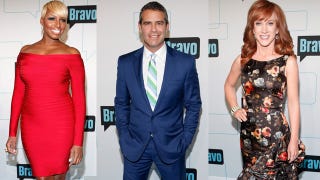 Last night Bravo held its upfronts in NYC and aired it as a special hour-long, all-star Watch What Happens Live. With so many "Bravolebrities" and Housewives all in one room, there seemed to be an endless sea of shiny fabric and expensive shoes.
The ironic thing about the O.C. Housewives—other than the fact that they repeatedly use the word "ironic" incorrectly—is that they (with the exception of the brunette) probably look down on porn stars, while at the same time aiming for that aesthetic.
It's kind of surprising that Adrienne Maloof (center) was able to get along so well with Giggy seeing as how she has recently morphed into a cat. And is Lisa Vanderpump (second from left) wearing a negligee? I really hope that the poofy skirt becomes Kim Richard's new bow blouse.
While they were comparatively elegant, Zoila Chavez, Jeff Lewis, and Jenni Pulos looked like they were going to a funeral. Andy Cohen wore a nice Easter-y tie and Padma Lakshmi was one of the only women in attendance not wearing about six pounds of makeup.
The Countess is in a catsuit. A catsuit! Also, these two photos hint at some behind-the-scenes dramz. It would seem that Sonja Morgan refused to be photographed with the rest of the NYC cast.
I guess Brad Goreski did think his Thom Browne pants were short enough, so he cuffed them.
I know NeNe Leakes wants us all to think that she's very rich. Those shoes had to have cost over $2000. Yet she's never owned her home and got evicted before for not paying her rent.