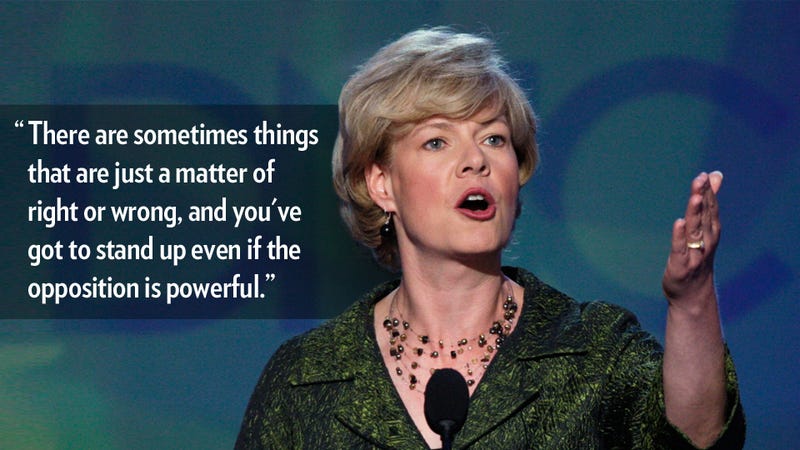 With all the War on Women madness that's been going on in politics lately, we've been banging our heads against hard surfaces with an alarming regularity. But every once in a while, it's nice to take a break from self-inflicted concussions and instead focus on the good people in the world.
One of those people is Tammy Baldwin, longtime Democratic Congresswoman from Wisconsin and now a candidate for the U.S. Senate. I spoke to Baldwin about her experiences on the frontlines of the War on Women and about where we go from here, and let me tell you, if everyone in Congress could be like Tammy, we'd be in far better shape. But before we go cloning her, let's get to know her a little bit first.
I grew up in Madison, which is in the center of Baldwin's congressional district, and I've watched her at work since she first ran for Congress in 1998, but I'd never talked to her before our recent chat. The first thing I noticed on the phone was how serene her voice sounded. It reminded me of the same kind of reasoned, unflappable tone that many teachers have, and it was oddly soothing to listen to her. Of course, it didn't hurt that she was saying all of the rational things about women's issues you long to hear from politicians but they so rarely say.
To me, there is something quintessentially Midwestern about her: She's polite, she's reasonable, she's serious, and she's incredibly hardworking. And that's exactly what you want in someone who's being sent to Washington to look after all of the things that are important to you and your family. Since coming to the House in 1999, she's become known as a dedicated advocate for women, for progressive values, and for the people in her district. What's more, she earned a reputation for being civil and fair. Even if you don't always agree with her, you respect her. Politically, she's one of the most liberal members in the entire House, and yet she's able to get along with all kinds of people and—shock of shocks!—to get things done amidst the bitter partisan divide that seems to dominate Congress these days. For instance, did you know she worked together with Michele Bachmann to build a bridge, literally, between Wisconsin and Minnesota? It can be done, people.
Good thing too, since she's running to fill the senate seat left open by Democratic Senator Herb Kohl's retirement. If she's elected she'll become, at the tender age of 50, the first female senator from Wisconsin and also the country's first openly gay senator. No pressure! She'll also be a very powerful ally in the fight to protect the rights of women from being hacked to death by axe-wielding Republicans. So you'll want to get onboard the Tammy train now, that way if and when she hits the Senate you can say you knew her way back when.
Speaking of bitter divides, I was particularly interested to get Baldwin's take on what the so-called War on Women has looked like from the inside. The short answer is that it looks even more terrifying up close. But the good news is that every time she spoke about her own views it was like a breath of fresh air. But before we get to the refreshing breeze part, let's let Baldwin recount a terrifying tale from the belly of the beast (aka the House of Representatives).
Cast yourselves back to this past fall, when most of us weren't yet focused on the so-called conscience exemptions that later came to be an issue with the Blunt amendment. She explained that the Republican majority looked like they were going to try to push through a very broad conscience exemption to the Affordable Care Act, which essentially said that anybody in the health care arena could refuse to provide services if they had a religious or moral objection to providing it. (Eek!) Baldwin is on the House Energy and Commerce Subcommittee on Health, and she explains what happened when the issue came up for discussion:
We had a couple of hearings on this where I just had a chance to say, "So, would somebody be able to refuse to provide fertility services to a single woman who wanted to become pregnant and have a family because they morally objected to single people having children? Yes or no. Would somebody be able to refuse HIV/AIDS services to somebody who they believed to be gay because they had some sort of moral objection to homosexuality and prejudice against people because of the sexual orientation? […] You know, all of these things. And, of course, that comes down to what about the people who refuse to fill a prescription for birth control? What about folks who can basically object to anything they want for almost any reason. And that's how broad this has gotten, that's how out of the mainstream this debate is.
Aren't you glad there was somebody there who was willing to ask those "what if" questions before the rest of us were even paying attention? But, obviously, it's going to take more than just paying attention. As Baldwin explained,
Really for the last year and a half before a lot of it was being discussed on nightly television, we've been preparing for this battle, and I've been on the front lines of it and that's sort of the perspective from the inside is they're serious, they really want to push this stuff. And we have to wake up to be prepared.
Of course, this stuff has now landed on nightly television, and we're awake—WIDE awake. I asked her about how it all devolved so quickly, with things like Rush Limbaugh's comments on Sandra Fluke, the backlash against Planned Parenthood, and the general backwards thinking of the Republicans, and what it all means. She answered,
It's so many distinct issues that come together in a way that's just beyond the pale. […] You start to look at all of these things in the aggregate, and it is just a complete disregard and disrespect for women and women's ability to make important life choices in consultation with the people they most trust: their families, their clergy, their doctors, whomever they want to consult in those important life decisions.
Yes, thank you—and Baldwin should know. While many people in Congress are dealing with these issues on a national level, she's had the unfortunate experience of having to watch it all unfold on the state level too. Why? Because of Wisconsin Governor Scott Walker, who is now facing a recall election because he's pissed so many people off. I asked her why she thought Walker and his Republican friends had targeted so many issues that were anti-woman, and her answer was simple: It's a divide and conquer strategy. He started with labor, pitting union families against non-union families, when he stripped union members of their rights to bargain collectively—a move that resulted in massive protests at the state capitol that lasted for weeks, and where Tammy herself turned up to lend her voice. And, she says, he's continued from there, picking issues that will divide people and peel them off, which she calls, "A cynical agenda and very disappointing."
The fight to protect women's rights against this onslaught has entered into Baldwin's own race, where she's currently squaring off against a number of Republican candidates. (The Republican primary will take place in August.) As she puts it,
In the case of my senate race, we have these four guys who are basically embracing all of these ludicrous proposals and attacking me for having trust in American women and Wisconsin women to make important life decisions on their own.
While their approach might not play well with women voters in November, this will by no means be an easy election for Baldwin. She comes from a liberal Congressional district, but now she's got to appeal to the whole state, which is very politically diverse. Wisconsin is a swing state, and this election will help determine control of the Senate; so it's of great national importance, and a lot of people are watching what happens. Again, no pressure.
To give you an idea of what Wisconsin is capable of electing, the other senator from Wisconsin is Ron Johnson, the fine gentleman who suggested women use Google to find affordable birth control for themselves. So, the thought of balancing him out with someone like Baldwin, who decidedly does not advocate replacing health care providers with search engines, is very enticing.