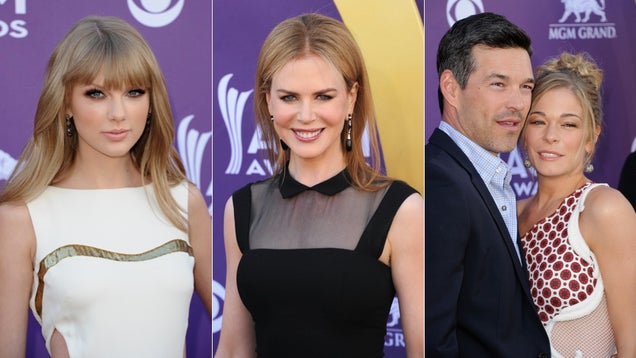 S
Yesterday in Las Vegas, artists gathered for the 47th Annual Academy Of Country Music Awards. Most of the stars were elegant and modern, but there were some dazzling displays of tacky on the red carpet.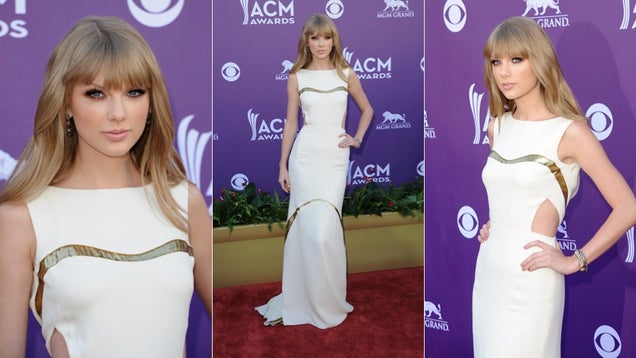 S
Taylor Swift was just one of many ladies wearing white. Her modern column is accented in coppery gold, and has a cut and structure that's positively Gwynethesque.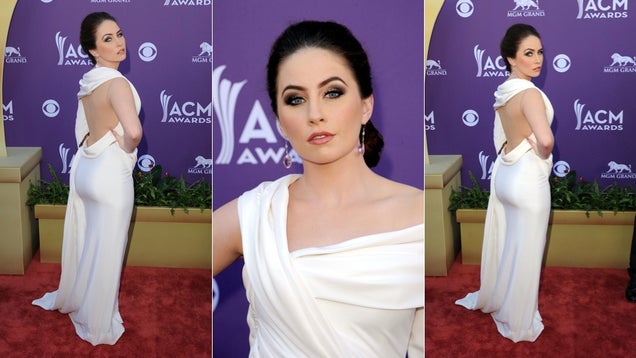 S
Hannah Blaylock, also in white, giving a come-hither gaze… and come-and-get-it booty.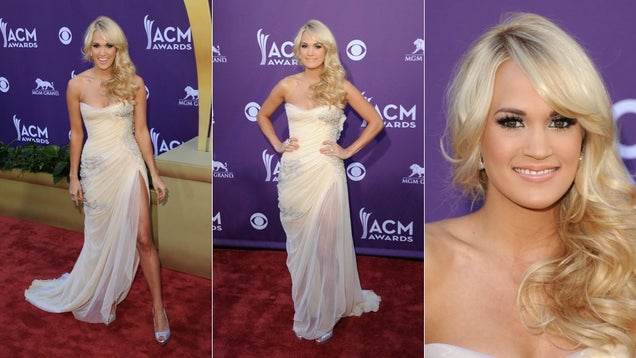 S
Carrie Underwood, in cream/ivory/eggshell, did the Angelina Leg Jive.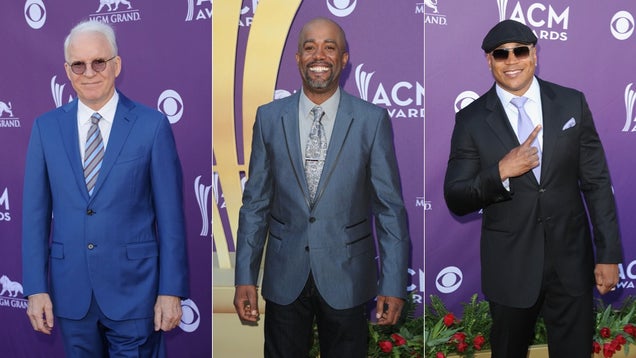 S
These are some stiff-looking dudes. Banjo enthusiast Steve Martin gets points for a cheerful hue; Darius Rucker's sharkskin sport coat is sharp. LL is 1 second away from lip-licking.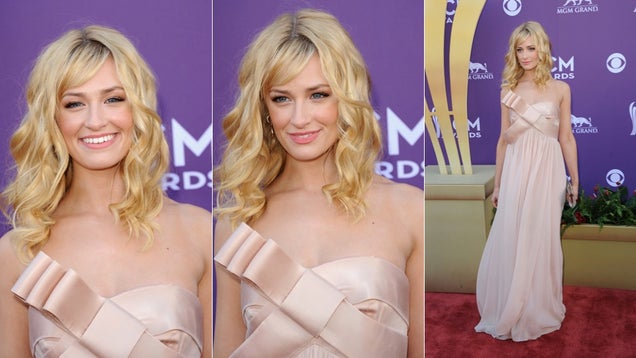 S
Beth Behrs from 2 Broke Girls looks great in a whispery soft pink — a much more flattering color than her TV waitress uniform.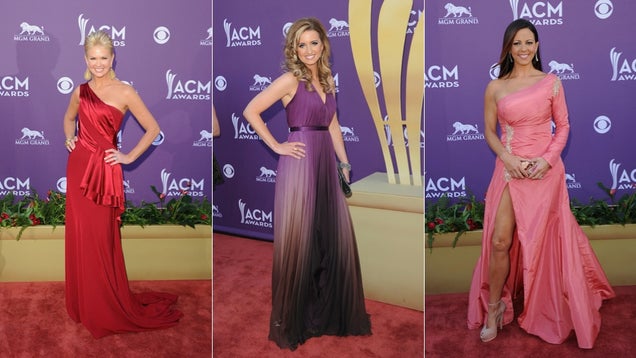 S
Vivid color on Nancy O'Dell, though she looks like she's in a pageant. Love the ombre pleats on Cherrill Green; definitely one of the best dresses here. Sara Evans's gown — with stiff fabric, one arm in, one leg out — just looks uncomfortable.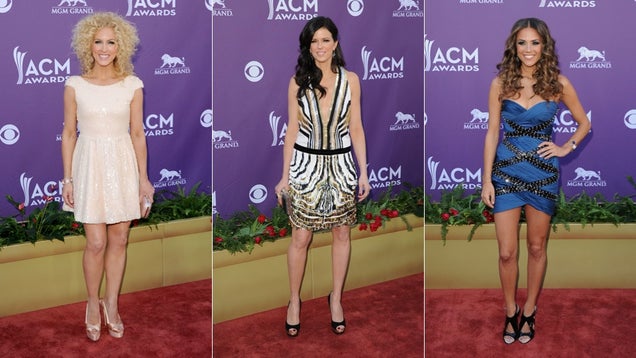 S
Not all of the ladies wore long gowns: Kimberly Rhodes Schlapman went short, pink, and sparkly; Karen Fairchild decided to dress as a melting Rorschach test, and Jana Kramer represented the Temple of Bondage in Ancient Rome.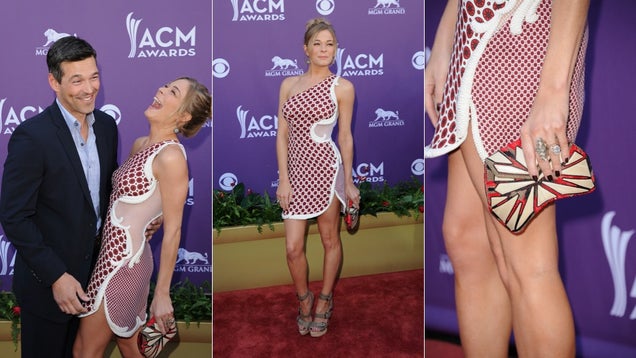 S
Also in a short-ass dress: LeAnn "I Love My Body" Rimes. The fabric and design of the garment are weird, but her polish and purse are cool.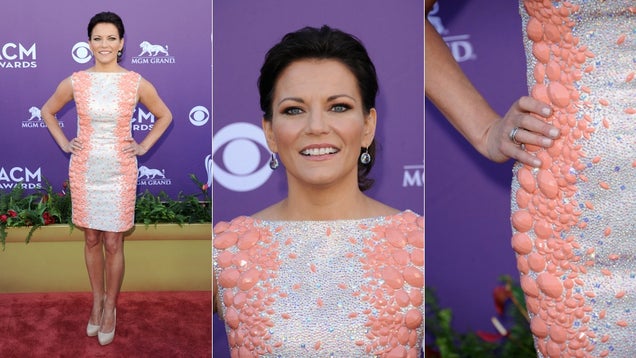 S
At first glance it looks like there's puffy paint on Martina McBride's dress. Look again, and they're barnacles. Look closer and you'll see tumors. Hours of fun!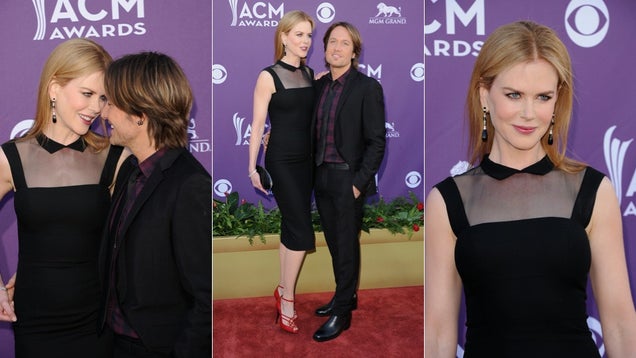 S
Nicole Kidman accessorized a simple black dress with red shoes and a husband.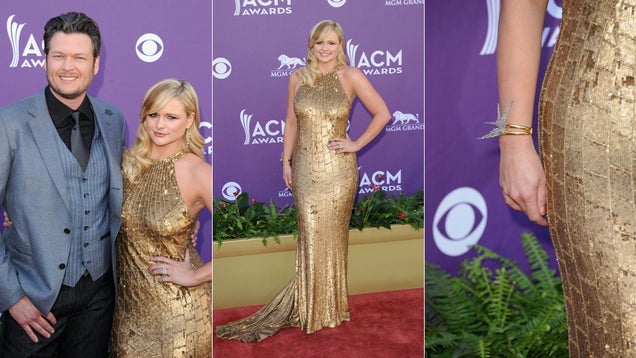 S
Miranda Lambert's sequined gold body-hugging number is kind of amazing in its slink and side-boob reveal possibilities. Love the glittery swallow bracelet.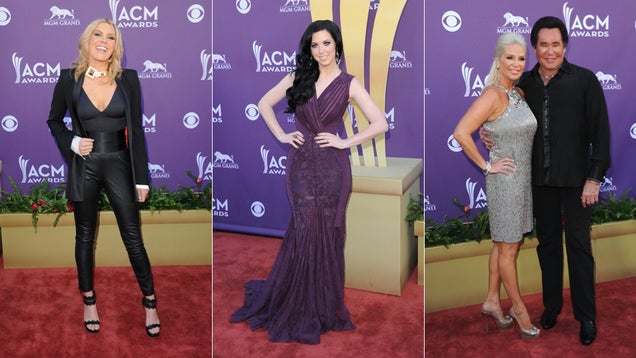 S
According to Grace Potter, nothing says country music like baggy-at-the-knees liquid leggings and fake French shirt cuffs. Shawna Thompson stole some grandma's lace shawl and made a Morticia gown. Kathleen McCrone and Wayne Newton brought a little Vegas glitz.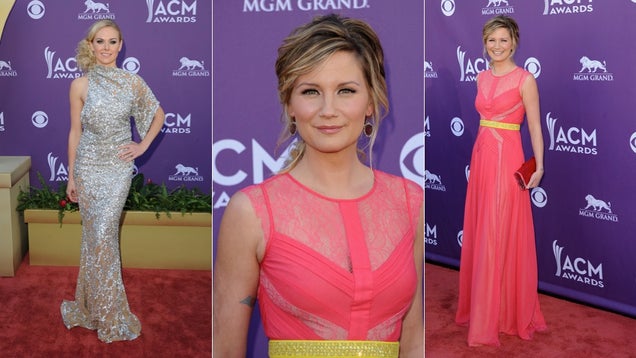 S
Speaking of glitz: Looks like Laura Bell Bundy rolled around in glitter before leaving the house. A much fresher, modern look was the bright pink dress on Jennifer Nettles. Love the contrasting belt.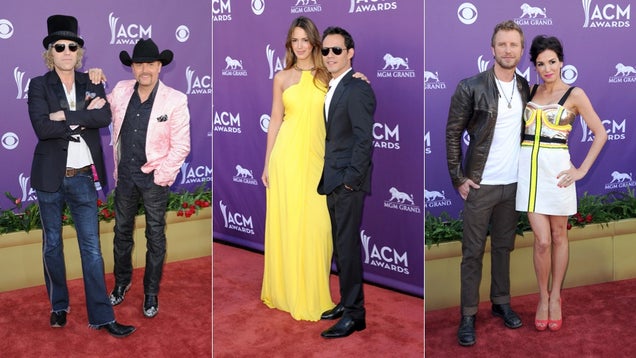 S
More pops of color: A pink jacket on John Rich; highlighter yellow on Marc Anthony's date, Shannon de Lima; and neon boob accents on Cassidy Black (seen with Dierks Bentley).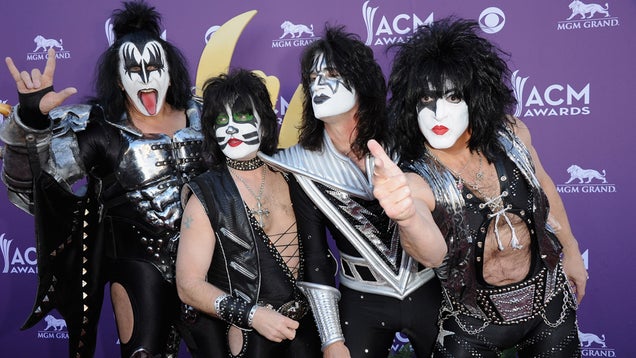 S
What country music award event would be complete without some belly hair and thigh hair?
Images via Getty.