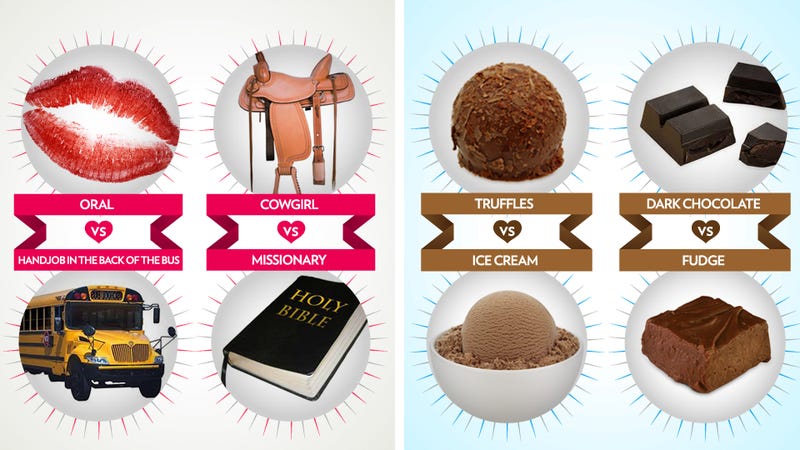 First, we should talk about Friday, when there were four matchups — two in each conference — and one interesting upset.
In the Sex Conference, BDSM/Kink beat Public with 64%, because everyone enjoys a light slap on the ass or being restrained, but not necessarily in the park where everyone can see! And just like Fido is Man's Best Friend, Doggystyle was a clear favorite, pouncing on Facial and earning 93% of the vote. But the Chocolate Conference is where things got crazy.
Snickers, M&Ms, Reese's Peanut Butter Cups and all the other packaged drugstore candy types were seeded at number 7 — but Frosting, kind of a dark horse, beat the candy bars with 54% of the vote. In the other Chocolate match, Brownies rightly won over the stupid impostor "chocolate," White. Fuck you, White Chocolate, you are not even chocolate anyway.
Moving on! Today we can unveil the sweet sixteen. Aren't they magnificent? And we have four matchups again. Two in the Sex Conference and two in the Chocolate Conference. If you're just joining us, click here for a printable PDF of the original bracket, or click the image at left for an updated version. Rules of gameplay can be found here.