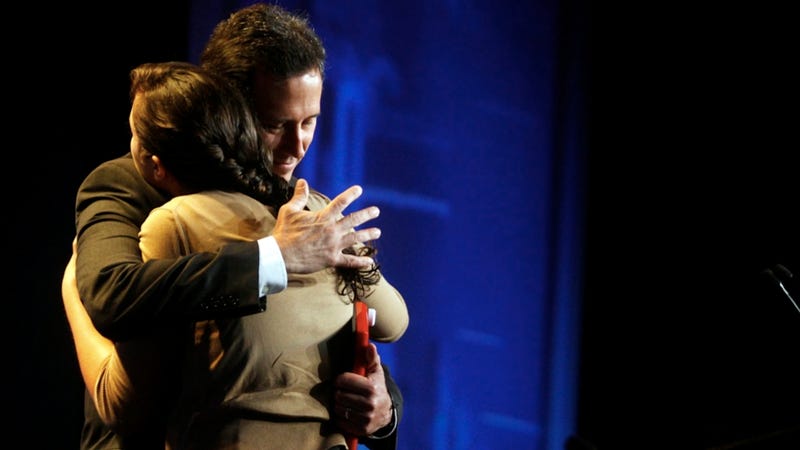 Everything was probably fine when you woke up today — you went about your morning routine, brushing your teeth either before or after breakfast, either of which is perfectly fine because in America, your dental hygiene should be your business, making plans to do something fun but inexorably falling into a state of barely conscious Saturday lassitude while watching HGTV reruns or whatever, and, most important to your sanity and happiness, not thinking at all about Rick Santorum and his beach bod. Your were not thinking about Ricky Over-My-Dead-Body-Ricardo Santorum until, that is, you casually dropped in on the internet and were greeted by his tight-jawed smile, and you gasped, "Why is this jerk-off former senator from Pennsylvania still around, even in something as wackadoo as a GOP primary? What the fuck does anyone see in this guy?"
A lot of stuff, it turns out, but all of it adding up to only a very abstract picture of a prospective world leader. The New York Times' Susan Saulny reported on Friday that, though you might think Santorum's stalwart opposition to women's procreational autonomy would erode his support among women, this is only partly true. While Santorum has alienated centrist women who would rather the federal government stay as far away from their reproductive organs as possible, he's garnered a huge amount of support among resolutely conservative women, who visit his website more often than men. A Times/CBS poll this month also found that 73 percent of Republican female voters believed Rick Santorum "understood the needs and problems of people like them," while only 52 percent felt the same way about Mitt Romney.
What, exactly, does Rick Santorum understand? Well, in so many words, being a husband, a father, and a regular churchgoer, all insights into the domestic American male's condition he coincidentally shares with an American icon — Homer Simpson. Enthusiastic women like 20-year-old Camille Harris gleefully exclaim that Santorum has "seven kids!" as if having unprotected sex were the mark of a great president. 75-year-old Kay Verdi sees other nuances that mark Santorum out as totally unique among the Republican field, such as the fact that he's "been married only once, and that he has character and faith." In short, he's nothing at all like that dastardly Mittens, who is mostly likely a renegade botanist who created his family out of cross-pollinated venus flytraps like in the R.L. Stine masterwork Stay Out of the Basement in order to lend his presidential campaign the veneer of respectability.
The truth is that, though Santorum seems more ardent in his desire to reset America's social clock back to a post-war Pleasantville utopia when all moral decisions were as thankfully black and white as television broadcasts, the conservative policies he would implement if he were unluckily elected president are more or less the same as those his rivals would implement, minus a busted Federal Reserve and a Moon colony. Something else is drawing conservative women to Santorum, who, as a career politician, probably professes much more about his faith than he really believes in order to appeal to an evangelical base that holds sway in a primary election: the admittedly poignant story of his youngest daughter, Bella, who was hospitalized almost two months ago when a case of pneumonia stemming from a trisomy 18 disorder threatened her life. According to Saulny, Santorum builds entire speeches around his daughter's story and this, combined with his firm anti-abortion stance, make him seem like the yellow diamond of politicians — the campaigner who practices what he preaches.