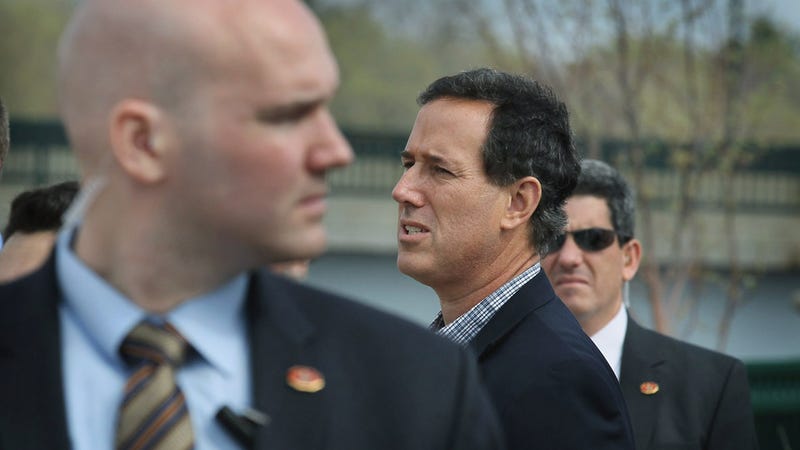 It's usually Mitt Romney that gets compared to a robot, but it's beginning to seem highly likely that Rick Santorum is actually the one that was created in a lab. Perhaps he was designed by evil scientists (from the future!) specifically to say the most annoying possible thing in any given situation—like those computers who can play chess really well, except much more aggravating and useless. Anyway, the latest in his hit parade of incredibly dumb choices is this gem: While appearing on Glenn Beck's show today, Santorum criticized President Obama for allowing his daughter Malia to travel to Mexico on a spring break trip. Why? Because the entire nation Mexico is terribly dangerous. He said,
If the administration is saying that it's not safe to have people down there, then just because you can send 25 Secret Service agents doesn't mean you should do it. You should set an example. I think that's what presidents do. They set an example.
Wow, that is richer than Mitt Romney. I shudder to think of all the examples he would set, were pigs to start flying and he was ushered into office. But let's get back to the issue at hand. If he'd been talking to a normal person, they might have reminded him that, in fact, travel warnings have only been issued for certain parts of Mexico. Of course, this is Glenn Beck we're dealing with, so he obviously didn't do anything but egg Rickroll on.
As it happens, Malia is not in the area covered under the travel warnings. And even if she'd planned to be, I am guessing if the Secret Service thought she would be in danger, they wouldn't have let her go. Sidenote: Rick, or should I say Petrus, you are currently under Secret Service protection. It is probably unwise to question their judgment or allocation of resources since they are the only thing standing between you and a giant horde of people who wish ill upon you.