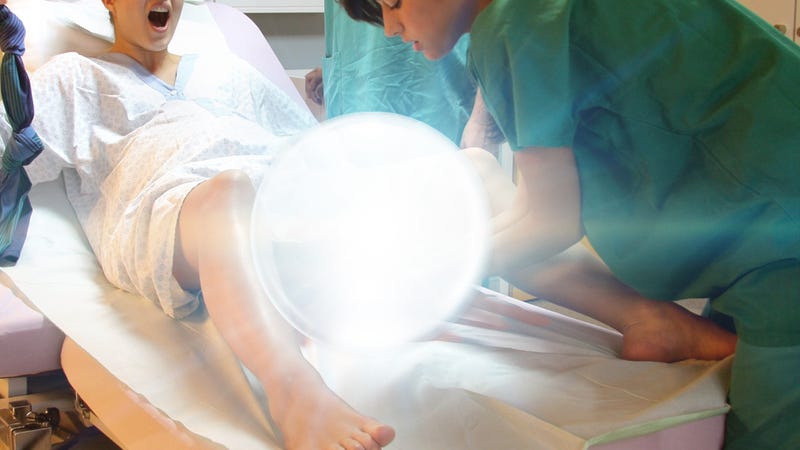 Hypnobirthing — in which hypnosis is used for pain management during childbirth — has been gaining popularity in recent years. Dedicated to my drug-free birth plan, I dragged my husband to an eight-hour comprehensive one-day class so he could learn how to hypnotize me, trusting that he would use these powers for good and not just to get more blow jobs out of me.
Hypnobirthing is used as an alternative to other natural childbirth techniques such as the old standbys of Lamaze and the Bradley Method. In fact, last year hypnobirthing was incorporated into the services of many NHS hospitals in the U.K. Many women swear by it.
I don't know if it was the hormones, or the peer pressure I felt after watching Ricki Lake's documentary The Business of Being Born, but for some reason I decided that I was going to get all hippie-ish, all-natural and drug-free for my birth. It was so out of character for me. I don't like anything "natural." I prefer concrete to grass, Lucite to wood, mascara to inner-beauty. If I'm "crunchy" it's because of Doritos, not granola. And "drug-free"? Please. One time I took two Vicodin because my new shoes had given me a blister. I hate any feeling that deviates even the slightest from complete comfort. Nevertheless, I signed up to deliver, drug-free, at a birthing center for which one of the requirements was to take a birthing technique class. As someone who wore Skidz in the '90s and jeans that were so low-cut that the fly was about half-an-inch long in the '00s, I've never been one to shy away from inane trends. So I signed up for hypnobirthing. How bad could it be?