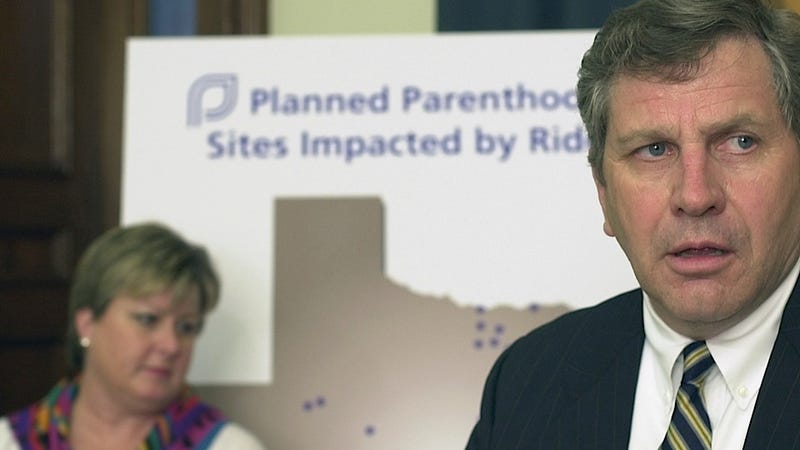 The dark clouds hanging over women's health clinics in Texas have just unleashed a torrential storm on the state's low-income women: in response to Texas' refusal to allow Planned Parenthood clinics to participate in a state program that provides 100,000 of the state's poorer women with health services such as birth control, the federal government will withhold its $35 million contribution to the program (federal money constitutes 90 percent of the program's total funding). Reuters reports that the decision, which Health and Human Services Secretary Kathleen Sebelius announced in Houston on Friday, elicited an outraged response from Governor Rick Perry, who called the move an "egregious federal overreach."
Wait, isn't this what Republican lawmakers are always clamoring for, to have the long, reptilian arm of the government retract back into its District of Columbia shell and stop meddling in state affairs? Something about having and eating cakes comes to mind, and also something about being careful when wishing for things because selfish, shortsighted wishes can fuck a lot of innocent people over.
The dispute between Texas and the federal government has been brewing for a year, ever since the Texas legislature cut funding for Planned Parenthood because the clinics were supposedly — though not actually — providing abortions. The federal government says that Texas' decision to exclude a qualified health provider like Planned Parenthood from its health program violates the rules of Medicaid, and is, therefore, illegal. Texas' initial move to block funding to Planned Parenthood forced 11 clinics across the state to shut down, and now, faced with a dearth of federal money, 130,000 women who obtain contraceptives through Medicaid could lose their health benefits because Texas lawmakers are too intractable in their crusade against abortion.