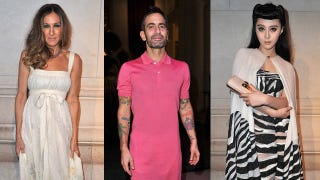 As part of Paris Fashion Week, "Louis Vuitton - Marc Jacobs: The Exhibition" opened at the Musee des Arts Decoratifs, with famous people dressed like pilgrims.
You can totally see Marc Jacobs's panty — or rather, boxer — lines through his pink dress. Takashi Murakami picked up on the pilgrim vibe sent out by Jacobs' shoes, and complied. Fashion editor Evelina Khromchenko was in her signature glasses, as always.
Fan Bingbing is like the coolest girl I've ever seen in my entire life. She always looks amazing, but particularly so here. She has a sequined zebra head on the back of her cape!