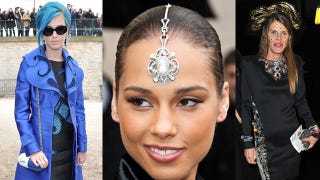 This week, editors, socialites, celebrities and the daughters of celebrities helped define the style of the most fashionable city in the world at Paris Fashion Week.
Alicia Keys maintained her color palette of black and white all week at Givenchy, Stella McCartney, and YSL. The first look is so Melrose Place and I love it.
Stepping out of the box for the Chanel show, Alicia wore head jewelry, which I think could've been cooler if placed over a center part.
Katy Perry is one of those method actors who can't shake their characters that easily after a role—which is apparently what happened with her after The Smurfs.
Fashion Director and Editor-at-large at Vogue Nippon, Anna Dello Russo, is my favorite kooky fashion person.