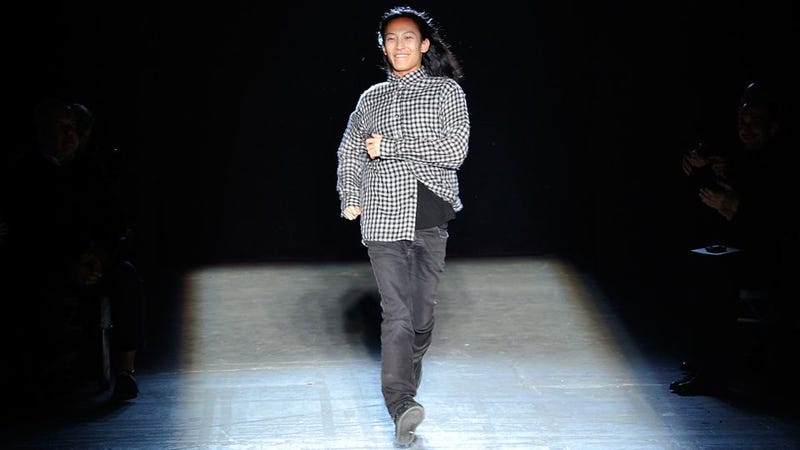 Critical darling Alexander Wang has been hit with a $50 million lawsuit by garment workers at his Manhattan studio who say that they had to work 16-hour shifts without breaks or legally mandated overtime pay. Alexander Wang apparently saw revenues of over $25 million last year. The allegations are pretty serious:
Wenyu Lu and dozens of co-workers charge that Wang, 28, and his brother, Dennis, violated numerous state labor laws in their operation at 386 Broadway. As a result, Lu and the others have suffered injuries, illnesses, lost time from work and lost sleep, says their suit filed in Queens Supreme Court.

Lu, 56, claims he was hospitalized for several days after he passed out at his workstation because he was forced to work 25 hours without a break and was warned that he would be fired if he didn't follow orders.
Lu eventually was fired, the suit alleges, in retaliation for complaining about the working conditions (and for filing a worker's compensation claim to cover treatment for the injuries he allegedly suffered at work). The timeline seems to sync with the pre-fashion week busy period when designers are rushing to prepare for the show and the studio may have to produce all the samples for the new collection — around that time, 16-hour days aren't unusual for anyone who works in the industry. But you still have to pay people. Including overtime. (Unless they're models; then you can keep them working until 4:30 a.m. and not pay them a cent.) Wang has yet to respond to the suit. [NYPost]
---
This track,
"Ima Read,"
by someone called
Zebra Katz
, is apparently
the
song of Paris fashion week.
Tommy Ton
called it "BEST SOUNDTRACK EVER" after it played at Rick Owens. Derek Blasberg added, "It's the anthem in the
Harper's Bazaar
car, the
V
magazine team knows every single word,
Vogue
Japan's
Anna Dello Russo just likes saying the word 'bitch' over and over again
, and
W
magazine's Edward Enninful will sing it to complete strangers." Lynn Yaeger has a slightly different take, calling it
"deeply offensive if catchy"
:
"I'm gonna take that bitch to college! I'm gonna give that bitch some knowledge!" intones a rapper who calls himself Zebra Katz over the loudest of loudspeakers, jolting awake the somnambulant fashion audience at the Rick Owens show.
It seems Lynn Yaeger, for once, missed the entire point — the song isn't about women at all. Maybe one of her gay friends can explain it to her? [Fashionista, The Cut]
---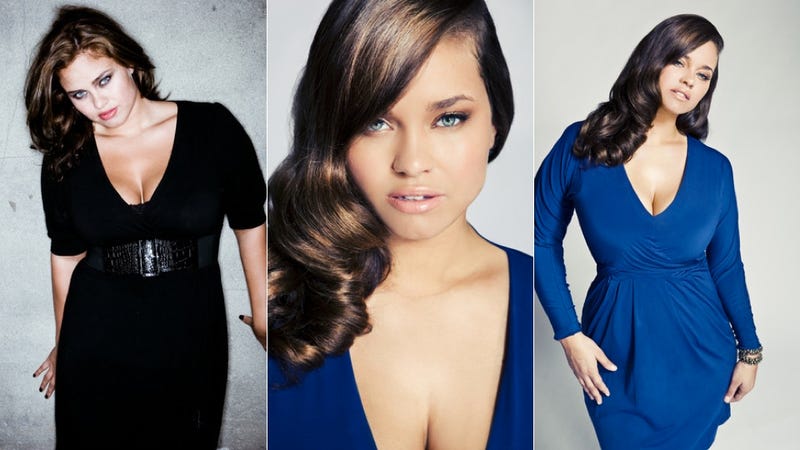 Kris Humphries
' older sister
Kaela
is now a plus-size model. Does she remind anyone else of
Miranda Kerr
, just a tad? [
Fashionista
]
---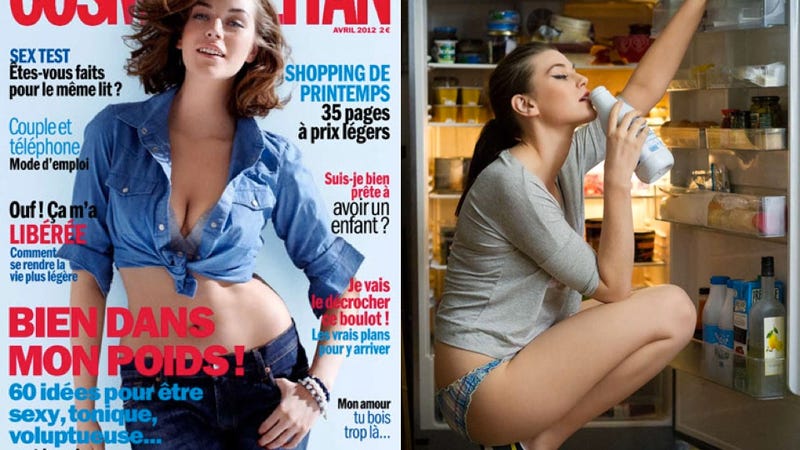 Model
Laura Catterall
made the cover of French
Cosmopolitan
. On the one hand: yay, body diversity. On the other: she's depicted doing all the usual plus-size model things, like eating food and hanging out in her underwear. [
Plus Models Today
]
---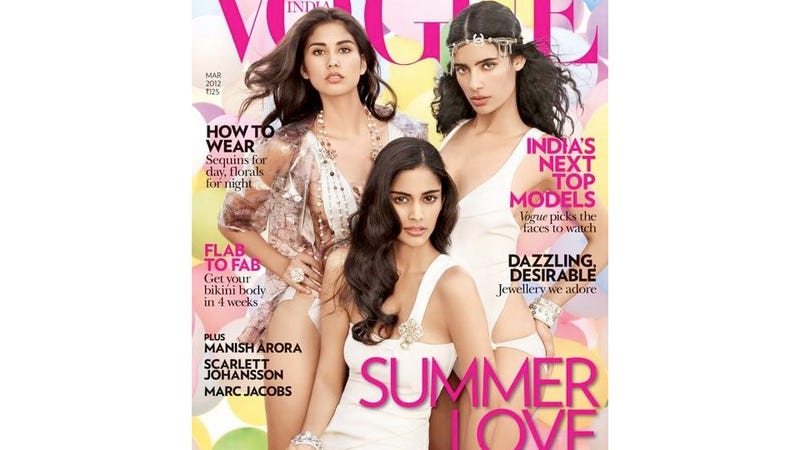 Ashika Pratt, Alyssah Ali and Jessica Clark
made the March cover of
Vogue
India. [
Models.com
]
---
This
Agent Provocateur
ad is kind of disturbing. [
YouTube
]
---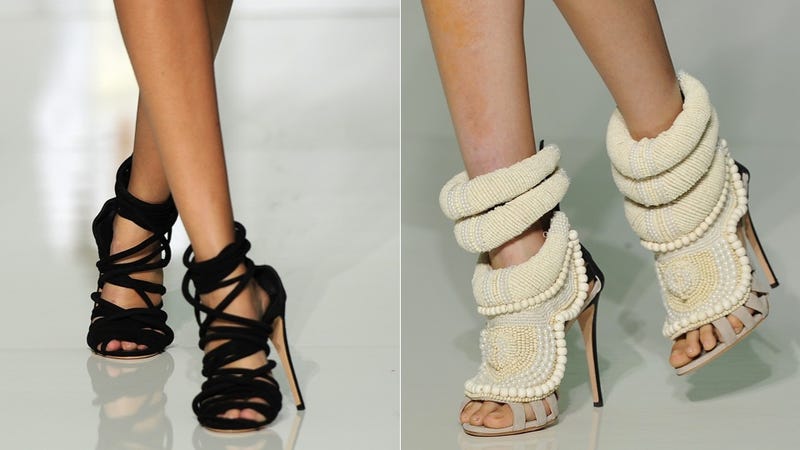 Jourdan Dunn
tweeted this weekend that she was at a fitting for
Kanye West
's upcoming show, his second. That's perhaps a good sign, because last season Kanye didn't have time for fittings, and pretty much nothing fit. Dunn further said the
shoes were "crazy high!"
Then she wrote, "Don't get me wrong the shoes are sexy as fuck but
you can't walk in them!
" And then, "Or maybe its not the shoes……..its me………. *shurgs*" Fellow model
Leomie Anderson
wrote back,
"omg the model who fit for his clothes said the shoes were so bad and he was cussin her."
Kanye, if you're going to make shoes that retail for nearly
$6,000
— like last season's, which didn't exactly look comfortable on the runway — it might make sense to make them so that people can walk in them. It's a bad sign if your models can't walk: they wear sky-high, impractical footwear for a living. [
Glamazons
]
---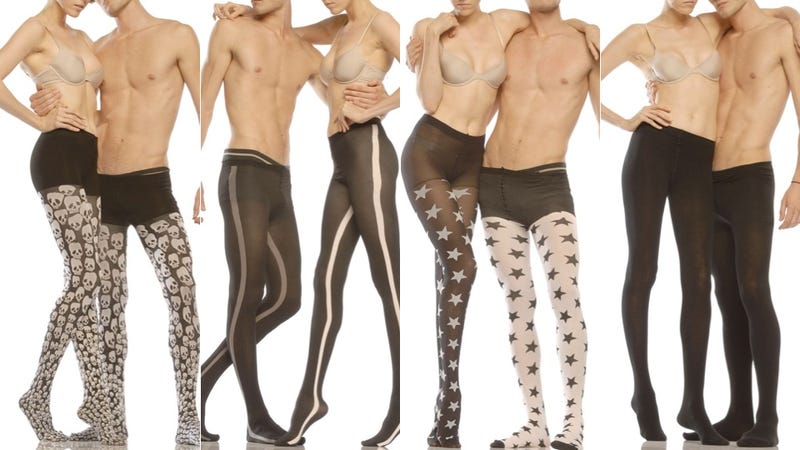 Around 2% of the tights sold by pricey brand
Emilio Cavallini
each year are purchased by men. So the company decided to make some tights it calls
unisex
, with a slightly tweaked fabric content (for better breathability, since "men perspire much more," explains Francesco Cavallini). "I think the mantyhose are also being worn for warmth under pants during cold weather months and also at home to lounge around in.…The tights are comfortable," says Cavallini, who wear-tested them himself. [
WWD
]
---