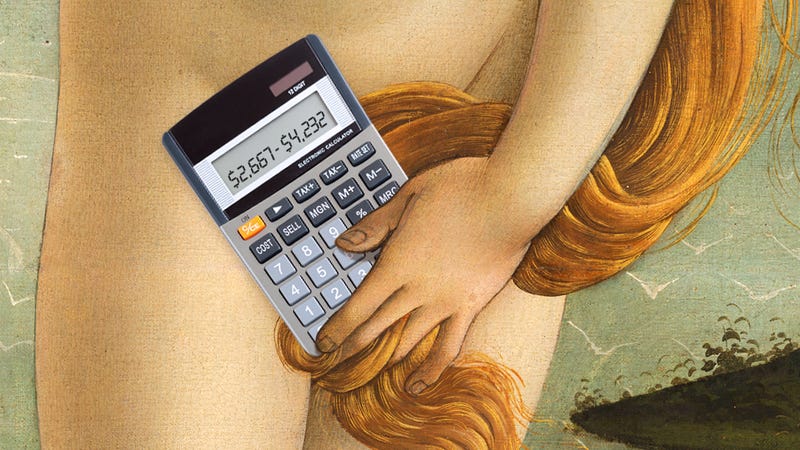 Given the national debate regarding birth control coverage, it's increasingly clear that many people have no idea how much it costs it to own a vagina — folks are getting up in arms about the idea that the pill could set uninsured women back about $1000 a year, but in the grand scheme of things, that's nothing. Do you even know just how much you're shelling out for your clam? Were you aware of the fact that in your 20s alone, you will spend over $26,000 on vaginal maintenance? Herewith, we do the math on just how much that cooter is costing you.
Note: Annual quantities of drugstore-type purchases and personal grooming treatments are estimates based on Jezebel staffers' personal experiences.
Birth Control
Studies show that oral contraceptives have been used by about 80 percent of women in the U.S. at some point in their lives. And it's a huge expense—particularly so without health insurance. While Planned Parenthood does offer generic forms of certain pills at a discount, many women are prescribed specific pills for specific reasons and thus, cut-rate pills are not an option. Birth control pills are made of hormones—sometimes just one hormone and sometimes a combination of two hormones (progesterone and estrogen). The combinations and sequences vary and are selected for each patient to distinctly meet her needs. For example, women with polycystic ovarian syndrome (PCOS) will need a different level of hormones than other women and thus, her presciption needs to be carefully managed under a doctor's care. The same goes with women suffering from irregular menses, dysmenorrhea, vaginal bleeding, ruptured cysts, or hemorrhagic cyst. That being said, birth control can cost a woman up to $129.99 per pill pack. Because they are taken daily like vitamins and not simply whenever a woman has sex like Viagra, a woman goes through a pill pack every 28 days. So this is actually what Sandra Fluke meant when she testified that it would set back law students $3000 over the course of law school if insurance didn't help defray the cost of birth control.
$129.99 a pack at 13 packs per year: $1689.87
---
Tampons & Maxipads
Yes, there are reusable devices, like the Diva Cup (which has its own cult-like following), but about 70 percent of American women use tampons. And on average, a woman will, in her lifetime, use more than 11,000 tampons or pads. That's a lot of disposable cotton. And it's a necessity. Could you imagine if we just free-flowed? The entire world would look like a murder scene.