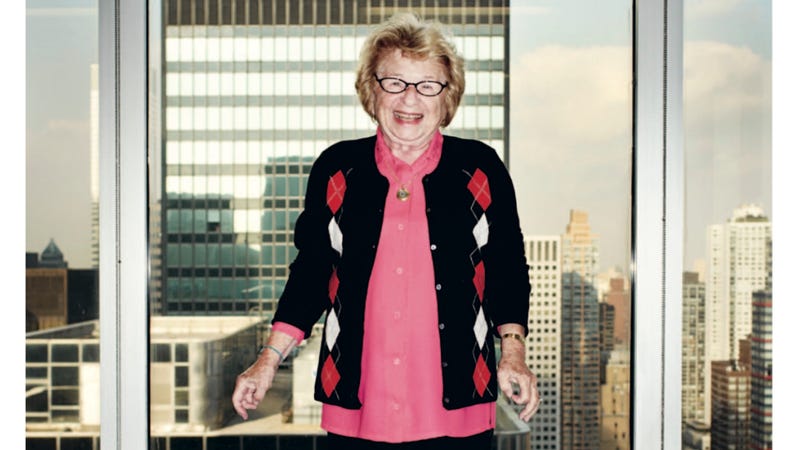 In the new issue of Garage — the very large artsy fashion magazine, or fashion-y art magazine, founded by Dasha Zhukova — the world-famous sex therapist and educator Dr. Ruth Westheimer talks about her past, the risks boredom poses within a relationship, and why there are certain people she won't treat.
Dr. Ruth also talks a little about her Orthodox Jewish parents. During World War II, Westheimer was sent from Frankfurt to a children's home in Switzerland after her father was rounded up by the Nazis; both her parents later died in the Holocaust. She was an only child. The war ended when she was 16. "I then went to Palestine, lived on a kibbutz, which is a collective farm," she explains, "and then worked in the underground movement as a sniper." (Dr. Ruth was a member of the Zionist paramilitary group the Irgun.) "So if you don't ask me good questions today, watch out," she teases interviewer Derek Blasberg. "I can still put five bullets in a little red circle."
She eventually made her way to Paris, where she studied at the Sorbonne and taught kindergarten. Then she emigrated to the U.S. to do her doctorate, and to see her one surviving family member, an uncle. Dr. Ruth's first job in sex education kind of weirded her out:
"In 1967, I needed a job, so I got a position at the New York City branch of Planned Parenthood. I thought those people were crazy! All they do is talk about sex! They don't talk about the weather, they only talk about sex."
Obviously, that impression didn't last. Dr. Ruth has now written over 30 books about sex and sexuality, in addition to having hosted her long-running sex advice show (and answering our period sex questions over brunch).