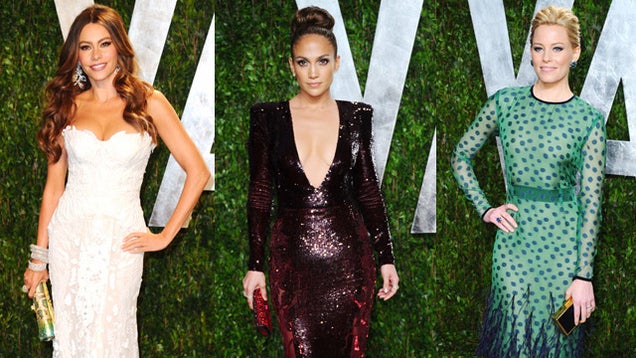 With white, silver, and gray being the prominent palette of the evening, the red carpet was mostly muted, although there were some moments of color and the infamous Vanity Fair Oscars party. And of course, J. Lo's boobs were on display.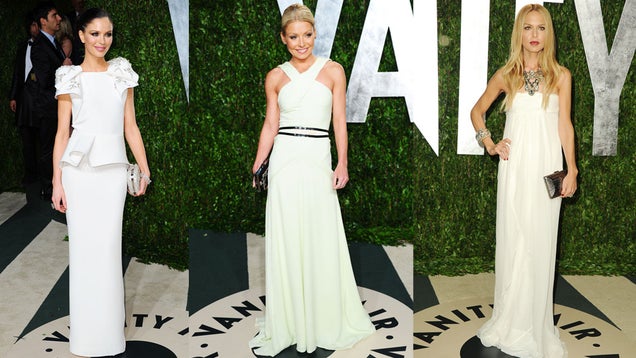 S
White was the number one trend last night: Georgina Chapman, Kelly Ripa, and Rachel Zoe.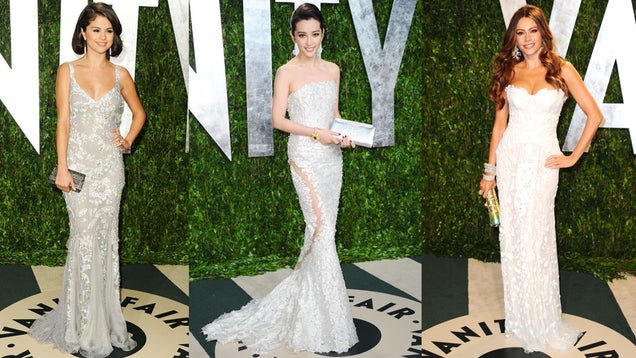 S
Lace was probably the second biggest trend, and Selena Gomez, Li Bingbing and Sofía Vergara combined the two.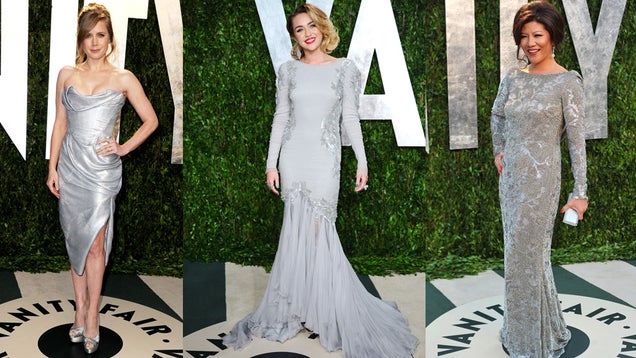 S
Silver foxes: Amy Adams, Miley Cyrus and Julie Chen.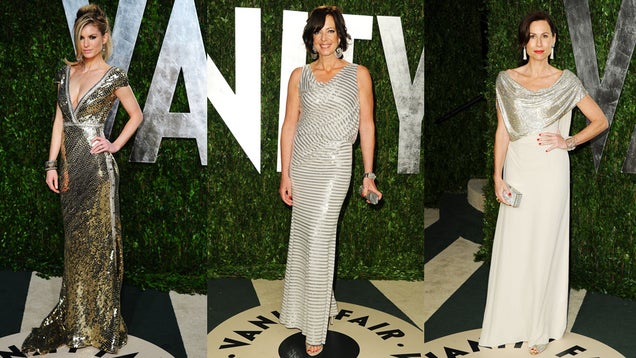 S
Marisa Miller, Allison Janney, and Minnie Driver shined in metallics.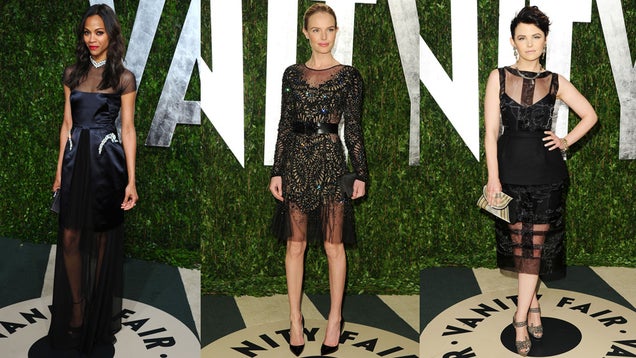 S
You know what was popular? Fake-out lengths. I like it on Zoe Saldana and Kate Bosworth, but Ginnifer Goodwin looks like a character from Brazil.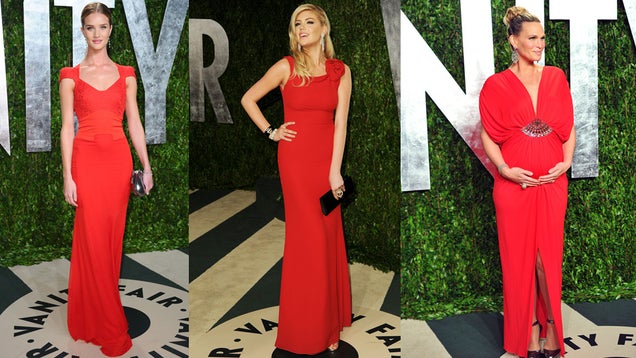 S
Models in red: Rosie Huntington-Whiteley, Kate Upton and a pregnant Molly Sims.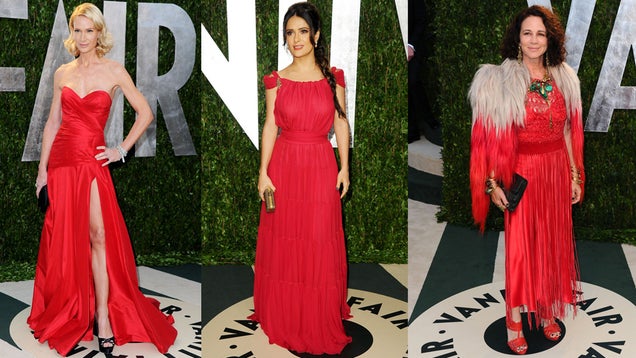 S
I really fucking hope Kelly Lynch is referencing Angelina Jolie here. The bottom of Selma Hayek's dress is ruined by the separate panels. With the fringe and the macrame and the fur, Lisa Eisner is channeling Stevie Nicks.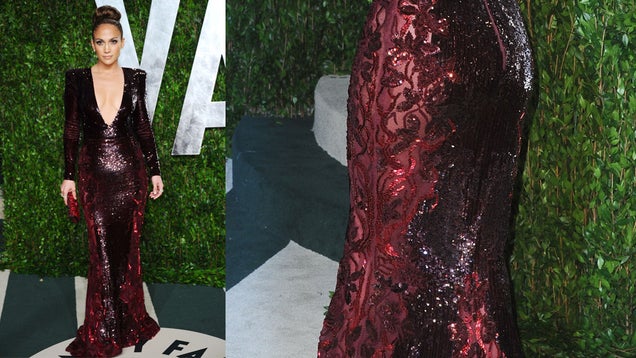 S
J. Lo is so unbelievably beautiful that it's difficult for her to look bad, even if she does look like a period blood clot.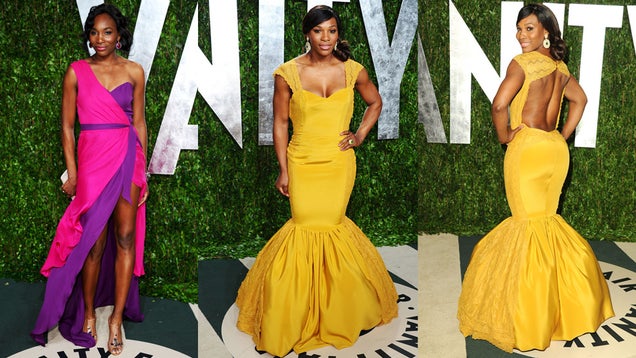 S
Venus and Serena Williams were some of the few to work bright colors.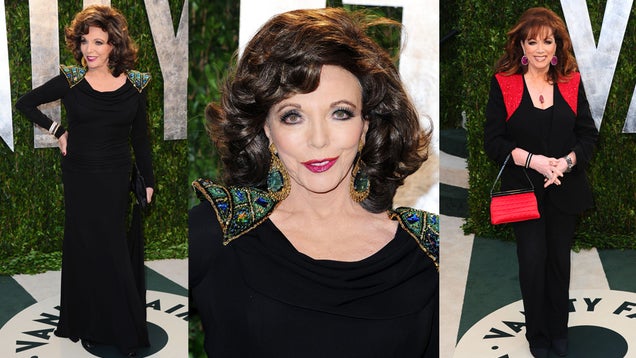 S
Joan and Jackie Collins and their four shoulder pads were in attendance.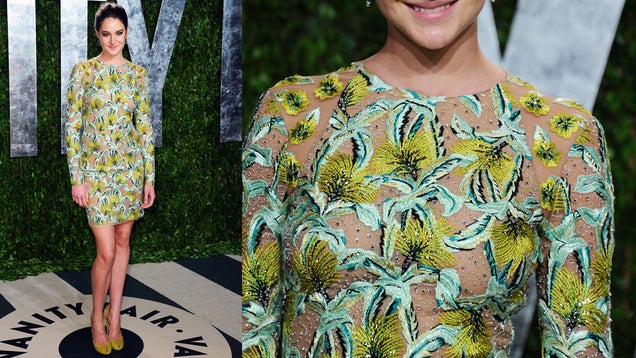 S
Shailene Woodley is reminiscent of Blanche Devereaux's bedroom.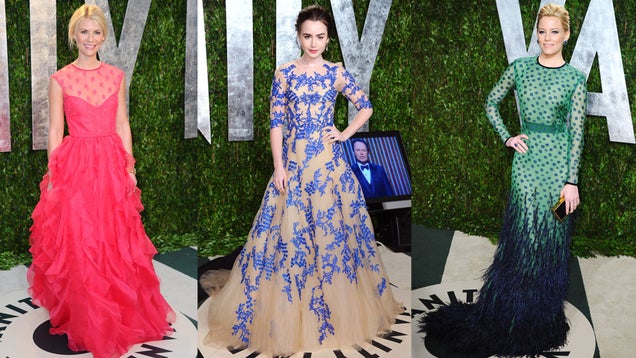 S
Claire Danes, Lily Collins, and Elizabeth Banks all made some of the boldest choices with these gowns, but I find Danes's to be way too Pretty in Pink prom dress. Banks, however, is just the right amount of quirky.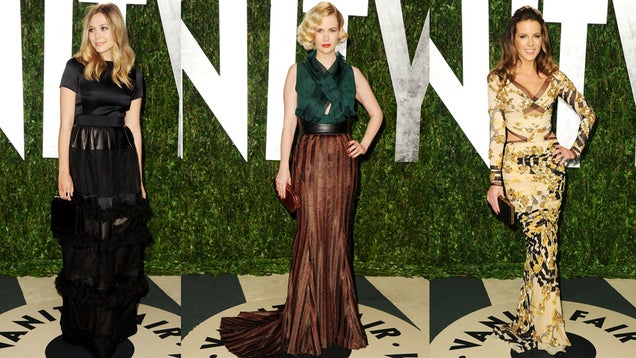 S
Elizabeth Olsen appears remarkably frumpy for a skinny girl wearing black. January Jones' risk of wearing separates does not yield reward and lastly, someone needs to outlaw those side cutouts. We get it, Kate Beckinsale. You don't have love handles. Big whoop.